"I'm actually Miss Suzy Homemaker," says Ramona Singer as we sit in her Upper East Side apartment. "I used to sew all of my own clothes from 12 to 17. I know how to cook from scratch, make cakes, tortes and everything."
None of this is a huge surprise, however, considering the "Real Housewives of New York" star designed and oversaw the execution of her Manhattan home in less than three months, is currently working on helping her daughter Avery find the college of her dreams and has turned the name "Ramona" into a lifestyle brand that includes jewelry, skin care and, of course, wine. And, she does it all on camera... while only sometimes breaking a sweat.
So getting her hair and makeup done before going through her enviable closet with a writer is just an average day in the life of one of Bravo's... liveliest. When we enter Singer's home, it isn't surprising to see her still seated, bangs in curlers, with a makeup artist putting the finishing touches on her seemingly pore-less face. In fact, it's eerie to be in Singer's home, as in some ways it feels more like a production set than a real-life apartment. And that's not to say that personal touches don't abound: her and husband Mario's wedding photo sits on their dresser and family portraits line the bookshelves.
While Singer's wardrobe is full of solid colors such as bright blues, dark blacks and light jewel tones (see the photos below), her home is overwhelmingly light in color with ornate details and neutral shades, ranging from a summery yellow in the dining area to a soft tan in the bedroom. And there's good reason for the latter's palette. Sitting on the edge of her bed, wearing a shimmery Michael Kors top and skinny J. Brand jeans, Singer explains, à la "Cribs," that this was where the magic happens. "This is my bedroom, and one of the secrets to a good marriage is keeping the romance alive," she explains, "Let's face it, with my coloring don't I look great against the beige? So, I thought of me and how my body would look against the color."
And, it's true, the 55-year-old mom looks... great. But, it's not without effort. Singer confessed that now she is in her 50s, she has started to become more healthy. She stopped eating red meat altogether, skips sugar and artificial sweeteners, started weight training and kicks off every morning with oatmeal and fresh blueberries and strawberries. She's even taking a break from her signature power pumps, in exchange for flats. "This is the year for me to become more healthy," she explains. "And health begins with your feet. It's really not healthy to wear heels from nine in the morning to 10 at night, and I've been doing that for years."
While Giuseppe Zanotti and Pour La Victoire platforms line the floor of her wardrobe, it's a pair of black patent leather flats that will help Singer take on 2013. At the end of the day, it really comes down to comfort. "What women don't realize, is that if you put on a pair of shoes and they're not comfortable, don't buy them!" Singer exclaims. "When I'm in my office, I take my heels off. I just jump right out of them."
So, of course, we all followed suit, took our shoes off and tucked into a bottle of Ramona's latest venture: red wine. Those who were following our afternoon's updates live on Twitter were horrified. Ramona Singer? Sans her signature pinot grigio? Apparently, swapping patterns for solid-colored clothing isn't the only behavior Singer has taken to since her reality TV career began. Red wine also got the ax, as long as the cameras were rolling. "I like all wine," she explains, off-camera, "But, on TV, I drink white because if I drink red, I'll spill it on myself. And I get it on my lips, because I take big gulps."
Always the housewife, she continues: "If I'm hanging out with the girls, I like white, because it's more refreshing, but I do love my red. And Mario loves red, too."
But, not as much as he loves beige!
All photos by Raydene Salinas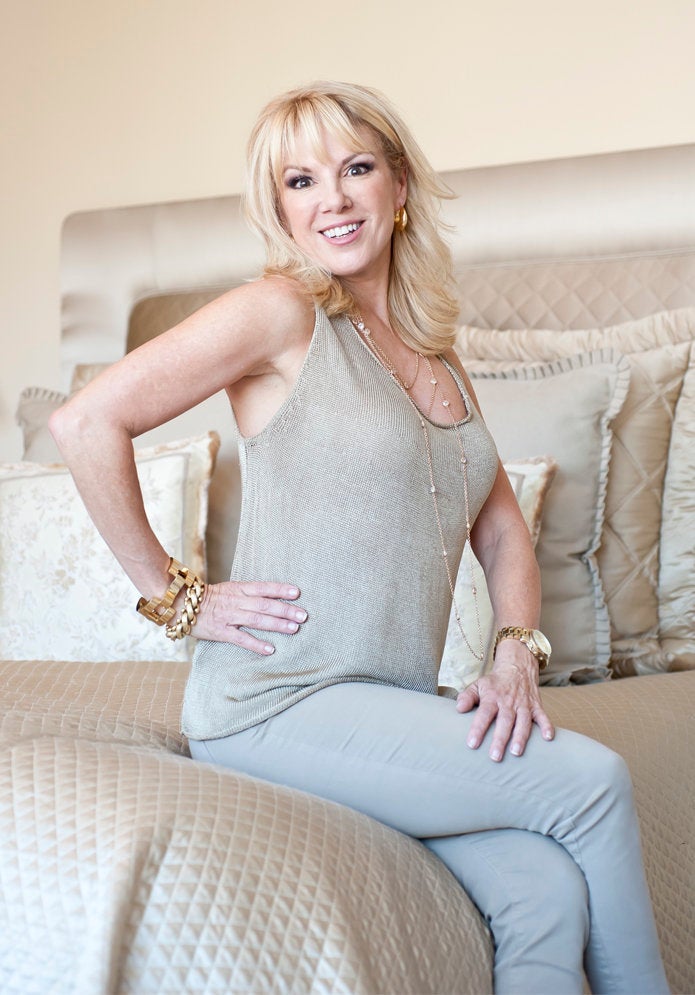 Ramona Singer's Real Home And Style