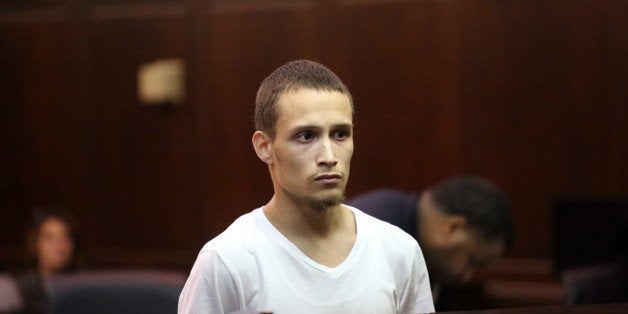 Less than two miles from City Hall and NYPD headquarters, Ramsey Orta pieces his life back together. Orta has been arrested three times since his video of a Staten Island police officer choking, and ultimately killing, Eric Garner went viral. The recording jumpstarted a police brutality movement in New York not seen since the shooting of Sean Bell or perhaps Amadou Diallo.
Orta, 24, was hanging out with Garner and a few other people from the Tompkinsville neighborhood on July 17th 2014 when plainclothes cops from the local 120th precinct sprang up and picked out Garner to arrest. Garner, a 43-year old father, had just broken up a fight between two men, according to Orta and other witnesses. The cops said Garner was selling illegal, untaxed cigarettes. They tried to arrest him, choking and piling up on him as they took him to the ground.
Garner's death sent shockwaves throughout the city. Coupled with the police shooting death of another unarmed black man that summer in Ferguson, Missouri, Michael Brown, Garner's death touched off waves of protests and marches that asked if black lives mattered.
Less than a month later Orta was arrested by officers from the 120th precinct on dubious gun charges that Orta describes as a set-up and retribution for his video. A young woman with Orta at the time of his arrest, Alba Lejak, apparently started to hang around the block Garner was killed about a week after the incident. There are rumors that she is the daughter of a police officer from Connecticut.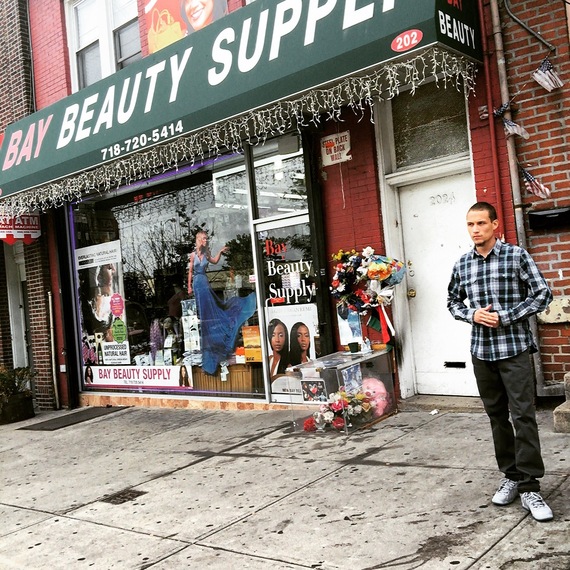 Photo credit: Dennis Flores
Orta ended up locked up in Rikers island until money was raised to bail him out in October. Law enforcement officials would move a secret indictment on drug charges against Orta just one month later, ultimately re-arresting him in February of this year during a raid that netted 18 people, including his mother. During that second stint in Rikers, Orta found rat poison in his food and began a semi-hunger strike, only eating snacks from his commissary. He was eventually bailed out after crowdsourcing donation efforts by his supporters rounded up enough money.
Meanwhile the cops have continued to watch Orta, letting him feel the heat by doing things like pulling up in squad cars and shining flashlights in his car. He's been stopped by police officers claiming to be responding to calls for suspects that fit his description. Orta has posted videos of two of his run-ins with police that didn't end in arrest. That so many stops that involved Orta didn't lead to arrest makes him feel like they're nothing more than harassing fishing expeditions by cops meant to scare him or catch him slipping.
The instinct to reach for a camera phone as a form of defense, like he did when Garner was surrounded by cops, is not only a strategy people like Orta have had to resort to--it's a movement years in the making. Groups from Brooklyn to Oakland have organized copwatch patrols, using cameras to not only record wrongdoing and abuse, but also to deter it from even happening.
But 'copwatching' wasn't a term Orta knew very well when he pulled out his phone for Eric Garner, a friend of his. He had never been a part of any organized patrols that go out and film police and he certainly wasn't an activist or a part of any police reform advocacy work. A young man from the street who had had plenty of experiences with dirty cops, Orta had been dealing with the criminal justice system since he was a teenager. Unlike so many police reform advocates, his being on the frontlines of police interactions with communities of color armed with a healthy distrust of cops made Orta arguably the best type of copwatcher.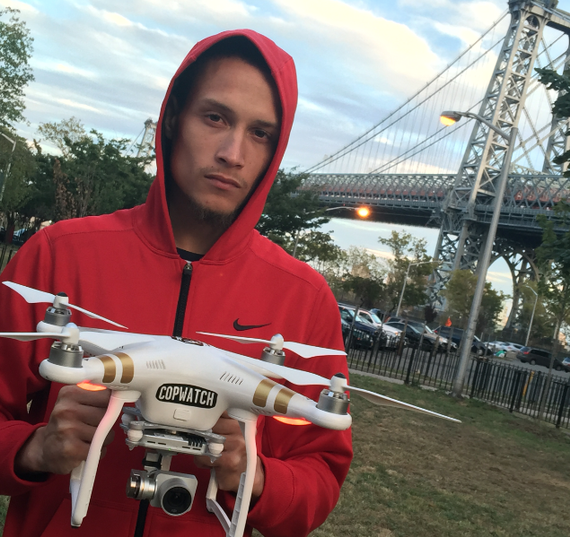 Photo credit: Dennis Flores
Yet for all of the advocacy and organizing done around the Eric Garner death, there simply wasn't enough done to support the man who filmed it all. This suggests that new strategies designed to protect everyday informal community cop-watchers, not just activists, must be put in place as filming the police becomes a more popular response to police violence.
Other groups and coalitions, like Brooklyn's El Grito de Sunset Park or the nationally-based We Copwatch, have extensive operations that range from Go-Pros mounted on the chest to remote controlled drones. They're also media-savvy, pushing videos into the news cycle. However, one of their most important functions may be to support the people affected by the brutality popping up on video after video--including those on the other side of the camera.
Dennis Flores, founder of El Grito de Sunset Park, has been copwatching in Brooklyn since the '90s. He remembers the pressure from cops he experienced when he started to film police. "They'd wanna let me know they were there'" he recalls. "They would photograph me in my face to see if I'd flinch, to see if I'd feel intimidated. That shit stressed me the fuck out. I would have to get my friends to go show up at my house with mad cameras and I'd go knock on the police officer's unmarked car and be like 'yo what are you doing here? I've been filming you all week.' And I'd have my friends across the street filming from different angles. And that's when they saw that and they'd roll up their windows and drive away."
We Copwatch's Jacob Crawford says that groups also have the responsibility to protect and support people who aren't a part of the official movement but who film police nonetheless.
"It's a beautiful thing that the people that are documenting some the most egregious acts of police murder and bringing it the attention of people are not organized copwatchers but simply people who just knew what to do," he says. "It's the responsibility of organized copwatch groups and projects as well as police accountability advocates that when somebody videotapes police beatings or murders, to immediately surround them not only with public support but with funds and lawyers and make it so police cannot target this person."
"We can't be around only when the media is around and the thing is getting a lot of attention... like the honeymoon stage. When that shit is over, when shit hits the fan, we can't afford to drop the ball on supporting people who risk their lives to come forward about injustice," Flores adds.
"I think copwatch is something good and something people can learn from. It can strengthen communities", Orta says. He doesn't buy into the notion of police body camera programs, currently being rolled out in cities like New York where police-community relations have soured, as a solution to police brutality, though. "Cops having cameras is just a cover to try to keep people's mouths shuts for a little while, make it look like they're doing something for us. It isn't. It's probably to save their [police] ass."
He says he'll continue to film to police "not only for my safety but to show people that this isn't going to hold me back from being involved." The harassment that came after the video, he says, is in some sense nothing new. He's been harassed by the police for years. The arrests could continue. Surveillance is almost a given. Orta's video shed light on something communities of color have come to see as normal: hyper-surveillance.
Now living in Manhattan with his family, Orta needs resources. He needs work. He has to fight these cases. He asks that organizers be present in communities of color not only when there are fatal incidents involving the police, but to be connected to a wide range of needs that communities face. His notoriety may have changed his life forever and the police seem to be determined that Ramsey shouldn't be allowed to breathe either.
We can't let that happen.
REAL LIFE. REAL NEWS. REAL VOICES.
Help us tell more of the stories that matter from voices that too often remain unheard.