Watch out, Vladimir Putin: You face some stiff competition for the title of Best Presidential Photo Subject.
Ramzan Kadyrov, President of Chechnya, has earned quite a following on Instagram, posting images of himself with everything from fellow world leaders to wild animals to... his dental hygienist. Most recently, he snapped photos with Liz Hurley and Gerard Depardieu, who are in the country filming their upcoming movie, Turquoise, the New York Times reports.
Though most of the photos depict scenes that are fairly benign, if not awesomely incongruous with the dignity of a world leader, Kadyrov's Instagram has also been a source of controversy. Most recently, the president briefly threatened to terminate his account after receiving criticism for posting a photo of himself with Bekkhan Ibragimov, a Chechen who was involved in the killing of a Russian soccer fan back in 2010, Radio Free Europe reports. Kadyrov later retracted his statement, promising to remain on "Instagram, Twitter, and LiveJournal," to the delight of those who love social media and presidential posing and whomever still uses LiveJournal.
Additionally, Kadyrov made headlines last month, taking to Instagram to deter the public from linking his country with the suspects in the Boston Marathon bombing, who were born in Chechnya.
"Any attempt to draw a connection between Chechnya and Tsarnaevs — if they are guilty — is futile," Kadyrov wrote in a photo caption, according to a translation by BuzzFeed. "They were raised in the United States, and their attitudes and beliefs were formed there. It is necessary to seek the roots of this evil in America."
On Tuesday, Depardieu echoed this sentiment, stating in a news conference that the bombing suspects "have a Chechen last name but their upbringing is American," Reuters reports. According to Bloomberg Businessweek, Russia's latest celebrity citizen also praised his "special relationship" with both Kadyrov and Vladimir Putin, beaming with pride at the "full flower of democracy" in which his new compatriots live.
See below for a selection of Kadyrov's Instagram account, which can be found in full here and contains way more photos of him posing with animals than we'd care to count.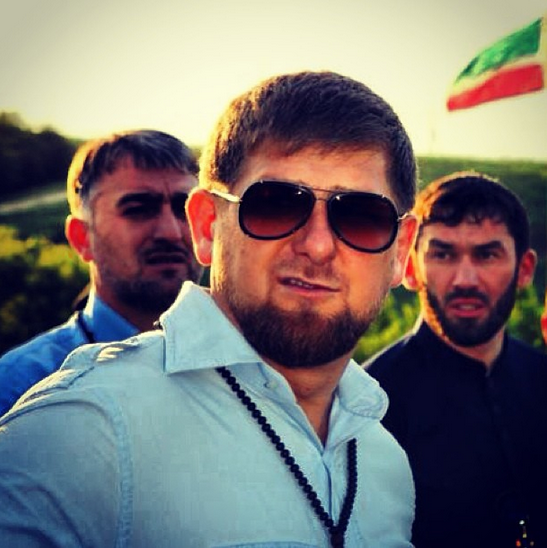 Ramzan Kadyrov: Instagram Champion
Related
Popular in the Community