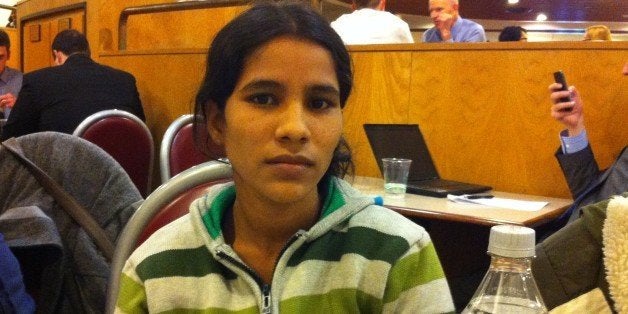 WASHINGTON -- When Reba Sikder reported to work on April 24 last year, she found a group of her colleagues milling about and chatting anxiously outside Rana Plaza, a garment factory near Dhaka, Bangladesh. The workers had become aware of a large crack in the building the previous day. Unconvinced it was safe, they were afraid to go inside to their factory and begin their shifts.
But soon, Sikder's line chief came outside and berated the group. "He was saying, 'You bloody people, go inside. If you don't go inside, you won't get your salary,'" Sikder recounted recently, speaking through an interpreter. The supervisor smacked one of her female co-workers, according to Sikder.
As the world now knows, business went on as usual at Rana Plaza that day, despite the known structural weaknesses of the building. The 8-story tower soon crumbled, ultimately killing more than a 1,100 garment workers and changing the lives of thousands of survivors like Sikder. It would be two and a half days before she was extracted from the rubble and saw daylight.
"We thought there was no hope," said the slightly built Sikder, looking a good deal younger than her 18 years.
Still without work, Sikder recently visited the U.S. to share her story with lawmakers and college students. She spoke with HuffPost after delivering testimony to Congress on the need to prevent similar disasters and to compensate victims for their losses. Sikder has received the U.S. equivalent of $519 through two compensation funds, one managed by a clothing brand that was sourcing from Rana Plaza, the other through the Bangladeshi government. Her family quickly burned through all of it.
Nearly a year after Rana Plaza came down, victims' advocates are still pressing the Western brands whose clothes were produced there to contribute to workers and their families. Last month, five brands -- El Corte Inglés, Inditex, Loblaw, Mango and Mascot -- agreed to contribute to a $40 million compensation fund established last year and overseen by the International Labour Organisation. The fund could very well bring more financial help to Sikder. (The Clean Clothes Campaign keeps a list of which brands have contributed so far and which have not.)
The British retailer Primark established the fund that brought Sikder her first payment -- a mere $390 -- and has since pledged another $10 million. The AFP reported this week that Primark was paying through its own program rather than through the ILO fund, believing it only has an obligation to certain workers in the building.
Carrying out a cohesive plan to assist workers and their families hasn't been easy, as many companies likely equate compensation with a public admission of culpability in the disaster. To help draw out more funding, the ILO-managed Donors Trust Fund stipulates that pledging money won't be an admission of responsibility and won't open companies up to litigation. An ILO representative recently told The New York Times he felt that the compensation issue had shifted from "the blame game" to "a mechanism that the whole industry can support."
Outside of compensation, two initiatives have sprouted up to address the pressing need to improve safety in Bangladeshi factories. The Accord on Fire and Building Safety in Bangladesh is a legally binding agreement between clothing brands, labor groups and NGOs that funds the monitoring and upgrading of garment facilities in the country. The Alliance for Bangladesh Worker Safety is a separate consortium of mostly U.S. brands that also underwrites inspections and improvements but doesn't bear the same legal commitments as the accord.
Sikder said she feels personally that any brand that purchased clothes from Rana Plaza had a hand in what happened, however indirectly.
"There are two groups who are responsible. One is the factory owner. The other is the brands who were sourcing from our factory," said Sikder. "They should pay us the full and fair compensation that they owe to us."
Sikder was a sewing machine operator at Ether Tex, a factory on Rana Plaza's sixth floor. Her job was to sew pockets onto pants. She had started working in Bangladesh's garment industry at age 14, performing certain duties that her young age should have precluded her from.
At Ether Tex, Sikder earned $49 a month in base pay, an amount that could be doubled with overtime. She usually worked 14 hours a day, either six or seven days a week, she said. She showed up for work at 8 a.m. and during busy stretches she might not get out until 3 a.m. the following morning. The abuse heaped on Sikder's colleague the morning of the collapse was commonplace, she said.
At some point after the building came down, Sikder said she woke to the sound of sobs and trapped workers crying out for water. After freeing herself from the sewing machine that had pinned her down, she managed to crawl to an enclave in the heap that held around 30 others. The date and time on another worker's cell phone indicated that two days had passed since they showed up for duty.
"I saw many injured and dead workers," Sikder said.
Guided by another worker, Sikder said she and others managed to crawl to an area where they felt ventilation, suggesting a possible escape route nearby. On their third day in the heap, she and a group heard the voice of a soldier working with the rescue team. A half hour later, they were pulled from the rubble.
Sikder needed to have surgery done on a broken ankle, and she said she still has constant pain in both ankles as well as her back. The mental trauma, however, has been even worse. She said she's developed a fear of factories and tall buildings that has made it almost impossible to find new work in the garment industry.
However meager her wages were, like other poor garment workers Sikder's factory job provided a crucial income for her struggling family. Her parents are too old to work, and her brother makes a mere $25 a month toiling in one of the country's many jute mills. Despite her survival, Sikder said, the Rana Plaza disaster has left her family in "a severe condition," which is why she's continued to press Western brands not only for compensation, but also for greater investments into safety.
"You all wear clothes that were made in Bangladesh. Can you make an effort to save our workplaces?" Sikder said. "Thousands and thousands of workers shouldn't die just for coming to work."

Popular in the Community