 Veteran character actor Rance Howard, 83, is a happy man. He isn't exactly a household name, but his face is one you've seen thousands of times. Perhaps best known for playing Henry Boomhauer for two seasons in the television series "Gentle Ben," his 64-year acting career has included roles in almost 200 films and a variety of television shows, including "The Andy Griffith Show," "That Girl," "Coach," "Married...With Children," "Ghost Whisper," and "ER."
Howard's sons are Academy Award-winning director Ron and character actor Clint (Ron played Opie Taylor on "The Andy Griffith Show" and Richie Cunningham on "Happy Days"; Clint appeared on "Gentle Ben"). Howard spoke candidly about his career and how he kept his wits about him as a character actor in an unstable, fickle business.
You've been an actor for 64 years. How early in your childhood did you know you wanted to be an actor?
Very early, when I was in the seventh grade. At that point I worked in a little play in a one-room schoolhouse where I was attending school and the bug bit me. My career started in 1948 when I went to New York and auditioned and was able to get a job in a children's touring company.
What was the first role that helped you get started either in film or in television?
I auditioned and got in the touring company of a play called "Mister Roberts" with Henry Fonda in 1950. I played a character named Lindstrom. We toured about a year and a half hitting the major cities in the U.S. That was really, really exciting because it boosted my career even though I had been working for almost a year in children's theater. That was really the thing that cemented my career and my life for the course I had charted. Oh he was wonderful. We had a really good and interesting relationship on that tour. He loved to improvise little scenes just kind of off the cuff -- like for instance, checking into a hotel. If I would be at the register, he would come up and start an argument saying he was really there first. And I would reply to that and we would have a pretty good little exchange going. We fooled a lot of people. (Laughs)
Are there any big stars that surprised you over the years?
While working on "Cool Hand Luke" with Paul Newman, I started out seeing him in the morning and saying, "Good morning, Mr. Newman." He never acknowledged my greeting. In the evening I would say, "Good night, Mr. Newman." At the very most he would give me a bit of a nod. I continued that for two or three days until finally he said to me, "I don't fraternize."
What were your early goals in your career as an actor?
When I initially started in drama school at the University of Oklahoma, I thought I would be a western singing cowboy like Roy Rogers or Gene Autry or Tex Ritter. And I had never even heard of New York or Broadway or stage productions that would run for two or three or four years. That was all new to me. So actually the University of Oklahoma really introduced me to the stage and to theater. I became so enamored of the theater that I totally lost the idea of being a singing cowboy and wanted to really be a serious actor.
Your oldest son Ron was a child actor also. When did you decide to get Ron into acting?
My late wife Jean was an actress. We started out in the business together. We had no intention of bringing Ron into the business. He sort of fell in. When the opportunity came up for him to play this part in a movie called "The Journey" with Yul Brynner and Deborah Kerr, we didn't know if we wanted him to do this. Having been in the business about six years ourselves already, we knew the heartaches and the downfalls and the traps for adults, which are worse for children.
The director of the film was offering me a small part as a Russian soldier. They took the three of us over to Vienna, Austria to be in this movie. I think Ron turned four just before we left for Vienna and he was just an absolute natural. Acting for him was like playtime. So after we finished "The Journey" and returned to New York we thought: We saved his money, it was a good start for his college education and maybe this is not a bad thing.
Ron was so precious as Opie in "The Andy Griffith Show." You must have been around on the set a lot.
I was there from the beginning from the time they did the pilot which was a spinoff of "The Danny Thomas Show." I had been working in the business. At that point I had been in the Air Force in Special Services directing plays and variety shows so I had a real sense, if you will, of what was needed and what was required in helping Ron learn his dialogue and working with him. Ron was terrific. He had a great sense of drama and of timing and how to use emotion in a scene.
You were in several episodes of "Gentle Ben," which starred your son Clint. How was it working with him on set and then going home and telling him to clean his room?
(Laughs) Working with Clint was a real joy. Clint and I were living in an apartment hotel in Miami. We had maid service. I functioned as his father, mother, dialogue coach, playmate, chauffeur, cook and best buddy. He was eight years old. We worked a five-day schedule on the series. When we returned home from a day on the set, the responsibilities he was carrying made household chores seem trivial, so we didn't dwell much on room cleaning.
Your sons seem like such gentlemen as adults. How did you keep your boys grounded when they were growing up?
I think my late wife, their mother Jean, and I ... we were both like depression babies. Our parents really felt the depression and it had really rubbed off on Jean and I so we were both really frugal people. I was a character actor. I would do a "Death Valley Days" here and a "Lone Ranger" there but they were way out earning me. We could have taken their money and really have lived it up. We could have gone to Beverly Hills or wherever we wanted to and probably leased a mansion to house our family. We chose not to do that. We chose not to live on what the boys could afford, but what I could afford. We drove the kind of car that I could afford. The boys didn't have a lot of money ... maybe a quarter a week allowance. I tried to get them to do really honest work like mowing the lawn, taking out trash, cleaning up things. Jean and I both strived to get them to do that so they would appreciate sweat on the brow.
Ron has been a very successful director -- I love it that he has included you and his brother in several of his films. Was that easy or hard to take direction from your son?
Oh, it was easy. Ron is such a good communicator. He can explain to the actors what he's looking for in the scene. He is just a dream director to work with. Some people may feel differently, but I don't have any trouble saying to myself, "OK, Ron is a director. He's your son and offstage or at home or on the basketball court, you don't have to take his direction. But on the set he's the director and whatever he says goes."
Your granddaughter -- Ron's daughter Bryce Dallas Howard -- played Hilly Holbrook in "The Help." I was blown away by her performance. Were you nervous about your granddaughter becoming an actress because of the ups and downs of the business or did you encourage it?
I didn't necessarily encourage it, but I didn't discourage it. From the time she was probably in junior high school or high school, she knew that's what she wanted to do. I remember at NYU she was doing a play called "Hamletmachine." In this play it was necessary -- at one point during the play for about 10 or 15 minutes -- everyone in the cast was totally nude on stage.
I remember Bryce's mother, Cheryl, almost putting her foot down and saying, "no you can't do that." I remember saying to Cheryl, "This is college. This is a learning process. Let her do that. If she can do that it will get rid of all inhibitions and she will never be inhibited by anything she has to do on the stage or in film." So Cheryl went along with that. And Bryce did it. I went to see it, and there she is, an 18, 19-year-old girl stark naked. (Laughs)
What are you doing now? Are you still acting?
Yes. I just finished a nice little cameo role on the film "The Lone Ranger." Johnny Depp plays Tonto and Army Hammer plays the Lone Ranger. It's going to be great entertainment.
You've acted in so many TV shows: "That Girl," "Bonanza," "The Waltons," "Happy Days," "Little House on the Prairie," "Laverne and Shirley," "Seinfeld" ... the list goes on forever. Did you have to audition for all of those parts?
Most of them I did. I specifically remember auditioning for "Seinfeld." I did two "Seinfelds." I played a blind man and a farmer who had a daughter. I remember when I auditioned for the farmer, I had a really ratty, raggedy old overalls and a shirt that belonged to my dad, some old farmers shoes and a beat-up straw hat, and I went in to audition. I auditioned for Larry David -- who was a hands-on producer -- and I was auditioning with Jerry Seinfeld [in front of Larry David]. I did the scene and Jerry Seinfeld looked at Larry David and said, "Now that's commitment." (Laughs)
When you were auditioning with Jerry Seinfeld, did Jerry know you are Ron Howard's father?
If he knew it, he just had to somehow know it on his own because I never walk into an audition and say, "Hi, I'm Ron Howard's dad." I never play the Ron Howard card. I don't trade on his name at all.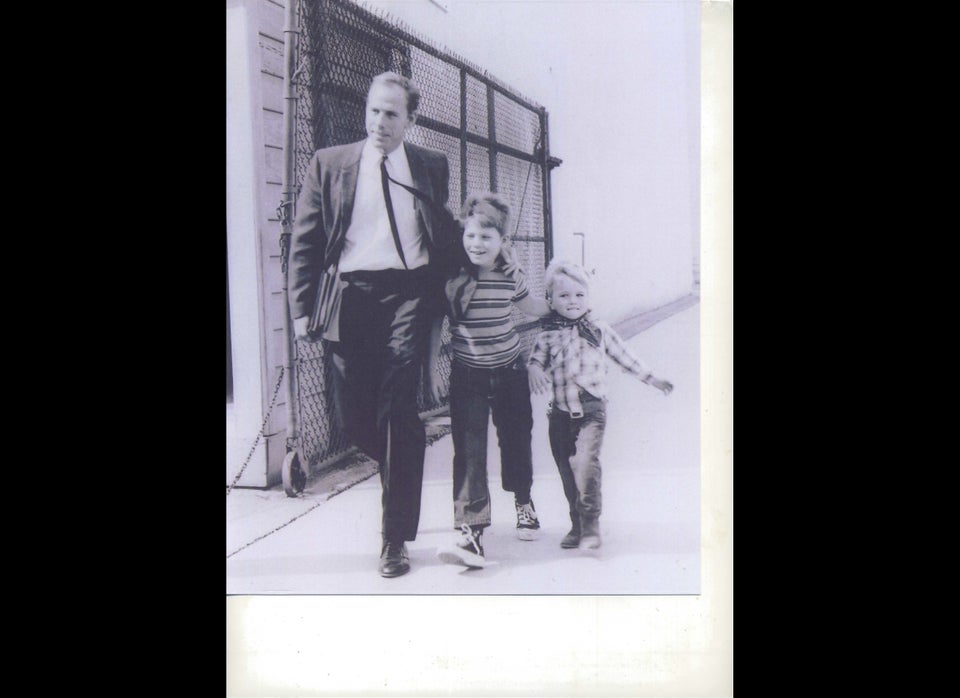 Rance Howard
Popular in the Community