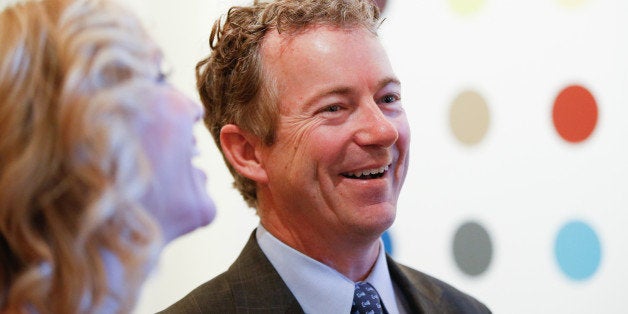 WASHINGTON -- A picture is worth a thousand words. In the case of Sen. Rand Paul, perhaps even more.
When the Kentucky Republican makes one of the first stops in his official run for the presidency in Mt. Pleasant, South Carolina, next month, he will do so with his back to thousands of tons of American steel made to bear some of the deadliest weaponry on the planet -- the U.S.S. Yorktown. The decommissioned aircraft carrier now functions as a floating museum, but participated in South Pacific operations during World War II.
The optics of a libertarian-leaning senator, known for his reluctance to intervene overseas, arguing his fitness to be commander-in-chief in front of an instrument of war aren't an accident. The move is likely meant to toughen up Paul's image in a GOP primary field dominated by foreign policy hawks who already have their knives out for him.
Sen. Ted Cruz (R-Texas), who announced his campaign for president on Monday, Sen. Marco Rubio (R-Fla.) and even Sen. Lindsey Graham (R-S.C.), a frequent saber-rattler, pose the biggest threat to Paul's presidential aspirations.
Paul has also been ramping up his rhetoric against the Islamic State militants. He even endorsed carving out a new state for Iraqi and Syrian Kurds. But his recent positions, including his signature on a Senate letter addressed to Iran, have irked some of his libertarian followers, who are still angry over the nation-building administration of George W. Bush.
The Kentucky senator won't be the first presidential candidate to stand in front of the Yorktown. John Kerry, then a Massachusetts senator dogged by accusations of being soft on terror, announced his White House candidacy in front of the aircraft carrier in 2003. Kerry is a U.S. Navy veteran who was awarded several combat medals during the Vietnam War, in which the Yorktown also saw service.
Paul will visit South Carolina on April 9 after formally declaring his candidacy in his home state of Kentucky on April 7. He will then continue on a five-day tour through the early primary states of New Hampshire, Iowa and Nevada.
Calling all HuffPost superfans!
Sign up for membership to become a founding member and help shape HuffPost's next chapter
BEFORE YOU GO
PHOTO GALLERY
Rand Paul Trolls 2016 Candidates