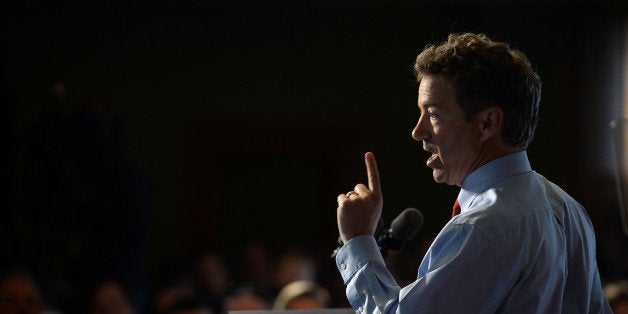 I've written about Sen. Paul before, though it's been a while. Back when he was first running for Senate in August 2010, I wrote about my experience growing up and attending grade school in Kentucky. That grade school eventually closed because of its proximity to harmful pollution from a nearby oil refinery. I argued then that Paul's focus on "jobs" was blinding him to the workers and families doing those jobs and being harmed by the destruction of the local environment and degradation of air and water quality.
Paul hasn't just been a loyal foot soldier, voting in lockstep with the dirty-energy industry that has funded his campaigns to the tune of $235,890. He's been a leader of dangerous efforts to roll back long-overdue clean-air protections, and of efforts to permanently hamstring the government agencies that set standards to protect public health and the environment.
Attempt to Overturn Good Neighbor Rule
In November 2011, Paul led the effort in the Senate to void EPA's Cross-State Air Pollution Rule, which will reduce smog and soot pollution from dirty coal-burning power plants that travels across state lines. If Paul's effort had succeeded, the rule's projected benefits -- preventing up to 34,000 premature deaths and avoiding 15,000 nonfatal heart attacks and 400,000 cases of asthma attacks -- would never have been realized. The $280 billion in annual benefits of the rule outweigh the rule's costs by 116 to 1.
Paul's attack on the Clean Air Act failed in a vote of 41 to 56.
Earlier in 2011, Paul was the Senate sponsor of a bill nicknamed the REINS Act. Rather than target any particular lifesaving regulation, the REINS Act targeted the entire process that produces every lifesaving regulation. The bill would have turned the current regulatory process upside down by allowing a majority in any single chamber of Congress to stop a regulation it didn't like. The consequences would have been sweeping. In the last four years that dirty deniers have been in the majority in the House, they've voted to block many lifesaving Clean Air Act rules, but those bills have gone nowhere in the Senate and would have been vetoed by president. If the REINS Act process had been in place, House action alone would have been enough to stop every one of those rules.
A large big-polluter-agenda bill, which included the REINS Act, failed on a vote of 40 to 56.
Sen. Paul is a climate denier. His profile at WhoVotesDirty.com shows that he's voted at least nine times to deny the human contribution to climate change or to block action on climate change. Paul has claimed that there is a "full-throated debate" on climate-change science and that the science on climate change is "not conclusive." Paul has been given some credit for voting earlier this year in favor of an amendment declaring climate change as real and acknowledging a human contribution, and for suggesting in an interview with Bill Maher that he'd be open to regulation. However, with Paul's otherwise consistent support for the big-polluter agenda, I'm far from convinced he is on the side of climate action.
Paul surely knows that two thirds of voters, including nearly half of Republicans surveyed, are more likely to vote for a candidate who says human-induced global warming is happening. I'm skeptical, but trying to remain hopeful, that Paul might come around to a more environmentally friendly position. He's not making it easy: Just last week he introduced a new bill that would essentially repeal the Clean Water Act.
You'd think that as a physician, Sen. Paul would understand the importance of clean air and clean water to human health. You'd think that as a politician, he'd understand that voters don't want to elect leaders who are advocating the big-polluter agenda.
Popular in the Community