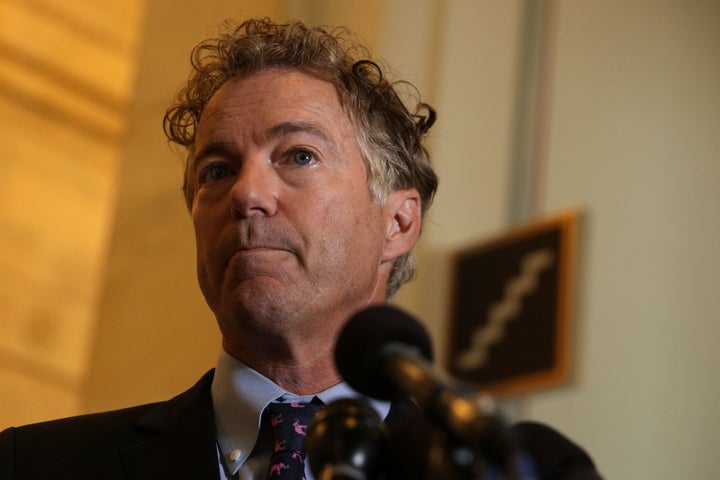 A neighbor who was arrested in November after an attack on Republican Sen. Rand Paul outside his Kentucky home plans to pleads guilty to a felony charge of assaulting a member of Congress, his lawyer said Friday.
Josh J. Minkler, U.S. attorney for the Southern District of Indiana, which was assigned to the case, announced in a Department of Justice release Friday that Rene Boucher had been charged in the Nov. 3 assault, which left Paul with bruises and broken ribs.
"Assaulting a member of Congress is an offense we take very seriously," Minkler said in the release. "Those who choose to commit such an act will be held accountable."
Boucher plans to enter a plea of guilty to violating the federal statute, his attorney, Matthew Baker, said.
"Under that statute, the elements of that offense are fairly straightforward," Baker told HuffPost. "The prosecutor has to prove that Rene Boucher assaulted Rand Paul and ... prove that Rand Paul was a member of Congress. Those are the elements of the offense."
Boucher has maintained that the assault had nothing to do with Paul being a senator.
"This is a purely private dispute of yard maintenance issues between two next-door neighbors," Baker told HuffPost. "There is no political component."
Boucher, a retired anesthesiologist, was initially charged with fourth-degree assault with a minor injury, a misdemeanor.
According to the Justice Department release, Paul was mowing his yard in Bowling Green when Boucher saw him stack brush onto a pile close to his property and had "had enough."
Boucher then ran onto Paul's property and tackled him, fracturing six of the senator's ribs. Paul later contracted pneumonia, the release noted.
Other neighbors told CNN at the time that the two men had argued over yard waste for years. Kelley Paul, the senator's wife, denied that there was an ongoing dispute. 
"The only 'dispute' existed solely in the attacker's troubled mind, until, on a beautiful autumn day, he ran down the hill on our property and slammed his body into Rand's lower back," she wrote in a CNN op-ed.
Paul's office could not be reached for comment Friday.
Boucher could face up to 10 years of prison and a fine of up to $250,000. Baker said he planned to request that the judge assigned to the case sentence Boucher to probation and not prison.
REAL LIFE. REAL NEWS. REAL VOICES.
Help us tell more of the stories that matter from voices that too often remain unheard.