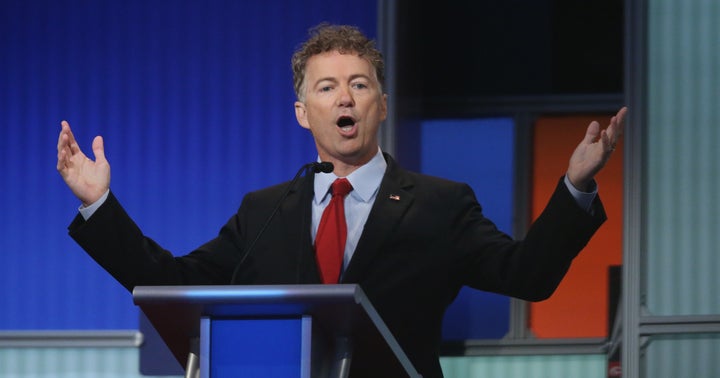 GOP presidential candidate Rand Paul took to the airwaves Thursday to broadcast his theory that Native Americans "don't do very well because of their lack of assimilation."
The Kentucky senator's comment followed an exchange with conservative talk show host Laura Ingraham about what she called "separatist" immigrant communities. Ingraham was incredulous that "the MSNBC crowd" supported Jeb Bush's penchant for speaking Spanish at campaign events.
Asked whether he thought speaking Spanish was appropriate, Paul veered off to talk about the only people who never immigrated to this country: Native Americans.
"I think assimilation is an amazing thing," Paul said. "A good example of how, even in our country, assimilation didn't happen -- and it has been a disaster for the people -- has been the Native American population on the reservations. If they were assimilated, within a decade they'd probably be doing as well as the rest of us. But instead, seclusion and isolating them -- we took their land, and then we put them all on small quadrants of land."
Ingraham did not point out Paul's historical revisionism, but Democrats and Native leaders did.
The Democratic National Committee said in a press release that Paul revealed a "shocking lack of historical and cultural awareness" about Native people.
This history includes warfare, forced removal, broken treaties and unkept promises, as well as the more recent, but often forgotten, record of abuse and cultural genocide suffered by Native American children through the boarding school system of the 19th and 20th centuries. That assimilation policy was designed to "kill the Indian and save the man."
"Sen. Paul's statements harken back to a disastrous era of federal policies that aimed to terminate tribal governments and eradicate Native American cultures," said PaaWee Rivera, a Pueblo of Pojoaque tribal member and the DNC's director of Native American engagement, in the press release.
Paul's proposed 2013 budget for the federal government would have cut Indian Health Services by more than 20 percent. The senator also voted against a hard-fought reauthorization of the Violence Against Women Act, which gave tribes the power to prosecute nontribal members for violence and abuse committed against Native women on tribal lands. His proposed 2015 budget goes so far as to eliminate the Bureau of Indian Affairs, the federal agency responsible for providing services to 566 federally recognized tribes across the United States.
Earlier this week, President Barack Obama announced that he was formally restoring the Native name of Denali to the tallest mountain in North America. Official recognition of the Athabascan name was one of the most significant symbolic gestures toward the first peoples in the U.S. in recent memory.
"[T]his last week was a good demonstration of a recognition of First peoples -- the rightful restoring of the traditional name of Denali," said Jacqueline Pata, executive director of the National Congress of American Indians, an indigenous rights organization.
"Assimilation implies erasing one's identity and culture -- that is not what the America I know stands for," Pata said in her statement. "America's strength comes from its diversity. Native Americans' strength comes from our connection to place and culture."
Language has been adjusted to clarify that the 2013 reauthorization of the Violence Against Women Act ultimately expanded Native tribes' power to prosecute such abuse.
Popular in the Community