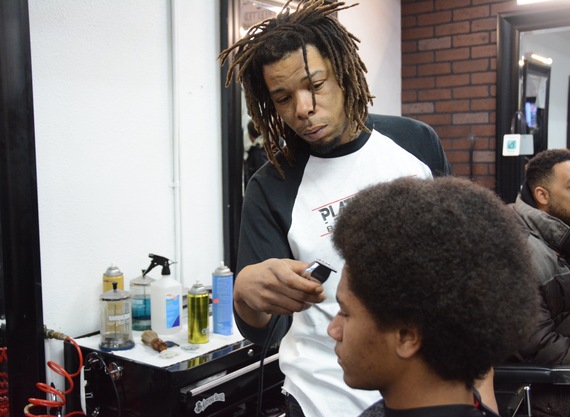 DES MOINES, Iowa-- Two young men were sitting in the corner of Platinum Kutz barbershop, one getting his afro trimmed and the other sitting on a couch waiting for his turn when a flurry of people stormed in on a day the shop is normally quiet or closed.
The young man on the couch turned to an event attendee and asked, "Who's that?"
"Rand Paul," the other man replied.
Today, on Martin Luther King Jr. Day, Senator Rand Paul stopped at a popular barbershop near Drake University to meet community members and answer questions about issues such as small business, restoring voter rights to citizens with a criminal record and racial disparity within drug-related arrests. Platinum Kutz is located in a predominantly African-American area east of Drake University.
Platinum Kutz has served as a community hub, ranging from back-to-school drives to advertising for small businesses, since it opened in 2001. Owner, Robert Presswood, says events are held there year around.
Presswood said there are usually two or three events a year and that this is the second political event. The first time was in 2008 when Barack Obama made a stop.
"I don't know another candidate that has walked in a barber shop you know and held a forum, so we applaud you for that," Ako Abdul-Samad said to welcome Paul. He represents the 35thth District in the Iowa House of Representatives, where Platinum Kutz is located.
Paul's effort to connect with African-American voters began in 2013, after he bombed a speech at Howard University, at which he asked students if they knew the founders of the NAACP were Republican, and students replied yes. According to CNN, Paul sought a group of black advisers, following the incident. Since launching his campaign, Paul has made stops at historically black colleges including Howard University and Bowie State University.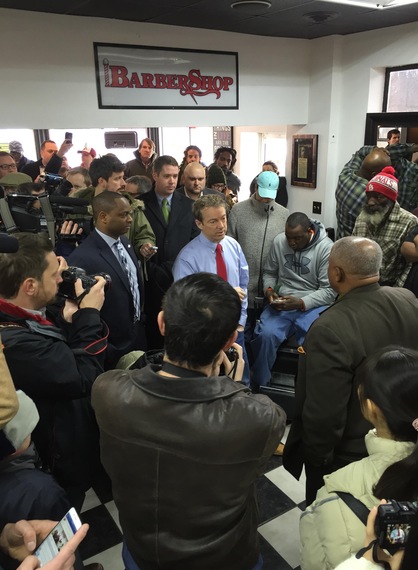 Presswood, acknowledged Paul's efforts in attempting to bond with a community he often does not interact with.
"If you've never been there, or lived there or been in that environment, it's kinda hard to speak on it something, but if you go there and experience, just like we did today, you know, there you go," Presswood said.
Jordan Patton, a 23-year-old native of Des Moines has spent the last year working for the Platinum Kutz. He admired Paul's attempt at connecting with African-American's.
"If someone can come in here and touch you know 3 people you know and change their minds about something, that's progress, definitely coming in here and showing his face, and talking, speaking to people, that definitely helps some people," Patton said.
Although Patton, believes Paul's visit could have impacted voters, he wasn't necessarily touched and does not plan to participate in a caucus on Feb. 1.
"Can't knock it until you try it, maybe I should try it," Patton said.
Aaron Collin, 27, a customer at Platinum Kutz, was one of the few African-American's present. The barbershop's owner had told him Paul was coming.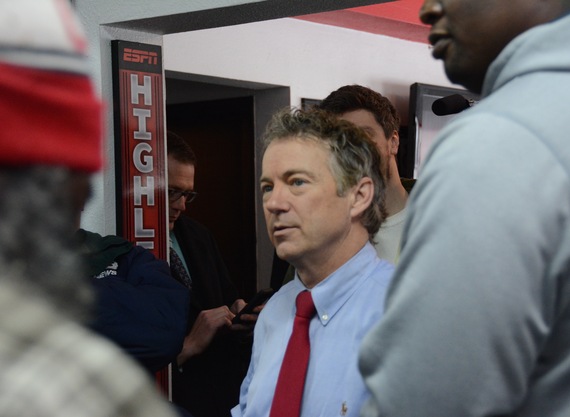 "It's crazy because the other politicians ain't done it, you know? I've been following the elections and stuff like that and they... haven't took the initiative," Collins said.
Collins, was recently released from jail, and was present to ask Paul a few questions about life after incarceration. He admits he was nervous about talking to Paul, but Paul's calm demeanor made him feel better.
"They're going to rich rallies, and rich, you know, people who have the money to help their campaign, they don't come to the middle class, or the poorer class to show, you know what I'm saying like, 'oh, I'm here for y'all too.' That was crazy. I didn't expect it," Collins said.
According to the Pew Research Center, 64 percent of blacks identify as Democrats, 26 percent as Independents and only 5 percent identify as Republicans. Carlos Hernandez, who has voted Democrat in the past elections, believes the low-turnout of African-Americans to the Paul's townhall event is a result of the high number of African-American democrats.
"I believe enough [people] knew... he's (Paul's) a Republican too and it's mostly democratic, it's more liberal, democratic," Hernandez said.
Daniel Bradshaw, one of the barbers, nicknamed "Puerto Rico" by his friends, believes the turnout would have been different had the candidate visiting been a different one.
"If Bernie would have came there'd probably be a lot more people," Bradshaw said.
Written and reported with Pamela Ortega.
REAL LIFE. REAL NEWS. REAL VOICES.
Help us tell more of the stories that matter from voices that too often remain unheard.