 WASHINGTON -- Following on the breakout success of his anti-drone filibuster, expect Sen. Rand Paul (R-Ky.) to be on the lookout for other populist-themed issues that have the same potential to generate flash mob-type energy in the political and social media arenas.
On the domestic and economic front, breaking up the big banks would be a natural candidate. It's an idea that has begun to gather some supporters on the right, chief among them Sen. David Vitter (R-La.) and pundit George Will.
But Paul, during a 45-minute breakfast with reporters hosted by the National Review on Tuesday morning, said he is not comfortable with the concept as it has been discussed to date, because the current proposals are too government-centered in their responses. And Paul made clear he feels little kinship with Teddy Roosevelt's brand of aggressive government trust-busting.
"I still struggle with the idea," Paul said. "It reminds me too much of Teddy Roosevelt with the big stick breaking up trusts."
Paul did, however, say he would like to limit the size of the big banks through alternative methods.
"What I've been thinking about -- and I've met with several people, I don't know that they have a solution yet -- is a way to do something like Glass-Steagal, to do something like what George Will is talking about, but not with the heavy hand of government, but withholding government insurance," Paul said. "Maybe there's a limit to how much government insurance. I mean, some of that we've had. We've had it on deposits: I think we were at $100,000 and we went up to $250,000. Limiting to $100,000 helps to limit the size of banks."
Glass-Steagal was a 1933 law that erected a wall between commercial banking and investment banking within financial institutions. It was repealed in 1999 by the Gramm-Leach-Bliley Act.
Paul was hazy on the details beyond that, however. The only thing he added is that he would like to explore "whether or not there's a way to limit anything that government gives that encourages bigness, the banks being too big to fail, basically."
Paul also riffed on the origins of the Tea Party and Occupy Wall Street as reactions to the Wall Street bailout of 2008 under President George W. Bush.
"The Tea Party, I always say, is more like the American Revolution, and Occupy Wall Street is more the French Revolution," Paul said. "We hearken back to sort of rules. We weren't unhappy with people just because they were rich; we weren't happy with you if you were making money off of our taxes and we were bailing you out. If you were making $100 million, your bank goes bankrupt and all of a sudden we bail you out and you're still making $100 million -- that upset us. Whereas I think Occupy Wall Street was more of a generic sort of, 'We just hate people who have any money, and why can't they give it to us?' kind of thing."
Before You Go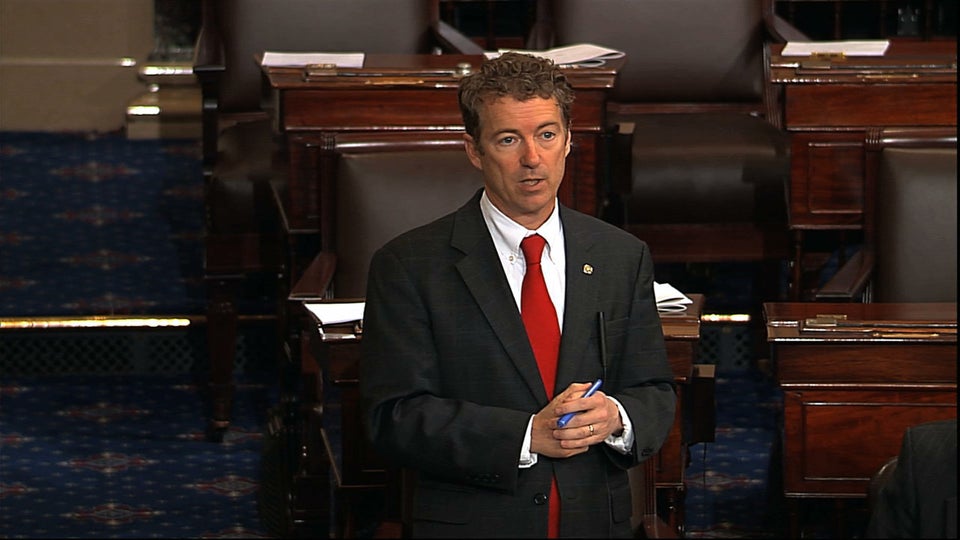 Rand Paul's Epic Filibuster
Popular in the Community