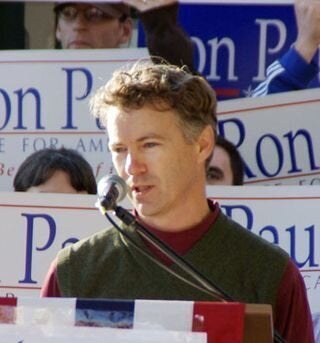 WASHINGTON -- With American miners still succumbing to black lung disease, the Mine Safety and Health Administration (MSHA) has proposed a plan to reduce the number of such deaths through the stricter regulation of mining sites. But at a congressional committee meeting last week, Sen. Rand Paul (R-Ky.) voiced concern that the new regulations may not be worth the cost to coal companies -- even though pockets of his state have been designated black lung "hot spots" by the federal government.
In a hearing of the Senate Health, Education, Labor and Pension Committee, Paul also asserted that the number of black lung cases has been on the decline. But according to the National Institute for Occupational Safety and Health (NIOSH), in recent years such incidences have in fact been on the rise in certain areas of coal country.
"Every regulation doesn't save lives," Paul said in the hearing, later adding that the regulations so far have done a "pretty good job" of reducing black lung. "There is a point or a balancing act between when a regulation becomes burdensome enough that our energy production is stifled. We have to assess the costs of regulation and whether they save lives."
Paul's comments didn't escape the notice of mining safety advocates.
"I thought it was outrageous," said Stephen Sanders, director of the Appalachian Citizens' Law Center, a Kentucky-based non-profit that supports black lung prevention regulations and other mine safety causes. "What he's suggesting is to keep the cost of coal down we would jeopardize the health of coal miners."
"He has no knowledge of coal mining, no knowledge of mine safety or health issues," Tony Oppegard, a Kentucky attorney who's represented miners, said of Paul.
Miners develop black lung disease, or coal worker's pneumoconiosis, by breathing in tiny coal dust particles over the course of years, and often decades, of mining. MSHA's proposals would cut in half a worker's allowable exposure to these particles, from two milligrams per cubic meter of air to one –- a stipulation that could change the way some operators ventilate mineshafts and treat the air miners breath.
The regulations could also require certain mine workers to wear sophisticated monitors that keep track of dust exposure. Such equipment could let miners know when they are in danger, but its cost could partly fall to coal companies.
NIOSH first recommended the reduction in allowable exposure way back in 1995, though it wasn't adopted at the time and then shelved. If implemented now, there would be a two-year phase-in period.
Paul said he was "concerned with" these proposed rules, given that MSHA and the coal companies have different estimates on how much it would cost to implement them. The National Mining Association told Louisville's Courier-Journal that the new regulations would cost the industry $1.8 billion in lost revenues.
Sen. Tom Harkin (D-Iowa), whose miner father suffered from black lung, described the proposals as needed reform. "The mining industry has geared up to attack MSHA's new proposals to end black lung and I really think it is a shame," Harkin said. "I can personally relate to the families of the 10,000 coal miners who have died from this horrible disease in the last decade alone."
"Our efforts to stop black lung are a classic example of how reasonable regulations can save lives," Harkin added.
Incidences of black lung disease have generally been on the decline since a 1969 law set the maximum exposure at two milligrams. But in certain areas, particularly in western Virginia and eastern Kentucky, the number of cases has been rising since the late 1990s, according to figures from NIOSH. Phil Smith, spokesman for the United Mine Workers of America, said the workers affected tend to be non-union and working in smaller mines. Hoping for stepped up enforcement and better compliance from mining companies, his union supports the MSHA proposals.
"As far as we're concerned, any time you save a life, that's money well spent," Smith said. "We know what causes [black lung], and we know what prevents it. … It's difficult to put a pricetag on keeping healthy and staying alive."
A libertarian and darling of the Tea Party movement, Paul is an outspoken proponent of smaller government and limited regulation, and his comments last week weren't the first controversial remarks he's made when it comes to mining safety. According to an August 2010 article in Details magazine, while at a campaign event in Harlan County last year, Paul answered a question about the Upper Big Branch Mine disaster, in which 29 West Virginia miners perished, with a question of his own: "Is there a certain amount of accidents and unfortunate things that do happen, no matter what the regulations are?"
"The bottom line," Paul then went on to say, "is I'm not an expert, so don't give me the power in Washington to be making rules."
This Tuesday marked the first anniversary of the Upper Big Branch tragedy, bringing renewed interest to mining safety. Since the disaster last April, a bill that would have increased fines on coal companies and made it easier to shutter dangerous mines was defeated in December. And a yearlong Justice Department investigation of Massey Energy, the operator of the Upper Big Branch, has resulted in charges against just one employee: Hughie Elbert Stover, a mid-level officer, for lying to federal investigators and ordering another Massey employee to dispose of security documents.
Still, MSHA has jacked up its number of inspections, issuing 4,600 violations at more than 200 mines in the past year. On Tuesday, agency head Joseph A. Main said, "We in the mining community must continue to work tirelessly to ensure that miners go to work and return home safe and healthy to family and friends, every shift of every day."
Calling all HuffPost superfans!
Sign up for membership to become a founding member and help shape HuffPost's next chapter