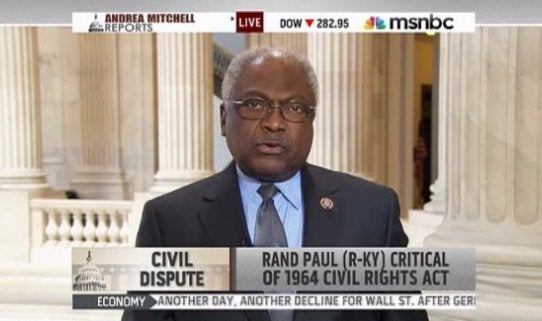 GOP leaders in Congress have been cautious -- if not tepid -- in their rebuke of Kentucky Republican Senate candidate Rand Paul for his refusal to endorse the Civil Rights Act. He is, after all, a Republican candidate and a beloved figure within the Tea Party.
For Democrats, however, the Paul controversy has been received with astonishment and shock -- rhetorical restraint deliberately checked at the door.
On Thursday Rep. Jim Clyburn (D-S.C.) an iconic figure of the Civil Rights movement seemed visibly angered when discussing Paul's comments on MSNBC.
"I do believe he is not good for this country going forward," the South Carolina Democrat declared.
I was absolutely appalled... I happened to be watching his victory speech and I could not believe that he was holding his victory party in a private, member's only club where the vast majority of people who just finished voting for him would not even be welcome. I couldn't believe that. And then on the next day I hear him making these statements about not believing in the efficacy of the Civil Rights Act. Here is a man who is answering 14th amendment questions with second amendment responses. This is absolutely appalling. And now today, he's put out a statement that limits his acceptance to the 1964 Civil Rights Act. I want to say to him that voting rights are found in the '65 civil rights act, that fair housing, which is private, in the '68 civil rights act and not until 1972 did we outlaw discrimination in the public sector. So once again, he is parsing his words, he is saying things, sending signals that I hope the vast majority of the people who voted for him would reject and I am sure that come November, they will.
Clyburn approaches the issue from the personal perspective of having marched and protested for the very piece of legislation that Paul suggested was a government overreach. But he expanded his criticism to other issues, noting that a libertarian philosophy contributed to the lax rules for Wall Street and the poor regulation of offshore drilling.
As for Kentucky politics, that was left for John Yarmuth, a Democratic representative from the state.
"Rand Paul has already embarrassed Kentuckians in the eyes of the world," the congressman said in a statement. "The Commonwealth deserves better because we are better -- and I call on Mitch McConnell and my other colleagues in the Kentucky Congressional Delegation to join me in condemning his despicable views."
WATCH Clyburn's appearance: