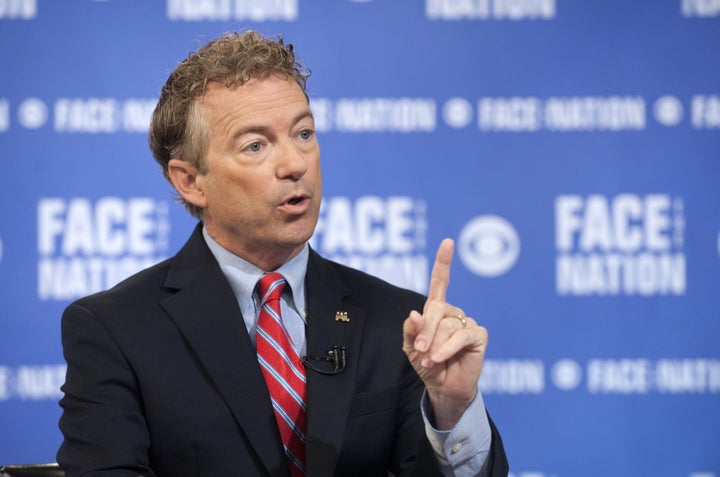 WASHINGTON -- Sen. Rand Paul's (R-Ky.) presidential campaign on Thursday moved to push back against what it called a "false narrative" that his presidential bid is slowly going down in flames.
In a memo issued to the press, senior adviser Doug Stafford and campaign manager Chip Englander argued that Paul's political operation, ground game, and the coming debates left him well-positioned heading into the Iowa caucus and New Hampshire primary. The memo highlighted Paul's recent straw presidential poll victories, his teams of supporters on the ground in early states, and his efforts to woo student voters across campuses in Iowa.
"Ground game and political organization have a disproportionate impact in primaries and especially caucuses," they wrote, adding that Paul "has the best organization in America."
The memo comes in the wake of a decline in poll numbers, putting Paul at risk of not making the cut for the next Republican presidential debate, which will be held later this month in Boulder, Colorado.
The Kentucky Republican said in an interview with CNN on Thursday that he was confident he would be on stage for the main debate. He also took issue with polls that used small sample sizes, sometimes as few as 200 people.
"Like John McCain in 2008, Senator Paul's campaign isn't showing up in October polling, but will be there when it counts -- on Election Day," his aides added in the memo.
Fundraising is posing a problem for Paul, as well. His campaign raised approximately $2.5 million over the last three months, with $2 million cash on hand. The haul is far less than that of some of his rivals, including Ben Carson, Sen. Ted Cruz (R-Texas), Sen. Marco Rubio (R-Fla.) and even former Hewlett Packard CEO Carly Fiorina.
The campaign attempted to drum up some interest on Wednesday by live-streaming Paul's activities as he criss-crossed the state of Iowa. But the affair ended on a sour note when Paul himself complained about the "dumbass" live-stream with hundreds of viewers still watching.
On Thursday morning, Red State's Erick Erickson made clear that he had had enough.
"Rand Paul, this was an interesting run and I am a fan of yours," he wrote. "But your campaign is a bloody embarrassment that needs to be taken out back and put out of its misery. Go home to Kentucky, Senator, and save your Senate seat before Kentucky's voters take the incompetence of your Presidential campaign as a reflection on you and your Senate campaign."
Popular in the Community