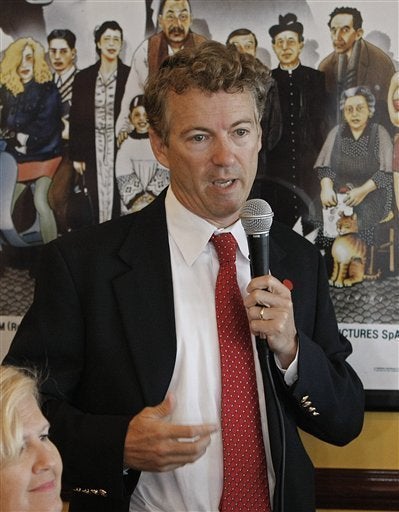 UPDATE: In the wake of denial of any wrongdoing from Paul's camp, Markos Moulitsas, founder of the Daily Kos, signaled to Ben Smith at Politico that the site is not backing down on its side of the story.
"Our evidence is based on the signup email -- which can't be scammed. The owner of that email has to verify it by clicking on a link to post on Daily Kos," Markos Moulitsas emails, providing a different, and apparently real, email address for Kubica.
Following the response, Paul aide Gary Howard told Smith that the Senate hopeful's campaign has never witnessed Kubica using the e-mail address in question:
He said he believes Kubica's denial that it's his account, in part because Cox is a regional provider unavailable in Kentucky or in Pennsylvania, where Kubica went ot school, though it is available elsewhere in the country.
On Tuesday, the progressive blog Daily Kos alleged that Thomas Kubica, a paid intern working on Kentucky U.S. Senate candidate Rand Paul's campaign, had been pretending to be a left-leaning member of the online community for political gain; however, according to the Tea Party-backed hopeful's camp, the accusation lacks merit and is entirely untrue.
"This phony," wrote Paul aide Gary Howard in an e-mail to the Huffington Post on Wednesday morning. "The person is not our intern, someone used our intern's info from his LinkedIn page to pose as him on Kos and post stuff. He even sent us an email through our website email form pretending to get 'caught' working for us."
Howard passed along the following submission, which was apparently made to Paul's campaign website:
Your Name Tom Kubica
Email Tom@randpaul2010.com
Subject Replacement
Category Social Networking
Message I was discovered and banned at DailyKos. I suggest we immediately pull in all of our covert operatives. I'll need someone to replace me at Daily Kos as well.
According to IP Address information sent to HuffPost, the message sent by "Tom Kubica" came by way of Massachusetts, not Kentucky as had been suggested by the Daily Kos one day earlier:
IP Address Country Region City Latitude/
Longitude ZIP Code Time Zone
38.97.124.170 UNITED STATES MASSACHUSETTS FRAMINGHAM 42.3019
-71.428 01701 -05:00
Net Speed ISP Domain
DSL PSINET INC COGENTCO.COM
IDD Code Area Code Weather Station
1 508/774/781/978 USMA0147 - FRAMINGHAM
REAL LIFE. REAL NEWS. REAL VOICES.
Help us tell more of the stories that matter from voices that too often remain unheard.