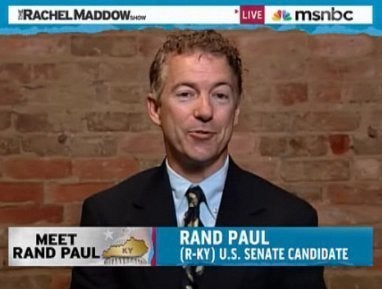 A spokesperson for the Tea Party-endorsed candidate informed NBC News late Friday afternoon that an exhausted Paul was canceling his interview on Sunday's "Meet the Press," Betsy Fischer, the executive producer for the program, told the Huffington Post.
"We booked him on Wednesday. Everything was set and then his press person emailed this afternoon that he was very sorry but he wants to cancel the interview. We tried appealing to the press person to not much avail," Fischer said.
Both Fischer and host David Gregory have since sent direct appeals to Paul's campaign manager to talk to the candidate over the phone with the goal of getting him to reverse his decision. But it appears the Paul camp isn't budging.
"Rand did Good Morning America today, set the record straight, and now we are done talking about it," Paul campaign spokesman Jesse Benton told the Washington Post. "No more national interviews on the topic."
If Paul were to follow through on his decision to not appear on "Meet the Press" it would be, as Fischer describes it, "a big deal." There have been only two other guests in the program's 62-year history to have canceled last minute: Louis Farrakhan and Prince Bandar bin Khaled al-Faisal of Saudi Arabia.
"Meet the Press" had scored a major victory in booking Paul for its program. The Republican Senate candidate emerged as the face of the Tea Party movement following his primary victory Tuesday night. Since then, he's been surrounded by intrigue and controversy after having expressed skepticism about the reach of the Civil Rights Act of 1964.
"Obviously he has had a very tough week I think he has just had a long week and seems to not want to talk any more or keep his commitment," she said.

Popular in the Community