Sen. Rand Paul (R-KY) fired the latest shot on Tuesday in an escalating feud with Chris Christie, calling the New Jersey Governor the "king of bacon," a reference to what Paul believes is a poor record on government spending.
"This is the king of bacon talking about bacon," Paul said of Christie.
The comment came during an interview with CNN's Wolf Blitzer, during which Paul accused Christie of sucking up government funds for hurricane relief aid without pushing for offsets to expenditures like foreign aid. Paul also suggested that Christie was hurting the GOP by continuing to criticize Paul's positions on national security:
It's not helping the party for him to pick a war with me. It's a big mistake. It's not very smart. And it's not a good way to grow the party. Why would he want to pick a fight with the one guy who has a chance to grow the party by appealing to the youth and appealing to people who would like to see a more moderate and less aggressive foreign policy?
Paul's argument stems from a press conference earlier on Tuesday, during which Christie hit Paul for what he characterized as hypocrisy on the topic of Hurricane Sandy aid, and government spending more broadly:
I find it interesting that Sen. Paul is accusing us of having a "Gimme, gimme, gimme" attitude toward federal spending when in fact New Jersey is a donor state and we get 61 cents back on every dollar we send to Washington. Interestingly, Kentucky gets $1.51 on every dollar they send to Washington.
Paul brushed off that suggestion during his interview with Blitzer, pointing to military bases on Kentucky soil as the primary recipient of federal funds.
"What does he want to do, shut down military bases in Kentucky?" Paul asked.
Tensions between the two Republicans -- both of whom are viewed as likely candidates for president in 2016 -- have been building for several months. In January, Paul accused Christie of "throwing a tantrum" over a Hurricane Sandy relief package, which Paul voted against. Christie was a vocal critic at the time of Congress's slowness in doling out relief funds.
Tensions roiled again earlier this month when, during an appearance at the Aspen Institute, Christie attacked Paul's brand of libertarianism, which he suggested was damaging to national security. Christie accused Republicans such as Paul of engaging in "esoteric debates" over foreign policy rather than working to prevent "the next attack that comes that kills thousands of Americans." Paul is a vocal opponent of NSA surveillance, a stance Christie characterized as "dangerous."
Paul hit back on Monday, suggesting that it was actually Christie who was unserious about national defense. He echoed that sentiment during his interview with Blitzer Tuesday night, excoriating Christie for being "on the wrong side of history."
"I don't think the Bill of Rights is esoteric. I don't think the Fourth Amendment is esoteric," Paul said. "I think the idea that we should have a right to privacy is not esoteric to a lot of people in this country."
When asked if the heated back-and-forth was a preview of a 2016 primary contest, Paul's response was noncommittal.
Before You Go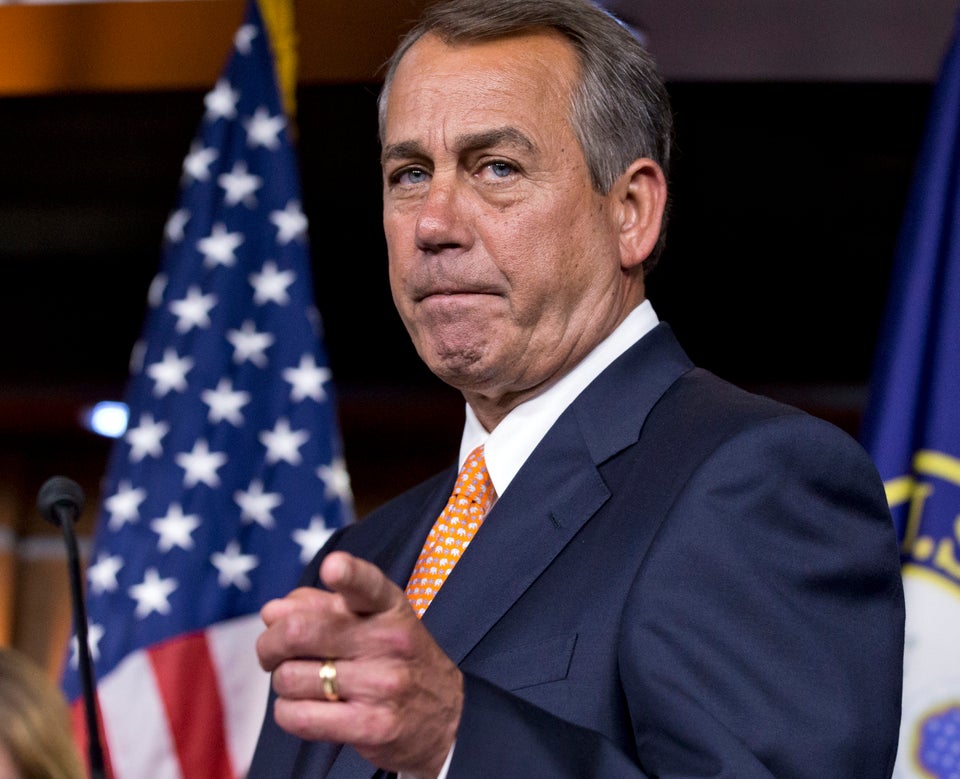 Conservatives Pointing Fingers
Popular in the Community