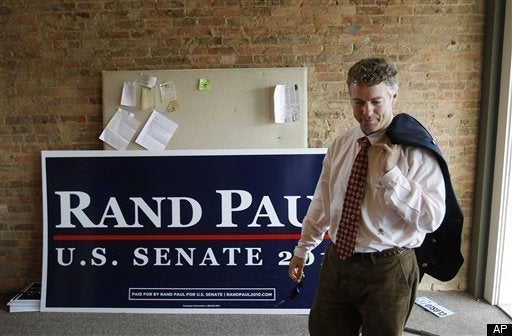 Senate Republicans are cautiously distancing themselves from the controversial comments about civil rights legislation made by the GOP candidate who wants to join their caucus.
A day after Kentucky Senate hopeful Rand Paul said he didn't support the 1964 Civil Rights Act in full, several GOP lawmakers have tried to distance themselves from the Tea Party's favorite son.
"I don't want to put words in his mouth," Sen. Lindsey Graham told the Huffington Post's Lucia Graves. "It's clear he doesn't support racism. I think most people in Kentucky probably believe as I do that in 2010 you should be able to sleep in whatever hotel and eat in whatever restaurant you want to...but as for what's the proper role of government in the private sector...he'll have to convince people that his views are acceptable."
"I don't know what he means by that," Texas Sen. John Cornyn, the chairman of the National Republican Senatorial Committee, told POLITICO. "I support non-discrimination of people, so I would need to talk to him to see what precisely his concerns were."
"I support the Civil Rights Act," Sen. Jim DeMint (R-S.C.), a Paul-booster, told the website Think Progress. "I'm going to talk to Rand about his positions..."
The talking-to, in the end, may be unneeded, as by late Thursday morning Paul seemed to have received the message. The Kentuckian put out a statement from his campaign insisting that he did, in fact, "support the Civil Rights Act" and "overwhelming agree[d] with the intent of the legislation."
The walk-back was peppered with enough nuances to keep critics concerned with his libertarian viewpoints. But at least some members of the GOP leadership were satisfied.
"Among Senator [Mitch] McConnell's most vivid memories and most formative events in his career was watching his boss Sen. John Sherman Cooper help pull together the votes to break the filibuster and pass the Civil Rights Act of 1964," emailed Don Stewart, a spokesman for the Minority Leader. "He has always considered the law a monumental achievement for the country and is glad to hear Dr. Paul supports it as well."
If anything, the episode surround Paul's comments show that there are, in fact, limitations to small-government conservative movement of the modern-day Republican Party.