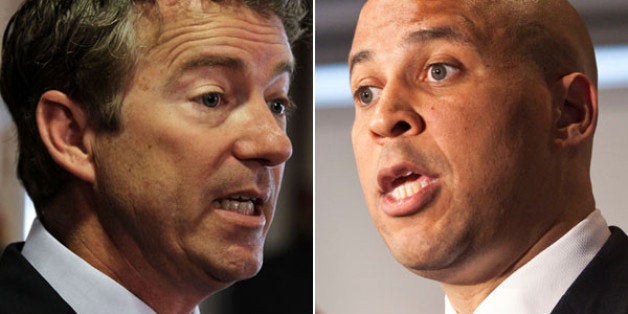 Sen. Rand Paul (R-Ky.) mocked Newark mayor and U.S. Senate candidate Cory Booker for telling stories about a drug dealer named T-Bone, whose existence has been called into question, most recently in a National Review lawsuit against the New Jersey Democrat.
In a Wednesday interview with Politico, Paul poked fun at Booker's "imaginary friend with imaginary problems" in the wake of the National Review suit.
"If Cory will introduce me to T-Bone when I get there, I'd love to meet T-Bone," Paul said. "If T-Bone's not real, maybe we need to get Mr. Booker to talk about real problems."
Paul has endorsed Booker's rival, Republican Steve Lonegan, in the New Jersey Senate race.
Booker frequently referenced T-Bone, whom the mayor claimed he got to know personally after he initially threatened the mayor's life, in speeches when he was first elected in Newark. However, after a 2007 Star-Ledger report found no evidence of the drug dealer's existence, Booker stopped referencing him in his speeches.
Last month, Booker defended the story in an interview with the Washington Post.
"This is a story that I used to tell all the time that was a hundred percent true And the most cynical reporter for the Ledger writes as if – and then he goes like this – he goes to some guy, not even from my neighborhood – 'Was there ever a character?' The guy doesn't know Brick Towers," Booker said.
On Wednesday, the National Review sued Booker for records relating to another anecdote the mayor frequently references about a teenager who died in his arms from gunshot wounds.
"Given the dubious existence of T-Bone, we'd like to see documents backing up Booker's statements," National Review editor Rich Lowry said. "Certainly, the public has a right to know if Booker has made a habit of embellishing or fabricating similarly cinematic stories."
Calling all HuffPost superfans!
Sign up for membership to become a founding member and help shape HuffPost's next chapter
BEFORE YOU GO
PHOTO GALLERY
Senate Seats Up For Grabs In 2014