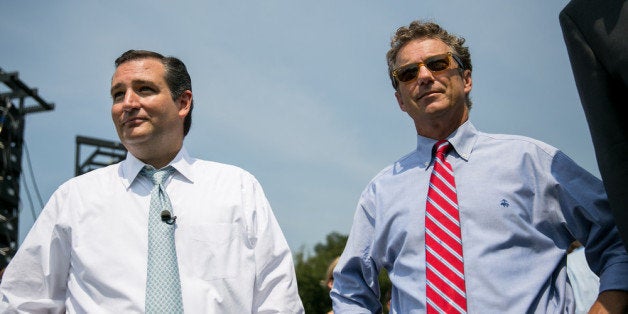 WASHINGTON -- While Sen. Ted Cruz (R-Texas) was bemoaning the "defeatist attitude" of his fellow Republican senators, his close ally Sen. Rand Paul (R-Ky.) acknowledged Obamacare won't be defunded in a bill to keep the federal government open.
The Kentucky Republican stood with Cruz in his all-night speech against Obamacare, but later on Wednesday Paul added his name to those who say the writing is on the wall.
"I'm not saying we would get everything we want. We don't want to fund [Obamacare] at all, but I'm ready to admit we may not get that," Paul told reporters shortly after he voted to begin debate on the government funding bill passed by House Republicans last week.
That bill would keep the federal government open beyond Sept. 30, but permanently strips the Affordable Care Act of its funding, as Cruz and his allies have demanded. Senate Majority Leader Harry Reid (D-Nev.) is expected to amend the measure to restore funding for the Affordable Care Act in the course of a subsequent procedural vote that requires a simple majority.
Republicans, with 46 votes, could stop the bill during the procedural motion; but many of them oppose shutting down the federal government, especially since it wouldn't lead to the end of Obamacare, and the GOP is likely to bear the brunt of the blame.
"The single biggest surprise about arriving to the Senate is the defeatist attitude here," Cruz said.
While Paul joined Cruz in his 21-hour talkathon -- which outlasted Paul's 13-hour talking filibuster earlier this year -- the senator from the Bluegrass State conceded Wednesday afternoon that the Senate should no longer delay sending a revised continuing resolution to the House GOP leaders, who will only have one day to pass the measure in order to avert a government shutdown.
"We've spent a lot of time on this, and it's time to vote," Paul said. "I think the sooner we're done with this, the better chance we have of not having the government shut down."
"I think it's presumptuous of me to tell the House what to do, but I think the goal of everybody should be to try to do something right and at the same time not shut down the government," Paul added.
The Kentucky senator argued that Reid and President Barack Obama are pushing the country to the brink of a shutdown by refusing to compromise on the health care law, and called for a "a discussion over how we could make the bill less bad."
"I think if you analyze this situation, this is us saying the bill has many problems. Even one of the authors of the bill says there's problems with the bill," Paul said. "But if they're unwilling to revisit the bill and compromise on anything ... maybe some of you in the media ought to ask ... why are they shutting down the government in order to get everything they want?"
Paul was among nearly a dozen Republican signatories on a letter distributed by Sen. Mike Lee (R-Utah) in July that called on the conference to oppose any continuing resolution that included funding for Obamacare. In recent weeks, Cruz and Lee have insisted that any vote to advance the House-passed bill is a vote for Obamacare, because it would enable Reid to keep the health care law funded.
Paul was hesitant to share that opinion.
"I don't really want to characterize what I think the vote means," he said. "I think that the Republican caucus has been united in its opposition to Obamacare."
"All I know is at this time, my conclusion is -- and apparently a lot of people's conclusion is -- we ought to get to the votes," Paul added later, as reporters continued to press him on Cruz's strategy. "If we're going to send something to the House, I think get something over there sooner rather than later. That's always been my opinion."
He commended Cruz's speech, noting opposition to Obamacare has been a motivating issue for tea party and grassroots activists in the Republican Party.
"I don't think you're finding many people out in the countryside or across the country saying, 'Oh, it's a bad idea to stand up to Obamacare,'" Paul said. "What makes it difficult is people really probably don't want to shut down the government, and I don't either ... so it is a difficult situation."
Calling all HuffPost superfans!
Sign up for membership to become a founding member and help shape HuffPost's next chapter
BEFORE YOU GO
PHOTO GALLERY
Health Care Reform Efforts In U.S. History