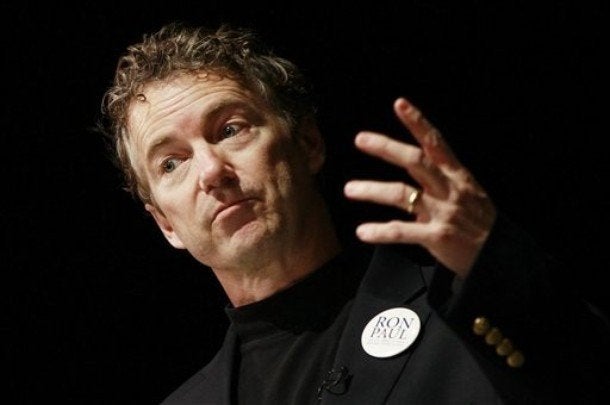 WASHINGTON -- Sen. Rand Paul's (R-Ky.) staff said Monday morning that the senator was being detained by federal Transportation Security Administration agents in Nashville, Tenn.
Moira Bagley, Paul's communications director, tweeted around 10:00 a.m. ET, "Just got a call from @senrandpaul. He's currently being detained by TSA in Nashville."
On Facebook, Rep. Ron Paul (R-Texas), Rand Paul's father, wrote, "My son Rand is currently being detained by the TSA at the Nashville Airport. I'll share more details as the situation unfolds."
The TSA said that Paul "was not detained at any point."
"The passenger triggered an alarm during routine airport screening and refused to complete the screening process in order to resolve the issue," TSA said in a statement. "Passengers, as in this case, who refuse to comply with security procedures are denied access to the secure gate area. He was escorted out of the screening area by local law enforcement."
TSA spokesman Greg Soule said in a statement, "When an irregularity is found during the TSA screening process, it must be resolved prior to allowing a passenger to proceed to the secure area of the airport."
Soule added later that Paul "rebooked on another flight and was rescreened without incident."
Paul and his father are two of the most outspoken libertarians in Congress and are strong critics of the TSA. Paul's father spoke out against the TSA in a statement Monday afternoon.
"The police state in this country is growing out of control," the statement said. "One of the ultimate embodiments of this is the TSA that gropes and grabs our children, our seniors, and our loved ones and neighbors with disabilities. The TSA does all of this while doing nothing to keep us safe."
In June, Paul criticized TSA administrator John Pistole for the agency's procedures being overbearing and unproductive.
"I guess this little girl would be part of the random pat-downs, this little girl from Bowling Green Kentucky, one of my constituents," he said. "They're still quite unhappy with you guys as well myself and a lot of other Americans who think you've gone overboard, you're missing the boat on terrorism because you're doing these invasive searches on six-year old girls. Same week that this happened I got a call from another neighbor of mine in Bowling Green, a little boy had a broken foot and crutches. They didn't want to go through all the screenings, so they took the crutches off and the cast and he wanted to hobble through on his broken foot. His dad was helping him. TSA said 'back away, back away.'"
Popular in the Community