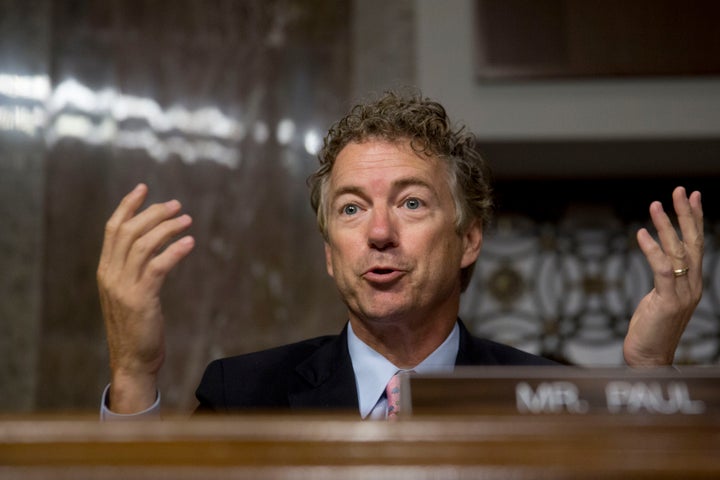 Sen. Rand Paul (R-Ky.) criticized former Vice President Dick Cheney on Thursday, calling nearly all of his foreign policy decisions spanning the last three decades a "disaster for this country."
"I think Dick Cheney has probably been wrong about almost every foreign policy decision over the last 20 or 30 years," Paul told conservative talk show host Laura Ingraham. "The only time he was actually right about something in foreign policy is when he advised the first George Bush that taking Baghdad would lead to chaos, civil war and destabilizing a region. That's ultimately what happened. "
Cheney, who served as vice president under President George W. Bush, published a new book on Tuesday with his daughter, Liz, in which they blame the rise of the Islamic State on the withdrawal of American troops from Iraq.
"President Obama's decision not to leave any U.S. forces behind created the space and the conditions for the rebirth of al Qaeda in Iraq, as well as the Islamic State of Iraq and Syria, ISIS," the Cheneys wrote in their book, titled Exceptional: Why the World Needs a Powerful America.
Paul, a libertarian-leaning conservative with critical views of the Bush administration, told Ingraham that Cheney misread the situation in Iraq by insisting that American troops would be greeted as "liberators" in the country.
"I think what Dick Cheney promotes has been a disaster for this country," Paul said.
Cheney said Wednesday that he had "no apologies" with respect to his administration's decision to invade Iraq and topple Saddam Hussein.
The Cheneys, who are frequent critics of Obama's foreign policy, published a column last week insisting that Obama has lied about the Iran nuclear deal, which would lift sanctions on the country in exchange for Iran curbing its nuclear ambitions.
"President Obama is unraveling this international structure as part of an agreement that provides a pathway for the world's worst state-sponsor of terror to acquire nuclear weapons," the Cheneys wrote in a column published in The Wall Street Journal. "Nearly everything the president has told us about his Iranian agreement is false."
Correction: An original version of this article erroneously referred to Liz Cheney as the vice president's wife.