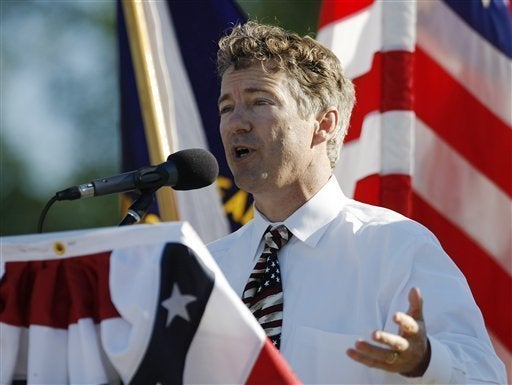 Kentucky Republican Senate candidate Rand Paul was caught in a now-familiar campaign mishap on Thursday when it was revealed that he has failed to correct mistaken assumptions about his educational achievement.
Contrary to popular belief, the Tea Party favorite never received a bachelor's degree from Baylor University, reports the Lexington Herald-Leader reported. Paul attended the school but left for Duke University after being accepted into its School of Medicine.
The mistake, the campaign insisted, was made by the press. "I guess many people and some in the media have assumed Dr. Paul had a bachelor's degree, but he has never said that," Doug Stafford, a consultant for Paul's Senate campaign said.
As for why the Paul campaign never asked publications to run a correction, Stafford insisted that the candidate and his aides were not aware that the erroneous assertion had ever been made.
Naturally, video was bound to surface testing that claim. And by Thursday afternoon, Paul's opponent Kentucky Attorney General Jack Conway had unearthed footage of Paul sitting through an interview with the Louisville Courier Journal editorial board in which his bio was read to him as follows:
"Dr. Paul is the chairman and founder of Kentucky Taxpayers United. A native of Pennsylvania he is a graduate of Baylor University and the Duke University School of Medicine."
Paul, noticeably, never claimed he graduated from Baylor during that sit-down (and it says something that the Conway campaign couldn't immediately find a video clip or newspaper quote of him doing so). But the candidate didn't protest or correct his interviewer either.
REAL LIFE. REAL NEWS. REAL VOICES.
Help us tell more of the stories that matter from voices that too often remain unheard.