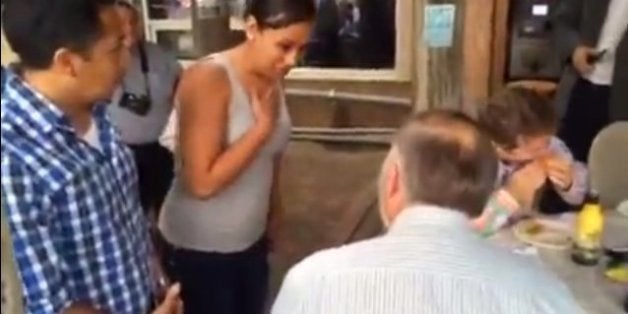 Sen. Rand Paul (R-Ky.) sought to explain viral footage showing him hastily moving away from an undocumented immigrant in Iowa on Tuesday.
In the video, Paul abruptly gets up from a table and leaves his half-eaten burger behind after immigration activists confronted Rep. Steve King (R-Iowa), who was sitting across from him, about his vote to end an Obama administration program that delays deportations for young people who were brought into the country illegally as children.
The Kentucky Republican said an aide had pulled him aside to do another media interview nearby.
"About five minutes before that or two minutes before that the video doesn't show that another reporter came up and said, 'Will you do an interview?'" Paul told Fox News' Greta Van Susteren.
"And I said, 'I need to take a couple more bites and we'll do an interview,' and then I was told we had to leave and I had to do the interview. So actually I stood about 10 feet from those people who were doing sort of a kamikaze interview and I stood 10 feet from them and did another interview."
Paul, a potential 2016 presidential candidate, is barnstorming the early primary state of Iowa for a three-day trip that includes Republican events and fundraisers. He maintained that his quick exit in the video isn't indicative of his stance on the issue of immigration, which he has "always been open to discussing."
"I'm very open about discussing that I think there should be some kind of immigration reform. But I think you can't do it without first securing the border and that's the problem with the president doing this unlawfully, the president doing this on his own act, I will make this choice because people will not act and saying he's using a pen and a phone," he added. "I'm very much opposed to the president making policy instead of saying Congress makes the laws, he gets to sign them."
Calling all HuffPost superfans!
Sign up for membership to become a founding member and help shape HuffPost's next chapter
BEFORE YOU GO