After nearly 13 hours on the Senate floor, Sen. Rand Paul (R-Ky.) has ended his filibuster of the nomination of John Brennan as director of the Central Intelligence Agency.
"I will speak until I can no longer speak," Paul said at the beginning of the filibuster, which he used to address concerns over President Obama's policies on civil liberties, including the president's controversial drone program.
The Huffington Post's Luke Johnson reported Wednesday:
Paul, an outspoken libertarian, pointed to what he called the abuses of executive power and civil liberties under Obama's administration. In particular, he objected to the contents of a letter he received from Attorney General Eric Holder that asserted the U.S. government had the legal authority to kill a U.S. citizen on American soil.

"Where is the Barack Obama of 2007?" he asked, referring to then-presidential candidate Obama's criticism of Bush-era violations of civil liberties. "If there were an ounce of courage in this body, I would be joined by many other senators," he added. "Are we going to give up our rights to politicians?"

...

Paul also used his filibuster Wednesday to speak out against the wars in Afghanistan and Iraq. He conceded that he would have supported the Afghanistan war at the outset, but said it had since become far wider than its initial response to the Sept. 11 attacks.
Paul began the filibuster at 11:47 a.m. ET on Wednesday, and concluded at 12:39 a.m. on Thursday. After Paul ceded the floor, Sen. Dick Durbin (D-Ill.) filed for cloture on Brennan's nomination, adjourning the Senate until 10 a.m. Thursday.
Throughout the endeavor, he was joined on the Senate floor by a number of his colleagues, including Sens. Ted Cruz (R-Texas), Marco Rubio (R-Fla.) and Saxby Chambliss (R-Ga.). Close to midnight, Senate Minority Leader Mitch McConnell (R-Ky.) also joined, expressing support for Paul's filibuster.
Oregon Democrat Ron Wyden also took to the floor in the afternoon, welcoming the opportunity to discuss Obama's drone program despite his support for Brennan's nomination.
Before You Go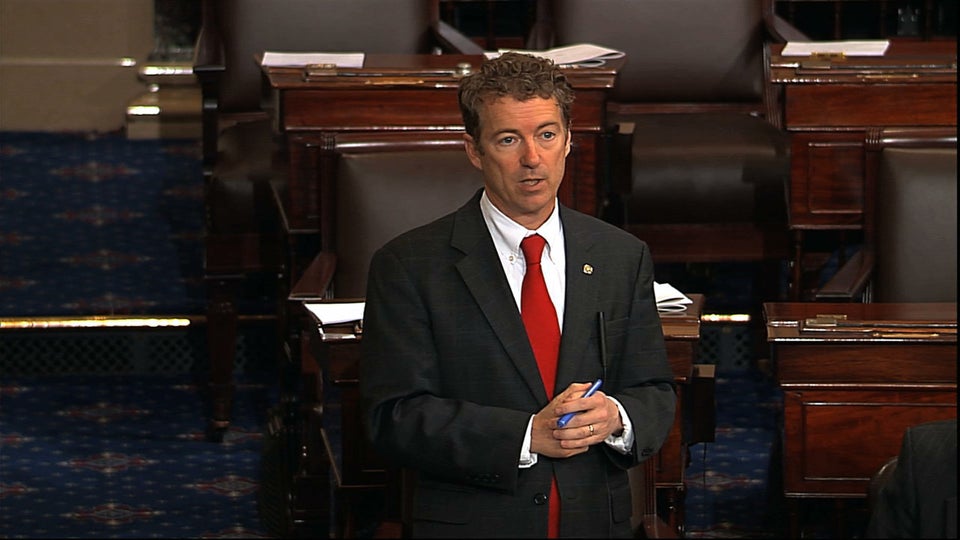 Rand Paul's Epic Filibuster
Popular in the Community