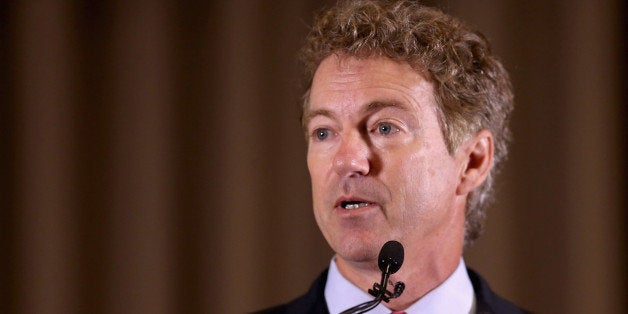 WASHINGTON -- Sen. Rand Paul (R-Ky.) wants to "blow up the tax code," and he's proposing a new, far-reaching flat tax to do it. The only problem is that his plan could blow up the size of the deficit, too.
The libertarian-leaning senator from Kentucky argued in a Wall Street Journal op-ed on Thursday that legislators should scrap the current tax code, which he described as overly complicated with far too many handouts for corporate interests, in favor of a "fair and flat" system that would tax all income levels at 14.5 percent.
It's an idea that former White House wannabe Steve Forbes tried to popularize in the 1990s, although the Forbes Media chief called for a slightly higher tax rate of 17 percent. Current GOP presidential candidates like Texas Sen. Ted Cruz and former Arkansas Gov. Mike Huckabee have endorsed similar proposals, but Paul is the first in the 2016 race to offer specifics.
Paul's plan would reduce corporate and individual tax rates while eliminating gift and estate taxes, telephone taxes, duties and tariffs, and, perhaps most significantly, payroll taxes. He would eliminate most personal deductions, sparing only those for home mortgages and charitable giving, which are supported by both liberals and conservatives.
For a family of four, the first $50,000 of income would be tax-free. The plan would also maintain the earned-income tax credit for needy families.
Paul described his proposal as a massive tax cut that would reduce revenue to the U.S. Treasury by $2 trillion over 10 years. Citing an analysis by the nonpartisan Tax Foundation, he claimed the plan would increase gross domestic product by approximately 10 percent and create "at least 1.4 million new jobs."
That sounds great on paper, and it will surely sound even better to skeptical Republican voters whom Paul needs to woo in early primary states.
But how much would it actually cost in lost revenue? The Tax Foundation said $2.97 trillion over 10 years, using a static basis, or $960 billion, based on "dynamic scoring" that accounts for economic growth. But another analysis by Citizens for Tax Justice, a nonprofit research and advocacy group, argues that it would cost as much as $15 trillion over a decade.
And how would Paul keep that much lost revenue from blowing "a massive hole in the budget deficit"? Unspecified spending cuts that would magically balance the budget.
The senator wrote that his plan would actually "reduce the national debt by trillions of dollars over time when combined with my package of spending cuts."
During his first months in the Senate in 2011, Paul did offer a budget that would hit the Pentagon with draconian spending cuts and eliminate four departments -- Commerce, Education, Energy, and Housing and Urban Development. He has since reversed himself on the former idea, proposing an amendment earlier this year that would have increased defense spending by 16 percent.
Howard Gleckman, a resident fellow at the Urban Institute who focuses on tax policy and long-term care issues, disagrees with Paul on where this slashing of tax rates would lead. He told The Huffington Post that Paul's tax proposal would amount to a "huge increase in the budget deficit and debt," which would disproportionately benefit wealthy Americans.
"There's a lot of details that he leaves out, so until you fill in some of those holes, it's impossible to really know," Gleckman said regarding the cost of the plan. "Overall, a very, very big tax cut for everybody."
Chuck Marr, director of federal tax policy at the nonpartisan Center on Budget and Policy Priorities, cautioned against taking Paul's $2 trillion figure at face value because his plan preserves the biggest deductions.
"I think that's kind of silly," Marr said of Paul's proposal. "He cuts the tax rate, but he keeps the biggest tax expenditures."
Of additional concern is what Paul's plan would do to entitlement programs. He argued in his op-ed that eliminating payroll taxes entirely would stimulate the economy by leaving additional money in the pockets of hard-working Americans week by week. But it could cripple the operation of entitlement programs, which are funded primarily through payroll taxes.
"It would completely change the nature of those programs," Gleckman warned.
Calling all HuffPost superfans!
Sign up for membership to become a founding member and help shape HuffPost's next chapter
BEFORE YOU GO