Rand Paul has a new filibuster in the works. The Kentucky Republican recently galvanized the nation's attention with a nearly 13-hour stand against the unchecked use of drones by the Obama administration. When it comes to weapons a bit smaller than unmanned aerial vehicles, however, Paul is less passionate about government oversight.
He and tea party favorite Sen. Ted Cruz (R-Texas) will filibuster the motion to proceed to debate on gun legislation, the pair told Senate Majority Leader Harry Reid (D-Nev.) Tuesday in a letter initially obtained by Politico. (Read the letter below.)
But the Paul-Cruz effort will look much different than Paul's channeling of "Mr. Smith Goes To Washington." In fact, it won't look anything at all like his prior effort. Under Senate rules, if Reid can't get broad bipartisan support to move to debate a bill, he needs unanimous consent. Paul and Cruz are threatening to withhold that consent, which launches a silent filibuster.
Adam Jentleson, a spokesman for Reid, told HuffPost, "While this threat is entirely unsurprising, it's outrageous that these senators are unwilling to even engage in a debate over gun violence in America. No matter your opinion on this issue, we should all be able to agree with President [Barack] Obama when he said that the children and teachers of Newtown, along with all other Americans who have been victims of gun violence, at least deserve a vote."
Backers of filibuster reform have argued previously that, at a minimum, Reid should eliminate the ability to filibuster a motion to proceed. Reid declined the opportunity, but has since expressed frustration that gridlock continues.
READ: The full text of Cruz and Paul's letter:
Dear Senate Majority Leader Harry Reid,

We, the undersigned, intend to oppose any legislation that would infringe on the American people's constitutional right to bear arms, or on their ability to exercise this right without being subjected to government surveillance.

The Second Amendment to the Constitution protects citizens' rights to self-defense. It speaks to history's lesson that government cannot be in all places at all times, and history's warning about the oppression of a government that tries.

We will oppose the motion to proceed to any legislation that will serve as a vehicle for any additional gun restrictions.
UPDATE: 3:20 p.m. -- A short video produced by Reid's office and uploaded to the YouTube channel of Senate Democrats highlights statements Cruz made to Fox News in early January, expressing support for improvements to the federal database.
This post has been updated with comment from Reid's office and the full text of the letter.
Support HuffPost
The Stakes Have Never Been Higher
Before You Go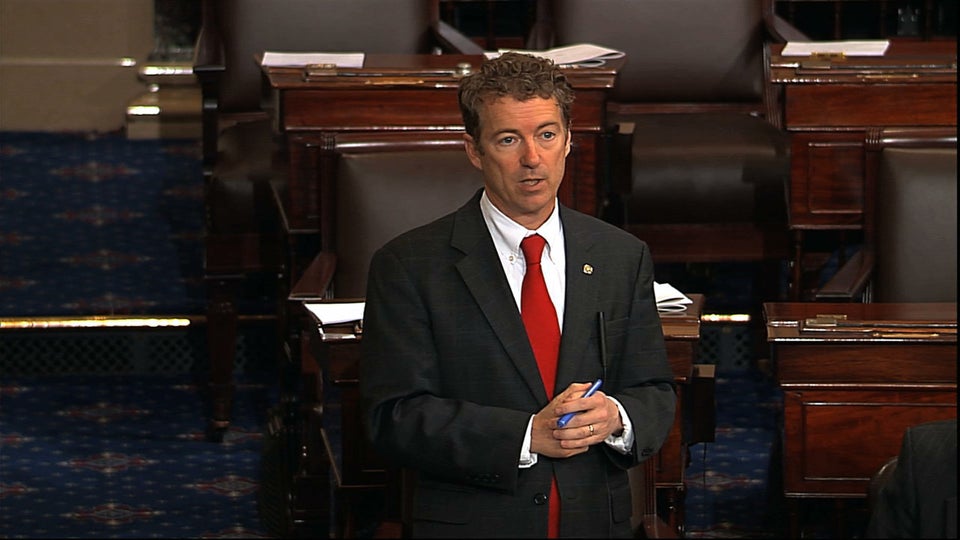 Rand Paul's Epic Filibuster
Popular in the Community