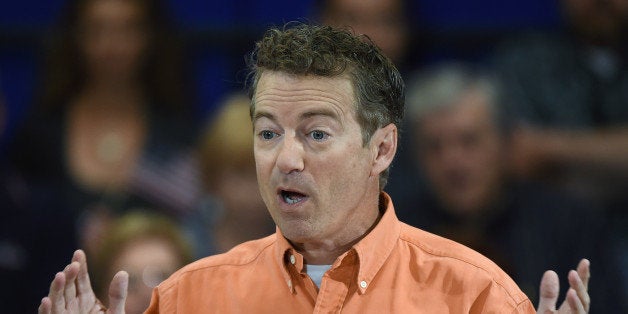 WASHINGTON -- When Republican presidential hopeful Rand Paul was not invited to speak at the National Rifle Association's annual convention last week, insiders with knowledge of conversations with Paul's office floated that his affiliation with a more conservative gun rights group was partly behind the snub. Paul's association with Second Amendment proponents such as these could alienate moderates as he embarks on a presidential race.
The U.S. senator from Kentucky is the only current or expected 2016 contender affiliated with the National Association for Gun Rights, the group told The Wall Street Journal. NAGR's founder told the paper that he is working for Paul's presidential campaign. The group has also used Paul's name in fundraising emails in the past.
In 2011, Mother Jones reported that Paul supporters received an email on behalf of the group, warning inaccurately that a proposed United Nations treaty was going to allow the government to confiscate all "unauthorized" civilian guns. (The treaty aimed to prevent terrorists from getting weapons.)
Paul's connection with the group could prove off-putting to the moderate voters he will need to court for 2016. Even staunch Second Amendment advocates whose views align with Paul's on guns are not enthusiastic about his relationship with NAGR.
Gary Marbut, the president of the Montana Shooting Sports Association who helped author the state's Firearms Freedom Act, told The Huffington Post that he likes Paul, but "any association by Rand with NAGR is unfortunate." He questioned whether Paul knows the "history and persona" of the group, adding that "NAGR is much more of a liability than an asset to the gun rights community."
In response to questions sent by The Huffington Post, Dudley Brown, the president of NAGR, wrote in an email: "We don't give comment to Pravda's big sister." Pravda was a newspaper used for Soviet political propaganda and established in 1912, about 93 years before HuffPost.
This isn't the first time Paul has been associated with a controversial pro-gun crowd. A Facebook invitation for a Second Amendment rally at the Kentucky state Capitol on March 27, 2010, lists both Paul and the Ohio Valley Freedom Fighters, a volunteer militia, as speakers. Videos from the event show them speaking in front of the same backdrop, and a local progressive blogger claims they were both there.
During his speech at the event, Paul bragged about shooting AR-15 semi-automatic rifles and promised that he would never vote for any federal regulation of firearms. He also spoke to a couple of gun activists who were dressed like Robin Hood.
Later, Kevin Terrell, founder of the Ohio Valley Freedom Fighters, spoke at the event, saying at one point that the U.S. Capitol was occupied by "Soviet socialists." Terrell added that civil war is "imminent" and advised the "press to start getting it right from this moment on, and stop aiding and abetting un-American activity. Like the Tories of old, the worst shall be hung." Others, he added, would be tarred and feathered.
Paul and the Ohio Valley Freedom Fighters militia did not respond to requests for comment for this story. But when Paul was later asked about the claims made by the militia at that event, he noted that he wasn't there for that portion. "I didn't hear any of those people. It might have been said, but, I didn't hear that." He added, "I'm not in favor of any physical violence."
Paul has long advocated that guns be used to fight and deter criminals, a common refrain among conservatives. David Kopel, research director of the Independence Institute, which has received grant money from the NRA's Civil Rights Defense Fund, pointed out that "U.S. burglars generally try to make sure no one is home, and they take this precaution in order to avoid getting shot."
However, speaking at another event, Paul took this logic to an unsavory conclusion. He told a story about a woman whose son was shot by a homeowner during a home invasion, using the son as a punchline to make the crowd laugh.
"The mom was wailing and going, 'She shot my boy! She shot my boy!'" Paul said. "The general surgeon looked at her and he says, 'Well I guess that's an occupational hazard if you break into homes.'"
Paul has also said that allowing civilians to carry guns will help curb mass tragedies, pointing to pilots, teachers and principals as examples. He has said, "If a teacher had concealed carry at Virginia Tech, we might have lost four kids instead of 20." In wake of the shooting at Sandy Hook Elementary School, he said that he hadn't "heard one proposal from [President Barack Obama] or Harry Reid that would have saved one life." Obama and Reid were pushing measures such as expanded background checks, a ban on newly acquired assault weapons and a cap on large ammunition magazines.
For his advocacy of these and other positions, Paul has positioned himself as the most unshakable champion of gun rights in the Republican presidential field, telling Bloomberg last week that "there's probably no greater advocate for the Second Amendment in Congress than myself."
His associations with NAGR and other groups may well prove that.
But if you ask gun control advocates which candidate or potential candidate they most fear, it's not Paul's name that tops the list. Rather, it's everyone considering a run for the Republican ticket, minus New Jersey Gov. Chris Christie, who has taken a more moderate stance on gun control.
"There's not much difference" between the Republican presidential contenders on gun policy, since they all oppose certain popular gun control measures, Brian Malte, senior national policy director for the Brady Campaign to Prevent Gun Violence, told The Huffington Post. "In our view, these are lap dogs of the gun lobby."

Support HuffPost
The Stakes Have Never Been Higher
Before You Go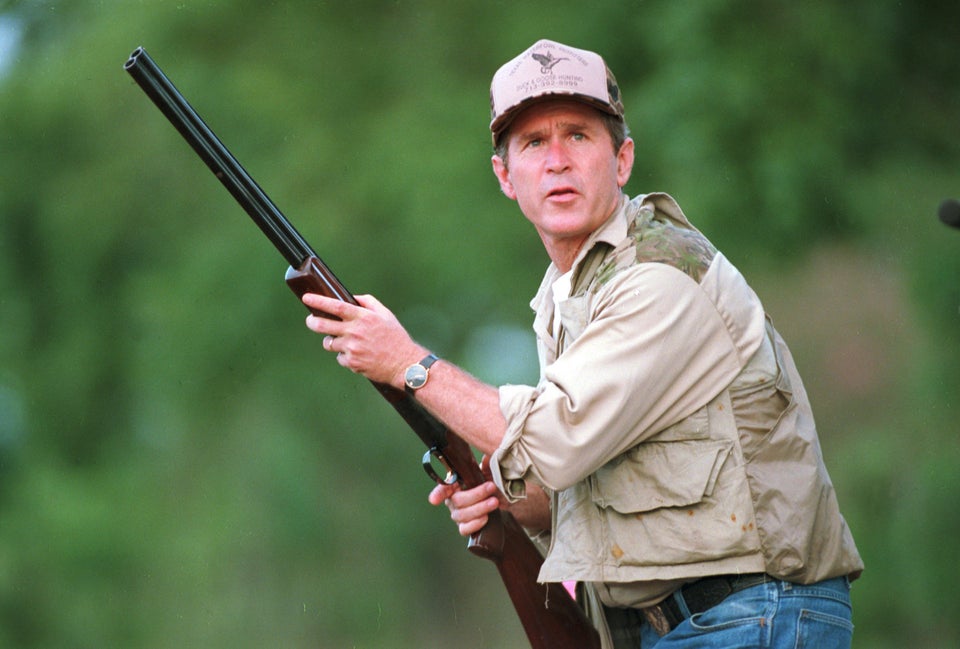 Politicians Holding Guns
Popular in the Community