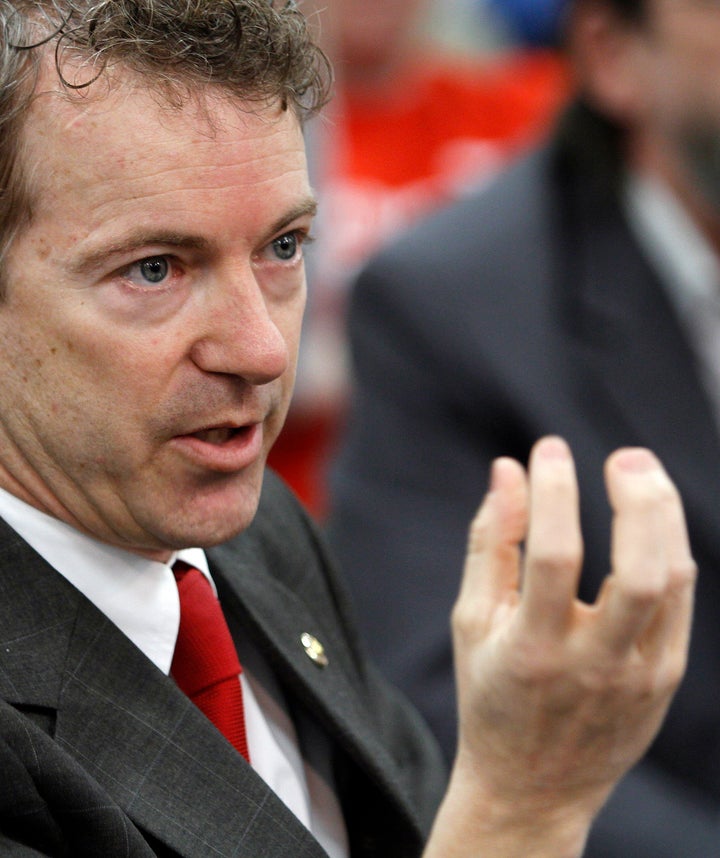 WASHINGTON -- Senator Rand Paul (R-Ky.) pledged during his run for office to be a veritable stick in the mud on issues of philosophical concern even if it meant agitating his fellow Congressional Republicans. Now, as the Senate rushes against the clock to pass an extension of the USA Patriot Act, he's living up to his word.
The Kentucky Republican has objected to an attempt by Senate leadership to consider the national security measure on an expedited basis. His objections are not necessarily driven by ideological opposition to the bill, though he remains an outspoken critic. Instead Paul has dug in his heels because Senate Democrats have refused to consider several amendments that he wants offered, chief among them language that would restrict national security officials from examining gun dealer records in an effort to track potential terrorists.
Paul's objections mean the Patriot Act will likely expire Thursday night before both the House and Senate can vote on an extension -- now likely to come sometime Friday morning. Whether the law's expiration will disrupt counter-terrorism efforts as drastically as some government officials claim is an open question. But the basis of Paul's objections and the reaction to them does provide a window into how difficult it has become to manage personalities and get legislation passed in an undramatic fashion in both chambers.
On Tuesday, Senate Democratic leadership seemed willing to at least try to acquiesce to Paul's demands. Majority Leader Harry Reid (D-Nev.) was trying to craft a deal with Republicans to consider six PATRIOT Act amendments -- three of them from Paul -- on a unanimous consent agreement. Doing so wouldn't guarantee the passage of those amendments. They would all still face a 60-vote threshold. But it may have persuaded those affected lawmakers to allow the larger bill to be considered without insisting on the two 30-hour windows that come with cloture votes: one to start debate on the bill the other to stop it.
Alas, it didn't work. Late Tuesday night, Democratic leadership announced that they couldn't reach an agreement. Reid, taking to the floor on Wednesday, said "unfortunately, in order to continue his political grandstanding, [Paul] rejected that offer."
A Democratic Senate aide, however, told The Huffington Post that at least one other member said that they would object to the unanimous consent proposal, deeming it too risky to even allow Paul's gun records proposal to come to a vote.
Gun safety groups had been frantically trying to draw attention to the amendment -- which had gone largely under the radar -- arguing that it would it would curtail the Department of Justice's already limited authority to inspect the records of firearms licensees.
Paul's office did not return a request for comment, but the Senator told the Washington Post that, "They ramrodded me. ... We're going to get no debate and no amendments."
Paul isn't the only one aggrieved over the procedural underpinnings of the Patriot Act vote. Democratic Sens. Mark Udall (Colo.) and Ron Wyden (Ore.) have also tied their opposition to extension to Senate leadership's decision to block any amendments from being considered.
"Reid filled the tree," said a Republican Senate aide, "despite his promise of an open amendment process."
In the end, their objections won't likely submarine the vote -- just delay it. But it is still a vivid example of the frantic nature of Congress in which pet issues can threaten major bills and individual Senators can stall legislation up to -- and even past -- its drop-dead deadline.
The Senate is now expected to vote on ending debate on the Patriot Act extension at 1 a.m. Thursday morning. Final passage will likely come on Friday morning -- as early as 7 a.m. -- after which the House of Representatives will cast a vote on the bill.
"The hope is that by tomorrow, when we are staring down the prospect of the Patriot Act expiring ... that [Paul] will relent and not let it expire," said the Senate Democratic aide.
UPDATE: The AP is reporting that a deal of sorts may have been reached between Reid and Paul that would allow for votes on some amendments in exchange for quicker consideration of the Patriot Act's extension.
An agreement to hold a test vote early Thursday was the first progress all week toward resolving an impasse between Senate Majority Leader Harry Reid and tea party favorite Rand Paul, R-Ky., before three provisions of the act expire at midnight Thursday. Just before he closed the Senate on Wednesday night, Reid said there likely would be votes on amendments to the extension.

That could go a long way toward meeting Paul's demand that Reid make good on a promise earlier this year to hold a full debate on proposed changes to the post-9/11 law, which empowers the government to find terrorists on American soil...
It's not entirely clear whether the gun records amendment will get a vote, though the AP report suggests it will not.
UPDATE II: The Hill reports that the first cloture vote will now take place Thursday at 10 a.m. -- another sign that a potential procedural deal has been reached.
Reid said that while the vote is being held at 10 a.m., hours will begin accruing at 1 a.m. toward the 30-hour percolating period required for passage by Senate rules.

"In short we don't have to have a vote at 1 a.m.," Reid said. "Everyone has been most cooperative to get us past that. Hopefully we will be able to make everyone happy."
Popular in the Community