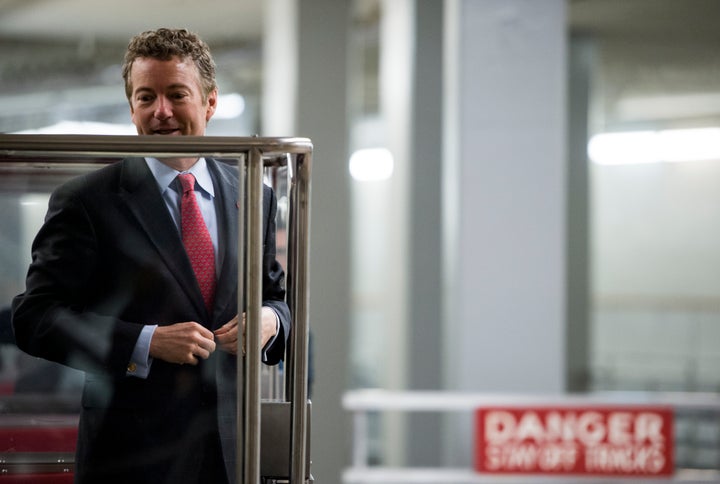 WASHINGTON -- Maya Cade, a Howard University freshman with a sunny disposition, was walking down 4th Street on the eastern side of campus Tuesday afternoon, texting with a friend about an unusual speech scheduled for the next day.
Sen. Rand Paul (R-Ky.) will on Wednesday become the first elected Republican office holder to speak on Howard's campus in years. Cade, a political science major, ran into a friend on the sidewalk while talking to a Huffington Post reporter about Paul, a Tea Party-affiliated conservative.
"He's coming today isn't he?" asked her friend, who gave her name as Brittany.
"No, tomorrow," Cade said.
"Oh," Brittany said. "That's awkward."
Indeed, it could be when Paul arrives. Paul asked the university for the opportunity to speak, leading some to conclude he is using the traditionally black college to make himself, and the GOP, look more friendly to minorities without putting in any real effort.
"I'm trying to read into Rand Paul's thinking here and all I can see is Howard being a prop," said professor Daryl Harris, chair of the political science department, during an interview in his office. "I can't see it any other way."
Howard spokeswoman Kerry-Ann Hamilton confirmed that "Senator Paul contacted Howard University as part of his outreach efforts." She said in an email that Paul's visit "is part of a series of conversations involving a cross-section of communities."
A press release from Paul's office said that he will "focus on the importance of outreach to younger voters, as well as minority groups" and "also discuss issues such as school choice and civil liberties."
Some students interviewed on campus Tuesday were receptive to Paul's overture. The occasion will bring the media-savvy lawmaker and potential 2016 presidential hopeful a new round of press attention, and plaudits from some for venturing into what Harris, the professor, openly acknowledged as "a hotbed of liberal thinking."
Many students expressed sentiments similar to Cade, who said: "Regardless of how I personally feel, it's good to experience how the other side feels."
That is, they were eager to hear a different type of political argument, but they clearly viewed Republicans as "the other side."
"They completely disregard us," said Desiree Morris, a junior studying economics. "The only reason why African Americans, I feel, vote Democratically almost 99.9 percent of the time is because they don't have a better choice than the Democratic Party. Like, we don't have any other option. And the Republicans aren't giving us that."
Morris said Republicans could improve their standing with African Americans by focusing on reforming prisons and sentencing guidelines for drug crimes that often unfairly penalize minorities, as well as on housing policy. She said she wasn't pacified by Paul's visit.
"I kind of feel like a token. I feel like he's just trying to earn brownie points," Morris said.
What would it take to change that? asked HuffPost. She responded: "For him to actually do something rather than just speaking on campus."
Paul has in fact recently sponsored legislation with Sen. Patrick Leahy (D-Vt.) to give judges more flexibility to disregard federal mandatory minimum sentences, so Paul's visit will allow him a chance to tout that to students like Morris.
Even for students who expressed openness to conservative ideas, like Alvin Curtis, another economics major, there was a clear judgment that the Republican Party has continued -- even in the midst of a soul-searching following their loss in the 2012 election that saw 90 percent of black voters support President Barack Obama -- to alienate itself from minority Americans.
"Some of the policies are really good I think. But you have to include everyone," Curtis said, taking his white ear buds out to talk. Curtis brought up the recent reference by 79-year-old Rep. Don Young (R-Alaska) to Hispanics as "wetbacks." Curtis didn't know who had said it, only that he was a Republican. This kind of thing sticks.
"We are all people. You can't put people out in a category," said Curtis.
He was nonetheless quite open to what he described as the Republican approach to work and government welfare programs. Republican nominee Mitt Romney's policies, "business-wise, might have worked a little better."
"It would have been a wakeup call," Curtis said. "Too many people are sitting back taking public assistance. You gotta work."
Shakei Haynes, a Howard alumnus who was on campus Tuesday and said he is soon joining the Capitol Hill staff of Sen. Elizabeth Warren (D-Mass.), said he was less interested in what Paul has to say.
"His views and his positions don't really have a place here," Haynes said. "I mean we're open to hearing it and entertaining it, and being, I guess, cordial, at his guest appearance here."
At the very least, Paul's gambit is drawing attention and raising eyebrows. Harris, in his office, was stumped when asked the last time that a Republican office holder spoke at Howard. "I don't know if that has ever happened," he said.
In fact, it has. The last Republican of note to speak at the school, according to a list of major event speakers, was then-Senate Majority Leader Bill Frist (R-Tenn.) at the 2004 commencement. But beyond that -- on this list at least -- you have to go back to 1981, when Vice President George H.W. Bush was the commencement speaker.
In 2000, George W. Bush declined an invitation to speak at Howard during the campaign.
Before You Go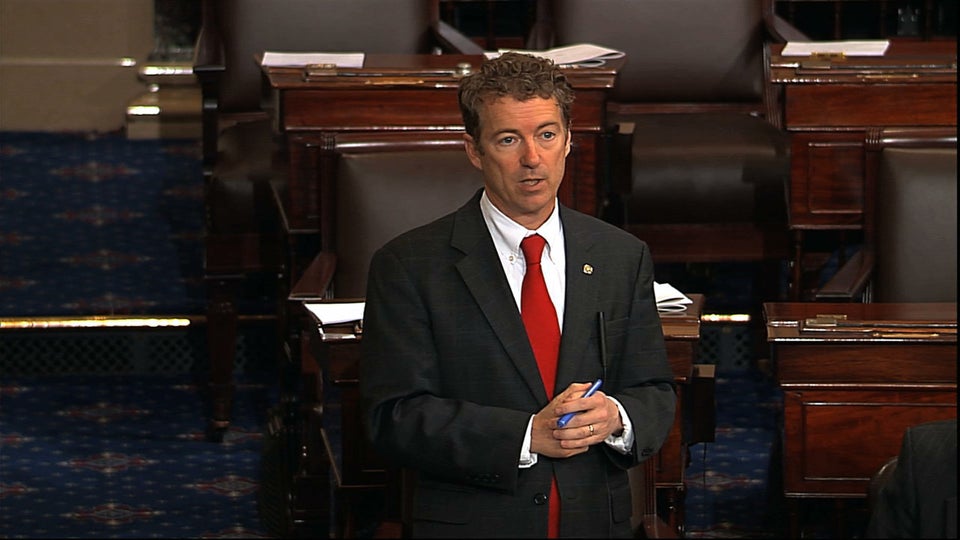 Rand Paul's Epic Filibuster
Popular in the Community