Sen. Rand Paul (R-Ky.) suggested Rep. Ilhan Omar (D-Minn.) should visit Somalia, where she was born, to gain a better appreciation for the United States, calling the Muslim lawmaker "ungrateful" to be an American.
Paul made the comment to the right-wing website Breitbart last week during the Turning Points USA summit in Washington for high school and college Republicans. Earlier this month, President Donald Trump created an uproar when he said Omar and the three other Democratic congresswomen of color who make up "the Squad" should "go back" to other countries "from which they came."
All four congresswomen are Americans and the other three ― Reps. Alexandria Ocasio-Cortez (N.Y.), Ayanna Pressley (Mass.) and Rashida Tlaib (Mich.) ― were born in the U.S. Omar left war-torn Somalia with her family when she was 8 years old and immigrated to the U.S. as a refugee four years later. 
Trump's tirade against the congresswomen inspired the crowd at his rally in North Carolina days later to chant "send her back," in reference to Omar. Democrats and some Republicans decried Trump's comments and the subsequent chant at his rally as racist and wildly offensive.
Other Republicans, like Paul, have defended Trump's attacks on the Squad and said Omar ought to show more gratitude for being an American.
"I've met people who have come here from behind the Iron Curtain," Paul told Breitbart. "They're some of the best Americans we have, because they really appreciate how great our country is, and then I hear Representative Omar say America is a terrible place."
She came here and we fed her, we clothed her, she got welfare, she got [schooling], she got healthcare, and then, lo and behold, she has the honor of actually winning a seat in Congress, and she says we're a terrible country? I think that's about as ungrateful as you can get.

And so — I'm willing to contribute to buy her a ticket to go visit Somalia, and I think she can look and maybe learn a little bit about the disaster that is Somalia — that has no capitalism, has no God-given rights guaranteed in a constitution, and has about seven different tribes that have been fighting each other for the last 40 years.

And then maybe after she's visited Somalia for a while. ... She might come back and appreciate America more.
An outspoken critic of Trump, Omar has condemned the inhumane conditions at migrant detention centers near the U.S. border with Mexico. She has also questioned America's relationship with Israel, though has made clear she takes issue with the Israeli government ― not Jews.
There's no evidence that Omar has called the U.S. "a rotten country," as Paul has claimed. In fact, she has written publicly about her pride in America and the democratic process.
In an op-ed published in The New York Times last week, Omar condemned Trump's use of "overtly racist rhetoric to strike fear and division in communities of color and religious minorities across the country."
"The ideals at the heart of our founding — equal protection under the law, pluralism, religious liberty — are under attack, and it is up to all of us to defend them," she wrote. "The beauty of this country is not that our democracy is perfect. It's that embedded in our Constitution and democratic institutions are the tools to make it better."
Omar's office declined to comment for this story. Her Twitter account shared tweets from Washington-based journalist Mehdi Hasan and actor Tom Arnold that dragged Paul over his comments.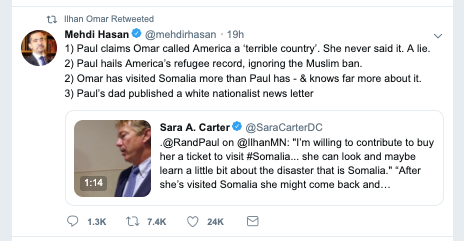 In his tweet, Arnold appeared to suggest Paul deserved to be attacked by a Kentucky neighbor in 2017, which left the lawmaker with six broken ribs.
"Imagine being Rand Paul's next door neighbor and having to deal with [Paul] lying cowardly circular whiney bullcrap about lawn clippings," Arnold wrote. "No wonder he ripped his toupee off."
Republicans were quick to condemn Omar for sharing Arnold's tweet.
"Congresswoman Ilhan Omar retweeting calls for political violence against [Rand Paul]," tweeted Donald Trump Jr., the president's eldest son. "I'm not surprised, and look forward to the forthcoming silence from the media on the issue."
This story has been updated to include Omar's retweets.
Calling all HuffPost superfans!
Sign up for membership to become a founding member and help shape HuffPost's next chapter