WASHINGTON -- President Barack Obama on Friday announced his decision to launch limited airstrikes against Islamic State militants in Iraq, a move that was largely met with bipartisan support from congressional lawmakers. But there's one prominent member of Congress who hasn't had much to say at all about the airstrikes: Sen. Rand Paul (R-Ky.).
The libertarian-leaning Republican, a potential 2016 presidential contender, has long been skeptical of entangling the U.S. in foreign affairs. He slammed the administration's decision to intervene in Muammar Gaddafi's Libya. He argued against the use of force in Bashar Assad's Syria. He even said he couldn't support committing additional troops to protect U.S. diplomatic facilities in Iraq. All of which has made Paul a prime target for members of his own party who argue that America cannot afford to isolate itself at a time of global turmoil.
"[I]t's disheartening to hear fellow Republicans, such as Sen. Rand Paul (R-Ky.), suggest that our nation should ignore what's happening in Iraq," Texas Gov. Rick Perry (R) wrote in July.
Paul is "part of a wing of the party that has been there prior to World War I, that is a withdrawal to 'Fortress America,'" Sen. John McCain (R-Ariz.) said on CNN.
Re-engaging the nation's armed forces in Iraq for a fourth time even drew modest approval from other GOP would-be presidential candidates. Five prominent Republicans who have made moves toward a White House run — Perry, Sen. Ted Cruz of Texas, former Arkansas Gov. Mike Huckabee, Louisiana Gov. Bobby Jindal and former Sen. Rick Santorum of Pennsylvania — gathered at a conservative summit in Ames, Iowa, on Saturday where they had plenty to say on the matter.
Former Secretary of State Hillary Clinton, meanwhile, weighed in in an interview with The Atlantic, and McCain predictably urged the administration toexpand its bombing campaign against Islamic State extremists into neighboring Syria.
But for a man who has kept a high profile in recent months -- barnstorming the early caucus state of Iowa, campaigning for Senate Minority Leader Mitch McConnell (R-Ky.), reaching out to black voters at the Urban League, and joining forces with Sen. Cory Booker (D-N.J.) on prison sentencing reform -- Paul has been conspicuously silent on the latest conflict in Iraq. His office did not comment on his stance after multiple requests from The Huffington Post.
Yet it may prove difficult to remain quiet as the situation on the ground unfolds. Iraqi President Fouad Massoum on Monday moved to replace Prime Minister Nouri al-Maliki amid a deepening political crisis in Baghdad, even as U.S. warplanes continue to strike militant targets outside of Erbil, the Kurdish capital. Further complicating the picture are reports that thousands of Iraqi Yazidis, religious minorities who fled Islamic State extremists, still remain stranded on barren mountains. Some of them have been buried alive.
Paul attempted to thread the needle on Iraq in a Wall Street Journal op-ed in June, in which he made the case against further intervention.
"What would airstrikes accomplish?" he asked. "We know that Iran is aiding the Iraqi government against ISIS. Do we want to, in effect, become Iran's air force? What's in this for Iran? Why should we choose a side, and if we do, who are we really helping?"
UPDATE: 9:18 p.m. -- Paul addressed the situation in Iraq during an event at the Campbellsville Chamber of Commerce in Kentucky, per WBKO:
I have mixed feelings about it. I'm not saying I'm completely opposed to helping with arms or maybe even bombing, but I am concerned that ISIS is big and powerful because we protected them in Syria for a year. Do you know who also hates ISIS and who is bombing them? Assad, the Syrian government. So a year ago, the same people who want to bomb ISIS wanted to bomb Syria last year. Syria and ISIS are on opposite sides of the war. We're now bombing both sides of one war that has spread into another country.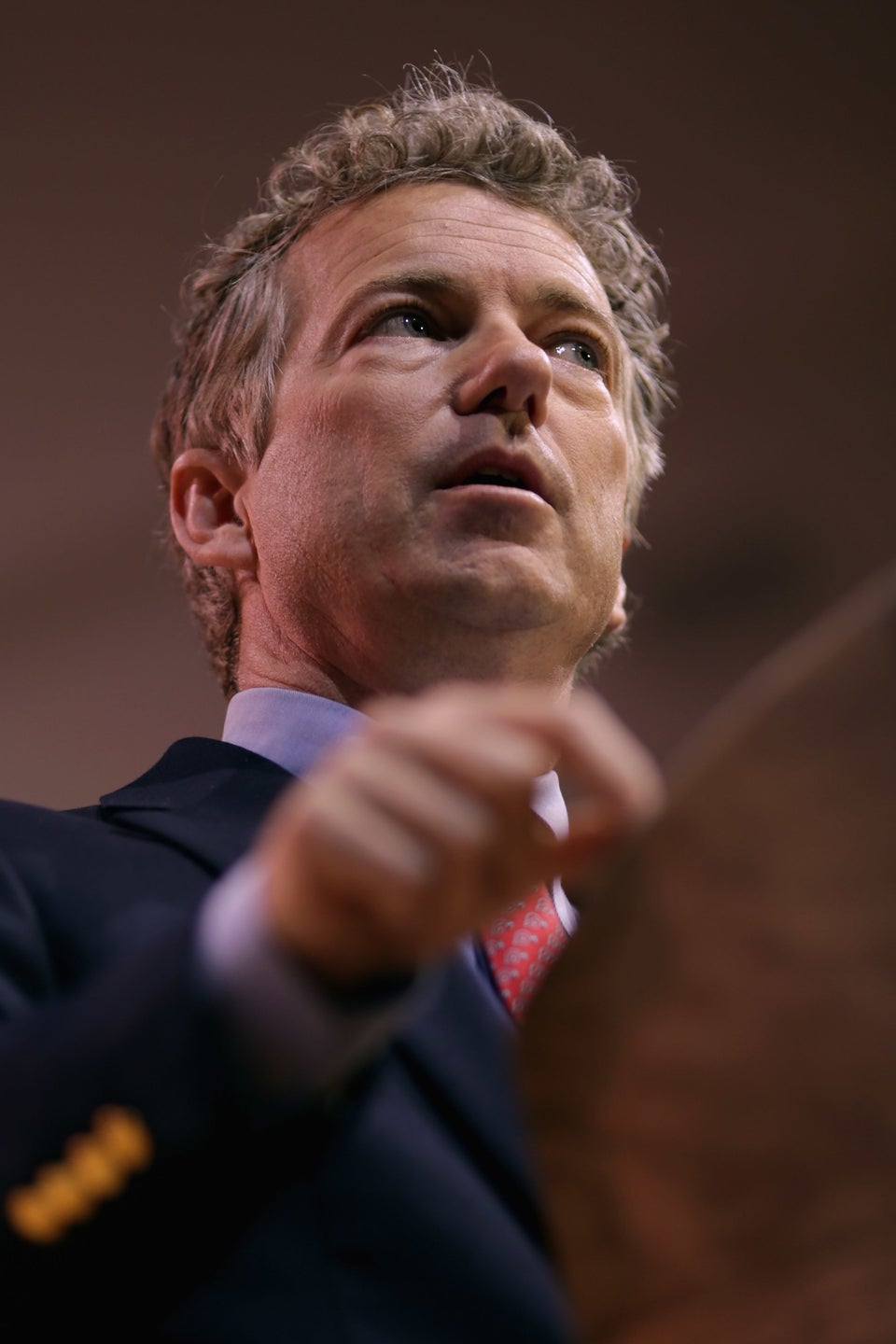 Rand Paul
Popular in the Community