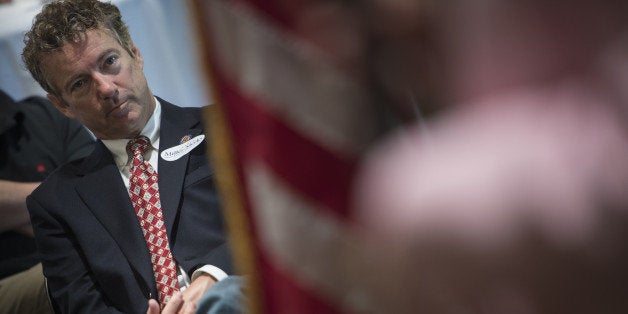 It's getting a little hard to keep track of what, exactly, Sen. Rand Paul (R-Ky.) wants President Barack Obama to do in Iraq.
The libertarian-leaning senator raised eyebrows last week when he told the Associated Press that if he were president, he would "seek congressional authorization to destroy ISIS militarily." Eliminating ISIS would be a major, prolonged undertaking, one generally viewed as a dramatic departure from Paul's prior opposition to hawkish foreign policy.
Paul defended himself against critics of this apparently new position in a Time op-ed on Thursday, pushing back against pundits who "are surprised that I support destroying the Islamic State in Iraq and Syria (ISIS) militarily." Paul claimed that he is neither an isolationist nor an interventionist and that he sees "war as the last resort." But he ultimately supports military action against extremists threatening the Middle East because "'Peace through Strength' only works if you have and show strength."
That's still a far cry from a June op-ed in which he argued against reengaging America in war-torn Iraq for the fourth time. It's also hard to square with another op-ed in which he denounced war hawks for advocating a foreign policy that amounted to "shooting first and asking questions later."
So what would Paul, who is considering a run for president in 2016, have done differently?
If I had been in President Obama's shoes, I would have acted more decisively and strongly against ISIS. I would have called Congress back into session—even during recess.

"This is what President Obama should have done. He should have been prepared with a strategic vision, a plan for victory and extricating ourselves. He should have asked for authorization for military action and would have, no doubt, received it.
It's certainly fair to criticize the administration for its strategy -- or lack thereof -- in Iraq and Syria, as even some Democrats have begun to do. But by claiming he would have "acted more decisively" in hindsight, Paul papers over some of his own dithering. The Kentucky Republican, who is known for his non-interventionist and libertarian leanings, was conspicuously silent on U.S. strikes days after Obama ordered them in early August. When he finally broached the subject, he said he had "mixed feelings about it."
In the Time op-ed, Paul went on to advocate for further air strikes, including in Syria, as well as arming Kurdish allies and building a coalition of willing partners to take on the extremist group (a prescription that puts him more or less in line with the Obama administration). Paul also named Turkey and Jordan as two potential candidates with the incentives to aid U.S. interests in the region.
But Paul also notably omitted Iran and Syria from that list of potential allies. As recently as Wednesday, he was saying those two countries should be key players in any U.S. effort against ISIS.
"Right now, the two allies that have the same goal would be Iran and Syria, to wipe out ISIS. They also have the means, and the ability, and they also have the incentive to do so because [Syrian President Bashar al-]Assad's clinging for power and clinging for life there," he said on Sean Hannity's radio show.
Successfully defeating the extremist group may ultimately require collaboration with notoriously bad actors like Syrian President Bashar Assad, but it would also make Paul vulnerable in a potential 2016 primary against more establishment GOP candidates -- which could explain why he omitted them in Thursday's op-ed.

Calling all HuffPost superfans!
Sign up for membership to become a founding member and help shape HuffPost's next chapter
BEFORE YOU GO