Sen. Rand Paul (R-Ky.) has threatened to block the nomination of Janet Yellen to chair the Federal Reserve, CNBC reported Friday.
Citing a source close to Paul, CNBC wrote that the Kentucky Republican "is insisting on a vote on his Fed transparency bill, and has informed Senate leadership of his intentions."
The bill in question, the Federal Reserve Transparency Act of 2011, would eliminate current audit restrictions placed on the Government Accountability Office and require the Fed to undergo a complete audit by a specific deadline. Similar legislation was championed in the House by Paul's father, former GOP presidential candidate and Texas Rep. Ron Paul.
The senator hinted at his plans in a video message Thursday for his father's political group, Campaign for Liberty.
"There's no time to waste. Right now, the U.S. Senate is preparing to debate and confirm the new Obama nominee to chair the Federal Reserve," Paul says in a voiceover. "I say not so fast. I say vote no on a new Fed chairman without a vote on my Audit the Fed bill."
"This will be the fight of our lives," he adds. "I will need every one of you to work with me every step of the way."
Paul, who mounted a 13-hour talking filibuster against John Brennan's nomination for CIA director earlier this year, also penned a recent op-ed for Time titled "Why I Plan to Grill Yellen."
"It is also important to focus on the fact that the Federal Reserve is structurally flawed. The institution needs to be reformed to prevent Yellen, or any other future nominee, from using the enormous power of the Fed to aid and abet the allies of big government," Paul wrote. "I intend on using the Senate's constitutional power of consent to nominations as a means to educate the American people on the structural flaws and policies of the Fed that are bankrupting our nation."
President Barack Obama formally nominated Yellen on Oct. 9. Though a confirmation hearing has not been set, the Fed vice chairwoman is scheduled to meet with members of the Senate Banking Committee in the coming weeks. At least one Republican who voted against her nomination to join the Fed board in 2010, Tennessee Sen. Bob Corker, predicted Yellen will be confirmed.
Yellen would become the first woman to lead the agency when outgoing Chairman Ben Bernanke's term expires on Jan. 31.
UPDATE: 12:20 p.m. -- Paul spokesman Brian Darling confirmed later Friday that Paul will request a vote on his Fed transparency bill as part of Yellen's nomination process.
"As part of Senate consideration of the Janet Yellen nomination to be Chair of the Federal Reserve, I will request a vote on my bipartisan Federal Reserve Transparency Act, S. 209," Paul said, per Darling. "The American people deserve transparency from the federal reserve and the federal government as a whole."
Yet, if Paul does place a hold on Yellen's nomination, there would need to be a 60-vote threshold for cloture, or to move forward with the nomination proceedings. But on major recent nominations there hasn't ever been unanimous consent when everyone agrees to move forward -- they've all been subject to a 60-vote requirement -- meaning Paul's threat may not be as strong as indicated by his statements.
UPDATE: 2:50 p.m. -- White House spokesman Josh Earnest told reporters aboard Air Force One on Friday afternoon that formal paperwork for Yellen's nomination was submitted to Capitol Hill Thursday.
"As the president said when he nominated her earlier this month, she is exceptionally well qualified for this role," Earnest said, according to a White House pool report. "We look forward to the Senate confirming her swiftly."
CORRECTION: The original article incorrectly stated that Sen. Bob Corker represents Texas. Corker is from Tennessee.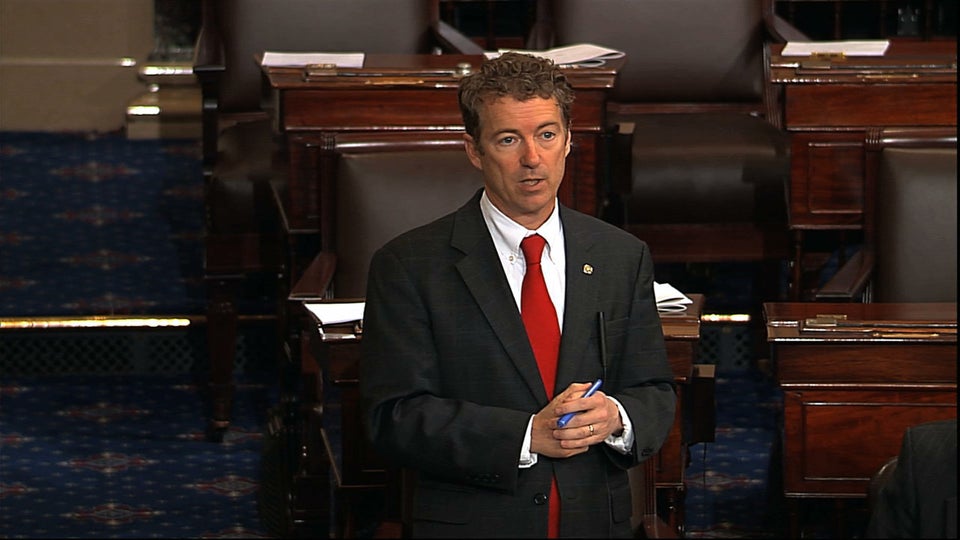 Rand Paul's Epic Filibuster
Popular in the Community