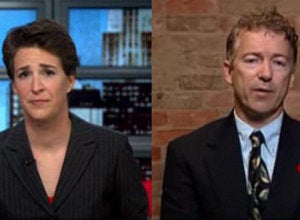 Prior to canceling an appearance on "Meet the Press" Friday, Kentucky Senate candidate Rand Paul did sit down for an interview with a local television station in which he complained about being "tortured" by Rachel Maddow but ultimately called her interview "fair."
"I need to be very careful about going on certain networks that seem to have a bias," the Kentucky Republican offered, by way of reflecting on the controversy he caused when he refused to endorse the totality of the Civil Rights Act. "Because it really wasn't the interview so much that was unfair. The interview, I think, was fair. But they went on a whole day repeating something over and over again and it makes me less inclined to go on a network."
The local interview, which up to now has not been commented on, is a remarkable illustration of just how Paul's nascent general election campaign became consumed last week with its press coverage.
The Tea Party darling began the process with an informal conversation with his interviewer, Joe Arnold, in which he freely admonished the treatment he's received by the Fourth Estate.
"Did you see that [interview] this morning with [George] Stephanopoulos," Paul says, in reference to the interview he had granted that morning to ABC's "Good Morning America". "I thought it went OK. I held my own... That was sort of my intention. You see Chris Matthews now has admitted that everything he was saying wasn't true -- it was coming from [Democratic candidate] Jack Conway. They need to be more careful reporting their news because they did it all day long."
Arnold asked Paul why he waited so long to simply affirm that he would have voted for the Civil Rights Act had he been in the Senate -- which he did the night following his appearance on Maddow, during an interview with CNN.
"That was the next interview I had," Paul explained. "It takes a while to get back on a program. We were also on national ABC when you were going to take the feed yesterday. I'm not sure how fair that was. I thought it was a good interview."
"Did you see that interview?" Paul asked, rhetorically. "They didn't put it up... They interview me for five minutes find out all my answers, in order to see... they didn't ask any of those questions again, they wanted to ask a new series of questions. I don't think that was a fair journalistic tactic to do a pre-interview, not use it, and then use it as a set up for another interview. I wasn't really happy with the way that was set up."
Coming hours before Paul's campaign -- at the behest of national Republican leadership -- scaled down his national presence, the interview he gave to WHAS11 is an illuminating window into a candidate in the midst of an acute political crisis. By his rendering, the answers he gave to his various interviewers were either non-controversial or clear. It was the media that spurred the confusion -- though by conceding that Maddow's interview was "fair," Paul has offered a more sympathetic review of the MSNBC host than others (notably Sarah Palin) in the conservative community.
Minutes after the taping, Paul received a call from Senate Minority Leader Mitch McConnell. At some point that day, likewise, he talked to strategist Karl Rove. Hours later his aide informed "Meet the Press" that he was canceling his scheduled sit-down.
Producers on the program initially expressed surprise about the decision. But during the sit-down with WHAS11, Paul offered plenty of hints of what was to come.
"Our Senate campaign has become [sic] more the level of attention than a presidential campaign gets. And so you can see how people sort of doggedly grab an issue and won't let it go. I think that kind of stuff can happen sometimes when you get into an issue," said Paul. "It is also why you see politicians... don't talk to reporters very much, don't get interviewed very much, and also have a lot of people protecting them, layers and layers of protection. And I am more frank and open. And I think some people want that in government... so that is kind of where we stand and we learned from past experience."
WATCH THE INTERVIEW HERE:
Support HuffPost
The Stakes Have Never Been Higher
Popular in the Community