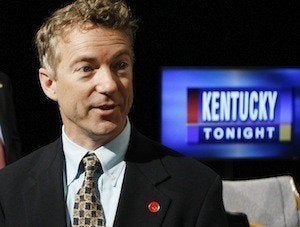 Kentucky Senate candidate Rand Paul is facing fire from an independent political group as it rolls out a new attack ad taking aim at the Republican hopeful for reacting to the deaths of two coal miners in his home state by saying "accidents happen" earlier in the election season.
The new one-minute radio spot from AmericansforAmericaPAC targeting Paul comes in the wake of a rescue mission in Chile to save dozens of miners who had been trapped underground for more than two months. Given the dominant coal mining industry in Kentucky, it should come as no surprise that the story hit close to home in the Bluegrass State.
"Kentucky miners have always known what Chile taught the the whole world this week," says a narrator in the ad. "That four miles deep in a mountain, it's not every man for himself -- but teamwork that ensures our miners come home safe every day. Because mine safety is everyone's business -- miners, companies, and government. But Rand Paul's position on mine safety?"
An audio clip is then inserted of Paul saying, "Sometimes accidents happen."
The narrator in the ad continues, "That's what Rand said after Kentucky miners were killed by the negligence of an out-of-state company. During the Gulf Spill, what did Rand Paul say?"
Then once again, a clip the Tea Party favorite's own voice saying, "Accidents happen."
At the conclusion of the spot, a contrast is drawn between Paul and his Democratic opponent, State Attorney General Jack Conway.
"Maybe Rand Paul doesn't understand because he's never been down four miles inside a mine," says the narrator. "But Kentucky native Jack Conway does understand.
He knows miners four miles deep in a mine aren't made safer by a survival-of-the-fittest mentality -- but by Kentucky teamwork."
The attack isn't the first that has been hurled at Paul over his positions on coal mining-related issues. Back in August, mine workers in Kentucky criticized the conservative contender for suggesting congressional lawmakers shouldn't be legislating and enforcing industry safety rules.
More recently, Paul appeared to soften the words he used to communicate his views. The AP reported last month that he suggested more safety inspectors may be needed to protect coal miners, but "he still thinks miners, mine operators and mine regulators in Kentucky know what works best to keep Kentucky miners safe."
Popular in the Community