WASHINGTON -- Sen. Rand Paul (R-Ky.), who took to the Senate floor Wednesday afternoon to demand a halt to National Security Agency collection of ordinary Americans' phone data, ended his daylong speech just before midnight.
Paul, who has made NSA spying a theme in his 2016 campaign for president, delayed a vote on an unrelated trade bill with his 10 1/2-hour speech, which he quit at 11:49 p.m., 12 minutes before meeting the technical definition of filibuster.
"I will not let the Patriot Act, the most unpatriotic of acts, go unchallenged," Paul said from the Senate floor. "The bulk collection of all Americans phone records all of the time is a direct violation of the Fourth Amendment."
Paul's speech was aided by Sens. Ron Wyden (D-Ore.) Ted Cruz (R-Texas), Martin Heinrich (D-N.M.), Jon Tester (D-Mont.), Steve Daines (R-Mont.), Chris Coons (D-Del.), Maria Cantwell (D-Wash.), Joe Manchin (D-W.Va.) and Richard Blumenthal (D-Conn.), who made appearances on the floor to ask lengthy questions, giving Paul brief periods of rest.
The marathon speech comes 11 days before three 2001 provisions of the Patriot Act are set to expire. They include the NSA's claimed authority to collect bulk metadata from Americans' phone records -- a practice that an appellate court recently ruled isn't authorized by the Patriot Act. Friday is the last day the Senate is scheduled to be in session before the those provisions expire.
Senate Majority Leader Mitch McConnell (R-Ky.) has vowed to address the trade promotion bill, as well as the expiring Patriot Act provisions and an expiring highway funding measure, before the Senate leaves on a weeklong Memorial Day recess. He has signaled he may keep the Senate in session beyond Friday to complete all three measures.
The impact of Paul's speech on a backlogged legislative agenda may be intentional. His first priority is to prevent a reauthorization of the Patriot Act. McConnell has floated a five-year extension, and other senators back a temporary extension to prevent the program from lapsing while Congress hashes out a permanent policy. An Obama administration official confirmed to the The Huffington Post that the expiring clauses of the Patriot Act will sunset at midnight on May 31.
McConnell, who is loathe to allow sections of the Patriot Act to expire on his watch, indicated on Tuesday a new willingness to allow a Senate vote on a House-passed bill that offers some reforms to NSA surveillance. Despite his disagreement with Paul on surveillance, McConnell backs Paul in the 2016 presidential race.
Detractors of the House NSA reform bill complain it would still allow the government to request data records collected by phone companies. "In other words," explained Rep. Justin Amash (R-Mich.) in a recent Facebook post, "the bill doesn't let the government require Verizon to turn over all its records without limitation, but nothing appears to prevent the government from requiring Verizon to turn over all it records for all its customers in the state of New York. Only a politician or a bureaucrat wouldn't call that bulk."
Paul has similar concerns, but also has pushed for votes on amendments to the bill. Paul and Wyden have prepared five or six amendments aimed at ending bulk data collection and adding privacy safeguards.
Paul's supporters quickly organized a rally on the steps of the U.S. Capitol after Paul began his speech just after 1 p.m.
"I'm sitting at work, and I'm thinking to myself, 'Let's go down there. We're so close, let's go down there and stand with him,'" said Cliff Maloney Jr., who works at Young Americans for Liberty in northern Virginia. "I would call them liberty-minded Republicans. We're the new face of the Republican Party," Maloney continued, gesturing to approximately two dozen Paul supporters.
"I think the government should get out of the way and stop monitoring our cell phones and devices." said 22-year-old Justin Greiss. "I'm all about Rand 2016!" Greiss said he would stay as long as Paul keeps talking. "At least we can take bathroom breaks," he said.
Paul's stand against surveillance is likely to give him a significant fundraising boost in his presidential campaign.
In March 2013, Paul spoke for 13 hours on the lack of transparency in drone warfare in an effort to stall Senate confirmation of John Brennan as CIA director. The next day, he was rewarded with $15,654 in contributions from high-dollar donors, according to Federal Election Commission data reviewed by the Guardian and Center for Responsive Politics. Paul averaged $1,549 a day in contributions for 2013, including low-dollar contributions.

Before You Go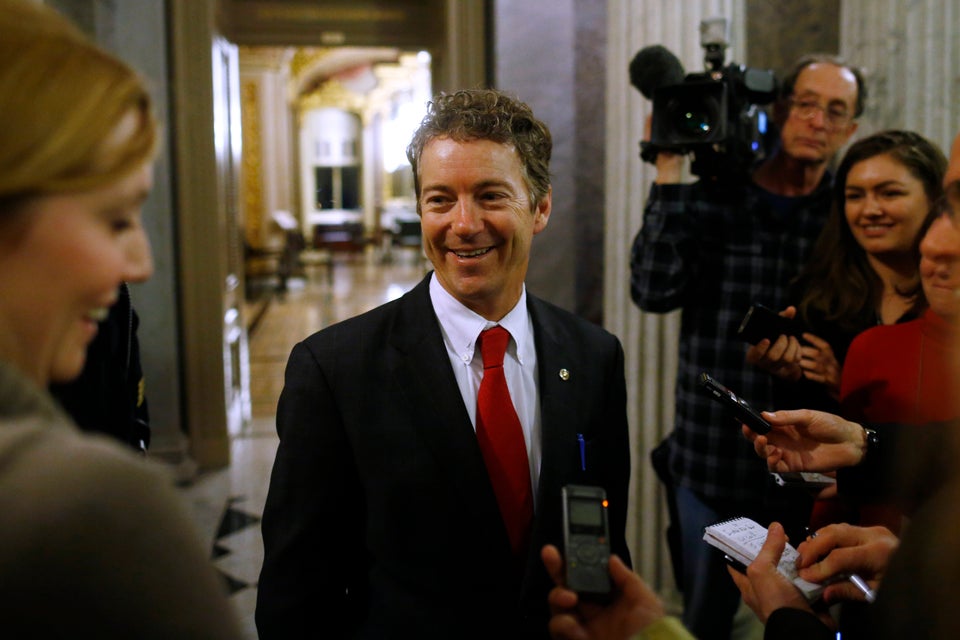 Notable Moments In Filibuster History
Popular in the Community