Sen. Rand Paul (R-Ky.) is proposing legislation to nullify President Obama's executive actions on gun policy, claiming that the president's actions are a breach of constitutional separation of powers between the executive and legislative branches.
During a Wednesday appearance on Fox News' "Hannity," the Republican senator outlined his plan to challenge Obama's anti-gun violence package.
"Our founding fathers were very concerned about us having separation of powers. They didn't want to let the president become a king." Paul said. "In this bill, we will nullify anything the president does that smacks of legislation."
Paul continued: "I'm afraid that President Obama may have this king complex sort of developing ... I think there's a history of this arrogance."
"We only have descriptions of the executive actions, yet many could be construed to describe an attempt by the executive to make laws in violation of the Article 1, Sec. 8 of the Constitution and the 2nd Amendment," reads the one-page summary of the Paul plan shared with TPM by his staff.

Paul's bill will set out to nullify Obama's executive actions, deny any federal funding for their implementation, and allow members of Congress and state officials to challenge the actions in court.
Paul acknowledged that he may have trouble garnering support for his proposal in the Senate, where Democrats hold the majority.
"This idea of checks and balances and separation of powers should be a fundamental one," Paul said. "I'm afraid that there isn't much support on the Democratic side, but we'll see."
Earlier Wednesday, Obama unveiled his recommendations to Congress on how to reform gun control policy, and announced the implementation of 23 executive actions. The Huffington Post's Sam Stein and John Rudolf report:
The proposal, which comes at the end of a month-long review process spearheaded by Vice President Joe Biden, is broken down into four key subsections: law enforcement, the availability of dangerous firearms and ammunition, school safety and mental health.

In an effort to touch on all four of those elements, the president recommended requiring criminal background checks for all gun sales; reinstating the assault weapons ban; restoring a 10-round limit on ammunition magazines; eliminating armor-piercing bullets; providing mental health services in schools; allocating funds to hire more police officers; and instituting a federal gun trafficking statute, among other policies. The cost of the package, senior officials estimated, would be roughly $500 million, some of which could come from already budgeted funds.

Because these recommendations require congressional approval, the administration is supplementing its proposal with 23 executive actions that will be taken immediately. Those actions include requiring federal agencies to hand over relevant data for a background check system; providing law enforcement officials, first responders and school officials with better training for active shooting situations; directing the Centers for Disease Control to research the causes and prevention of gun violence; and many more.
"I intend to use whatever weight this office holds to make them a reality," Obama said of his recommendations. "If there's even one life that can be saved, then we've got an obligation to try."
"Attacking firearms and ignoring children is not a solution to the crisis we face as a nation," read a statement released by the NRA. "Only honest, law-abiding gun owners will be affected and our children will remain vulnerable to the inevitability of more tragedy."
One lawmaker, Rep. Trey Radel (R-Fla.), suggested that Obama could be impeached over the executive actions.
"It is one of those times in our history, we are at this breaking point," Radel said. "We have completely lost our checks and balances in this country, the Congress needs to hold the president accountable for the decisions that he's making right now, and that why again, I would say that all options should be on the table."
And in Tennessee, a Republican state representative proposed legislation that would ban the enforcement of any new federal gun laws implemented as a result of Obama's proposals, claiming that the president's actions mark a "blatant assault on the Second Amendment."
Earlier this week, Paul told CBN News that he believed any executive action taken by Obama on gun policy would be monarchical.
"I'm against having a king," Paul said. "I think having a monarch is what we fought the American Revolution over and someone who wants to bypass the Constitution, bypass Congress -- that's someone who wants to act like a king or a monarch."
Support HuffPost
The Stakes Have Never Been Higher
Before You Go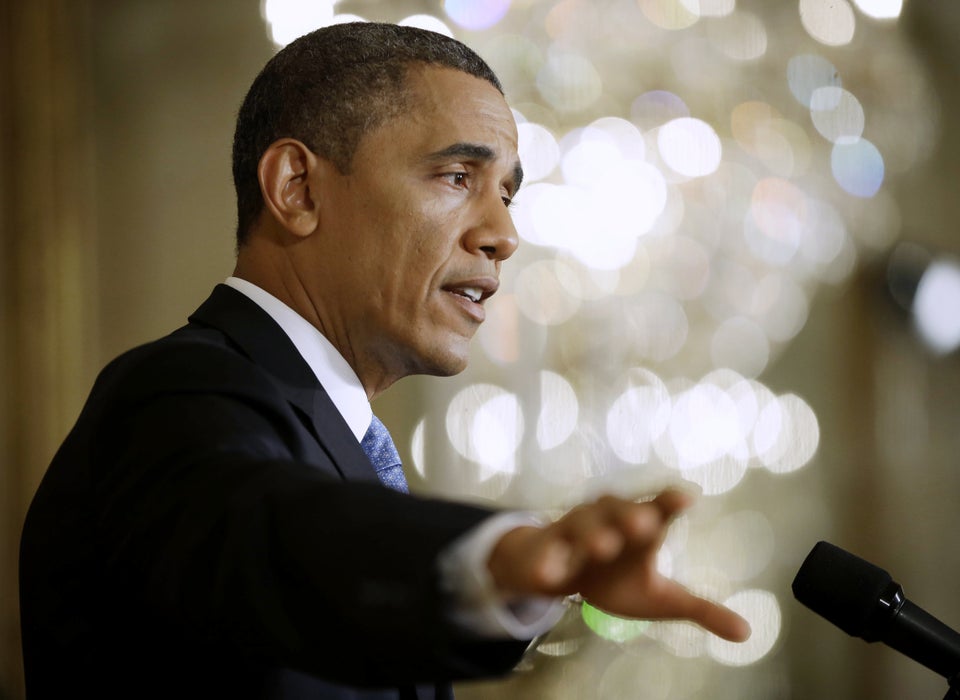 Obama's Executive Actions On Gun Violence
Popular in the Community