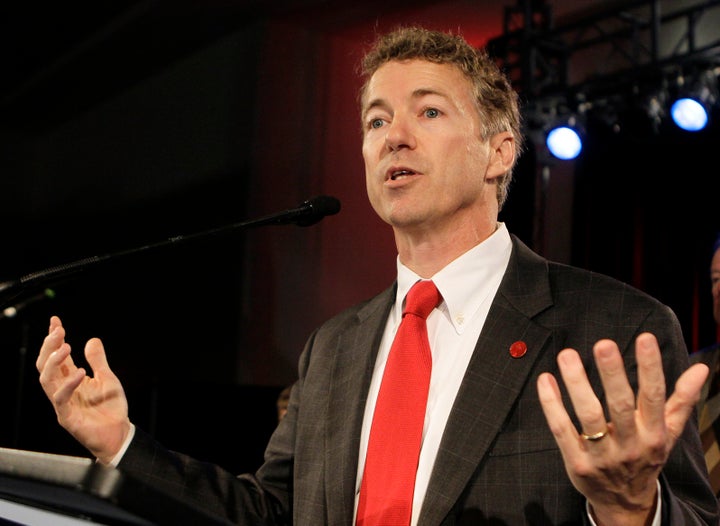 DES MOINES, Iowa -- Kentucky Sen. Rand Paul says the Obama administration's decision to intervene in Libya contradicts the president's campaign statements about military action without Congressional approval.
Paul told a group of Iowa College Republicans on Saturday that Obama's airstrikes in Libya are hypocritical. He pointed to Obama's pre-election statement that presidents should not unilaterally authorize military action unless an imminent threat exists.
The Kentucky Republican made similar remarks in delivering a speech on the Senate floor last week.
"We are engaging in a third war at a time when our country is struggling under an enormous debt and involved in two other wars," he said, according to The Hill. "I will be very interested to see whether other senators support the candidate Barack Obama or now the hypocritical version that has become our president."
Some of the loudest Republican voices of dissent over the U.S. role in the attacks on Libyan leader Muammar Gaddafi's forces are from rank-and-file Republicans with support from the conservative Tea Party movement.

"We are currently involved in two wars right now and I don't think we really need to be involved in a third war," said Senator Rand Paul, a fiscal hawk and founding member of the Tea Party caucus in the Senate, referring to Iraq and Afghanistan.
The Kentucky lawmaker said during his campaign for Senate last year that foreign policy is the issue area he finds himself most at odds with members of his own party. He raised skepticism in an interview with National Review Online about the country's military efforts in Afghanistan.
Over the weekend, Paul's remarks were part of his small-government message he took to the Hawkeye State. He has become one of the Republican Party's highest-profile senators, and his visit demonstrates changes in the Iowa party since his father ran for president in 2008.
Former state Republican Party Chairman Stewart Iverson says he thinks U.S. Rep. Ron Paul's message about reduced spending would be more accepted now by Iowa Republicans.
Calling all HuffPost superfans!
Sign up for membership to become a founding member and help shape HuffPost's next chapter