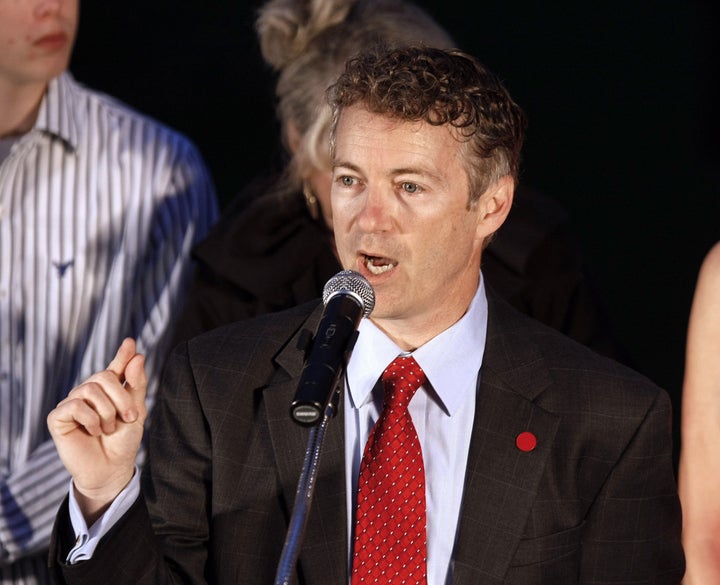 Is Kentucky Republican Senate candidate Rand Paul a creationist?
Last week, Paul spoke at a conference for the Christian Home Educators of Kentucky at a Louisville church where he dodged a question about the age of the earth and expressed skepticism about faith-based programs.
The first question during the Q&A was from a man who asked a two-part question, including how old Paul believed the world was.
"I forgot to say I was only taking easy questions," Paul joked, adding: "I'm going to pass on the age of the Earth. I'm just going to have to pass."
Andrew Willis of Elizabethtown, who teaches his four children at home, said he hoped Paul's answer would jive with his own belief that the earth is about 6,000 years old.
"I'm not at all surprised that he didn't want to answer that question," Willis said shortly after posing it. "I know that is hugely controversial."
"I'm not running for minister," Paul said later. "I'm more than willing to stand up and say I'm a Christian, but I don't think I have to go into every detail of what my religious beliefs are. If I were going to be the minister of their church, they'd have a right to ask me that."
Later in the session, an attendee asked Paul about his view of the separation between Church and State.
"We stand up in a church and talk about influencing government policy, and that's fine," Paul replied. "I think of it in the historical term in the sense that -- in the beginning -- and I still don't want a national church."
The tea party favorite also voiced concern about faith-based initiatives that have been used to funnel federal and state funds into religious organizations.
"The faith-based initiative was getting government involved in churches basically, and that scares me a little bit, because there are things that you can say in the church that we think are sinful, and that should be something we can say," he said. "But the second this church starts taking government money, then they're going to say you can't say these things are sinful."
WATCH Rand Paul at the conference:
Calling all HuffPost superfans!
Sign up for membership to become a founding member and help shape HuffPost's next chapter