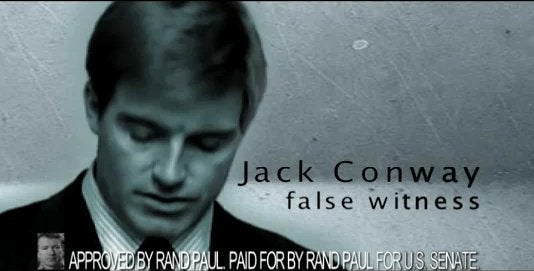 The dogfight for Kentucky's U.S. Senate seat continued Monday as Republican Rand Paul released an ad blasting Democrat Jack Conway for his latest political advertisement that attempted to give legs to Paul's college-era indiscretions.
Paul's latest spot levels a 9th Commandment-based attack on Conway, charging that he "bear[ed] false witness against another man" by dishonestly airing his earlier ad, which focused on revelations stemming from a GQ article concerning marijuana-induced kidnappings, "Aqua Buddha" and anti-Christian mischief.
"Now Jack Conway is attacking Rand Paul's faith," Paul's latest ad says. "Rand Paul keeps Christ in his heart and in the life he shares with his wife and his three boys. Don't be fooled by Conway's desperate attack, it's shameless, disgraceful, gutter politics at its worst."
Paul made similar claims during a meeting between the two candidates at a debate on Sunday and even demanded an apology from Conway.
"Those who stoop to the level of attacking a man's religious beliefs to gain higher office, I believe that they should remember that it does not profit a man to gain the world if he loses his soul in the process," Paul said.
Conway, however, offered no apology, and instead defended the attacks. At the end of the debate, Rand Paul walked past Conway without giving a handshake or eye contact.
Conway's campaign responded in an email to the Washington Post's Greg Sargent Monday, saying that the ad was not intended to question Paul's faith, but rather to bring to light specific incidents that they believe need further explanation:
"Rand Paul can huff and puff all he wants, but he needs to answer for his actions, not his faith: Why he joined a secret society after the President of Baylor University banned it because it 'made fun of not only the Baptist religion, but Christianity and Christ.' Rand Paul needs to answer why a woman said Paul 'blindfolded me, tied me up...told me their god was 'Aqua Buddha' and that I needed to bow down and worship him.'"
HuffPost Pollster's latest analysis of the race shows Paul leading Conway by seven points.
Popular in the Community