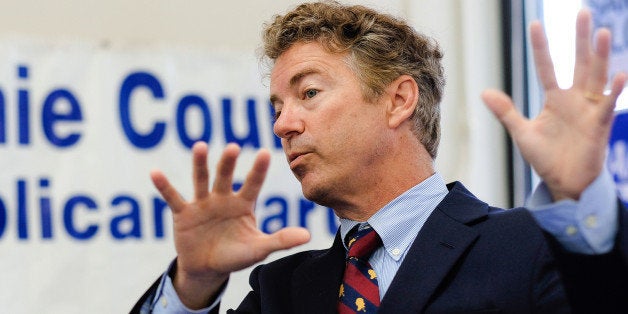 Sen. Rand Paul (R-Ky.) wants you to "Stand With Rand," but for all the work he has done to revise his record lately, it's getting a little hard to figure out where to place one's feet.
The Kentucky Republican raised eyebrows on Monday by denying that he supported ending all U.S. aid to Israel -- despite the fact that he authored a budget in 2011 that did just that. "We've never had a legislative proposal to do that. You can mistake my position, but then I'll answer the question. That has not been a position — a legislative position — we have introduced to phase out or get rid of Israel's aid," he said.
Democrats immediately pounced on the remarks, accusing the libertarian-leaning senator of trying to rewrite history ahead of what is widely seen as a campaign for the White House in 2016.
A politician attempting to iron out his position as he seeks higher office isn't new or remarkable. Former Secretary of State Hillary Clinton, another possible presidential contender, has been doing the same as she blitzes the country on her new book tour. Ditto for Mitt Romney and Barack Obama. What is remarkable, however, is the effort Rand Paul has put into clarifying where he stands on the issues just this past year, which, if anything, is a testament to his provocative political history.
In an MSNBC interview last week, Paul denied ever objecting to parts of the Civil Rights Act, even though fact checkers concluded he was trying to "essentially erase what he said in 2010" about the landmark civil rights legislation.
The junior senator from Kentucky regularly criticizes President Obama for waging a "war on coal," as he did this weekend at the state's annual Fancy Farm political picnic, by proposing new rules that would reduce carbon output from power plants. But in 2008, Paul committed the cardinal sin of calling coal a "very dirty form of energy" that "is probably one of the least favorable forms of energy."
Before Russia annexed Crimea earlier this year, Paul chided Sen. John McCain (R-Ariz.) for issuing a preemptive warning to Vladimir Putin to keep his hands to himself. "Some on our side are so stuck in the Cold War era that they want to tweak Russia all the time and I don't think that is a good idea," he told The Washington Post at the time. But a few months later, the isolationism he and his father, Ron Paul, preached went out the window. The younger Paul urged the president "stand up to Putin" by reinstituting missile-defense shields in former Soviet republics like Poland. The entire transformation was thoroughly captured on Red State.
Also, in 2013, Paul appeared to endorse comprehensive immigration reform before the U.S. Chamber of Commerce. But aides immediately flipped the script, assuring reporters that he didn't support a pathway to citizenship for millions of the nation's undocumented immigrants. That jujitsu move came after a proposed constitutional amendment Paul sponsored in 2011 that would have eliminated birthright citizenship for the children of illegal immigrants.
And then there's his outspoken effort against government use of drones, which he promoted by using the "Stand With Rand" slogan in a 13 hour filibuster on the Senate floor last year. His base went ballistic after he said that, "If someone comes out of a liquor store with a weapon and fifty dollars in cash. I don't care if a drone kills him or a policeman kills him." Once his remarks were splashed across the top of the conservative Drudge Report, Paul was forced to set the record straight.
"It's exactly the same position I expressed during the 13-hour filibuster," he told Fox News' Sean Hannity. "In the famous words of George W. Bush, I think I was 'misunderestimated.'"
UPDATE 3:41pm ET -- A spokesman for Sen. Paul passed along the following statement with respect to his position on Israel:
Senator Rand Paul has never proposed any legislation that targeted Israel's aid and just last week voted to continue and increase funding to the State of Israel. Sen. Paul is a strong supporter of the Jewish state of Israel. In 2011, Sen. Paul proposed a budget resolution that did not include certain foreign assistance programs in an effort to balance the budget in five years. Subsequent budget proposals made by Sen. Paul have included up to $5 billion for foreign assistance to account for U.S.-Israel security interests.
Sen. Paul's position was exactly what Prime Minister Netanyahu said to Congress on July 10, 1996 and May 24, 2011 - Israel will be better off when it does not have to count on anyone else for its protection.
Sen. Paul has attempted several times this year to pass the Stand with Israel Act. The bill would cut off the flow of U.S. taxpayer dollars to the Palestinian Authority if it were allied with Hamas. Last month, he issued a letter to the Senate Foreign Relations Committee requesting committee action on the Stand with Israel Act.
REAL LIFE. REAL NEWS. REAL VOICES.
Help us tell more of the stories that matter from voices that too often remain unheard.
BEFORE YOU GO