As Sen. Rand Paul (R-Kentucky) explores the possibility of a presidential run, he's trying his hand at something that's become a rite of passage for the GOP's other 2016 hopefuls: Expanding the appeal of the Republican Party by turning to policies important to minority voters. Specifically, the state of the nation's schools.
Since the 2012 presidential election, expected 2016 contenders like Sen. Marco Rubio (R-Fla.) and Rep. Eric Cantor (R-Va.) have flirted with education policy as a way to attract minority voters. Now Paul is entering the fray, with a Thursday appearance in Louisville to promote a new campaign to bring charter schools to his state. He'll be joining the National Association for Public Charter Schools, Sen. Mitch McConnell (R-Ky.), the Black Alliance for Education Options, and -- a strange bedfellow, of sorts -- Democrats for Education Reform.
Republicans face an uphill battle with the growing demographic of minority voters. To bridge the gap, politicians are focusing on issues like school choice -- a topic that resonates strongly with many minority voters due to the fact that minorities are so often stuck with bad schools in poor neighborhoods, without the ability to buy their way into pricier alternatives.
"It's like trying to attract the youth vote," Paul said in an interview. "If you want young people to vote for you and all you talk about is taxes and regulations, they don't care because they don't have any money yet. They do care about privacy and freedom and cell phones because they've all got them."
"School choice, it's like that. It's consistent with our beliefs of decentralization of government in general," he said. "The idea of having more local control of schools is a big part of expanding the appeal of the Republican Party and also being consistent with what we're about."
The issue might be an unlikely one for Paul, who turned heads in 2011 when he busted up No Child Left Behind hearings on a Senate rule technicality. But Paul is a fan of private school vouchers, which route public money to private schools -- a third rail for most Democratic politicians. "The child should choose where they want to go -- private, religious, secular, like the GI bill," Paul said. Because the voucher issue is typically a nonstarter with Democrats, charters, which funnel taxpayer money to public schools that can be privately run and are generally not subject to union rules, are the next best thing for Paul and other libertarian-minded politicians.
Kentucky, Paul's home state, is one of only eight states that does not allow the creation of charter schools. Advocates there say the state needs a charter school boost: On a 2011 national exam, only 31 percent of eighth-graders tested proficient in math, and 36 percent of students that age ranked proficient in reading.
School choice, Paul said, can help the United States compete with its peers. The Louisville area, where Paul lives, gives parents many options, he said. Paul enrolls his children in public schools. "We actually live in the county but choose to go to a city school, which is much more diverse," he said. "That's through choice."
The flexibility of charter schools, Paul added, allows schools to sort teachers by quality. Promoting good teachers is important, he said, but "you need to get rid of some of the dross, some of the teachers who aren't doing as well, to pay the best ones some more."
Charter schools have a mixed track record, and their performance varies wildly in different states and regions. Paul acknowledges this. "It may be that some charters come up with ideas that don't work well," he said. "I think it was a Stanford study that says they aren't always performing at a better rate, but individual statistics in [places like Washington], D.C., argue otherwise. … I don't think there's any real, valid argument against charter schools."
He still thinks charters should be able to exist in both urban and rural or suburban areas. "The more, the better," he said. "I don't think there's a right or a wrong."
Myrdin Thompson, a public school mother in Kentucky, disagrees. Senators who want to improve the lives of Kentucky's minorities should consider allotting more resources to alleviating poverty, not toward charter school options, she said.
"I find it interesting that the senators would wish to promote charter schools when I look at our community and see so many of our issues are not school issues, but community issues, and perhaps the focus would be better spent addressing joblessness," she said. "Everyone looks to our schools in general as the way to solve societal problems, when kids are only in school for a finite amount of time."
For the past three years, Kentucky's legislature has tried and failed to pass a charter school law. Every year, the Republican state Senate passes a charter school bill, but it gets tied up in the House. Advocates are hoping a new campaign featuring national politicians and advertisements will help push it through. "Usually when we are in a state, the odds of being able to pass it are not that great unless you have a lot of muscle by political leadership," said Nina Rees, who leads the National Alliance for Public Charter Schools. "Going back to educating members and continuing to show them what charters have done in other states will help prime the pump so that we can eventually enact a law in the state. When something fails, you know exactly how people voted. So you know who the supporters and opponents are."
Hal Heiner, the local organizer behind the new charter school campaign, said the House usually refuses to hear the bill, and the governor is neutral. "It's time for parents to understand what's happening," he said. "The largest political giver is teachers' unions, and they don't like the idea of public charter schools."
Others are less sure about the campaign's effectiveness. Terry Holliday, Kentucky's schools chief, told HuffPost that while he supports charter schools -- as long as local districts are involved in their approval -- he doesn't see a path forward. "My prediction is it'd be more of the same," he said of the bill's likelihood of passage, noting that the chair of the House education committee said he doesn't have big plans for charters. However, he noted, this year a group of black ministers is working with a right-wing public policy group, making "interesting bedfellows there," he said.
Paul blamed the Kentucky law's holdup on "mainly the resistance of the Democratic party."
Democrats for Education Reform Policy Director Charlie Barone said he's skeptical that that's indeed true. DFER's involvement at the Thursday campaign event for a charter schools bill seeks to help push Democrats over the fence, he said. However, he added, while DFER is lending its name to the cause, it hasn't committed much more than that.
The organization seems lukewarm about its involvement -- perhaps because of the political connotations. "We're just showing up and seeing what the lay of the land is," Barone said. "Kentucky is pretty ripe as a state that can benefit from a charter school law ... We're not really doing the event with them, we just happen to be showing up in the same place."
Barone said that if Paul and McConnell truly supported charter schools, they would have advocated for an increase in the federal funding for such schools -- an allocation President Barack Obama has asked for.
For Paul, Louisville marks the start of several events around school choice. Previously, he made the case for charters alongside Sen. Lamar Alexander (R-Tenn.) in Nashville. The next stop will be in Milwaukee, the birth of school vouchers. "The Republican party needs to look like the rest of America, it needs to reach out to people," Paul said. "This is an issue that goes beyond the traditional white, Chamber of Commerce voters that the Republican party has been attracting. It is a way to be out there on an issue that changes electoral outcomes."
Before You Go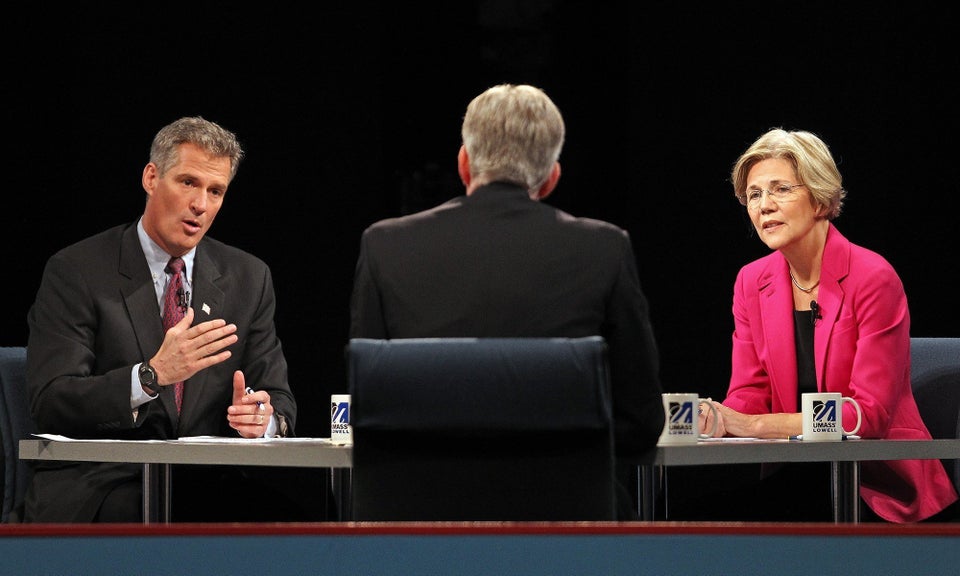 2012's Most Expensive Senate Races
Popular in the Community