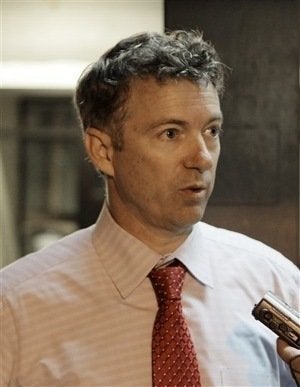 A staffer working for Kentucky U.S. Senate candidate Rand Paul's campaign was called out on Tuesday for reportedly pretending to be a progressive blogger in an allegedly stealth attempt to undermine the campaign of the Republican hopeful's Democratic challenger, Jack Conway.
According to the Daily Kos, a progressive blog and online community, Thomas Kubica, a paid intern for Team Paul, has on multiple occasions taken to the site to express his views on the contentious Senate fight under false pretenses.
Paul campaign's front desk confirmed Kubica's status as a paid intern on Tuesday morning.

Kubica registered at Daily Kos under the pseudonym "Huey Long" and has repeatedly posed as a progressive Democrat who opposes Paul but does not believe Conway is worthy of support.
After highlighting some of the posts contributed by Kubica to the Daily Kos, Lewison signaled that because of the lack of transparency and Kubica's connection to the Tea Party-backed contender's campaign, "it goes without saying that Kubica, as a concern troll," is not welcome to participate on the site.
While we are tolerant of a wide range of views within the "Big Blue Tent," make no mistake: this site is every bit as blue as it is orange. If Kubica had identified his role with his campaign, he would not have been welcome in the community, so he resorted to deception. Now that we know who he is, he's been banned, per community guidelines.
Meanwhile, Conway appears to be busy trying to advance his own political operation. In an e-mail blasted to campaign supporters on Tuesday, the Democratic hopeful made a fundraising appeal by defining some of his own views, while also taking aim at some of those that have been expressed by Paul.
"I've come out in support of Elizabeth Warren to head the new Consumer Financial Protection Bureau, pushed Alan Simpson to step down and stop threatening Social Security, and continued to fight the scourge of illegal drug abuse in Eastern Kentucky," wrote Conway. "Meanwhile, Rand Paul continues to talk about his risky ideas like gutting the Civil Rights Act and the Americans with Disabilities Act, and tells people America is like Rome before its fall."
(Click here to read the whole post from Lewison at the Daily Kos.)
Support HuffPost
The Stakes Have Never Been Higher
Popular in the Community