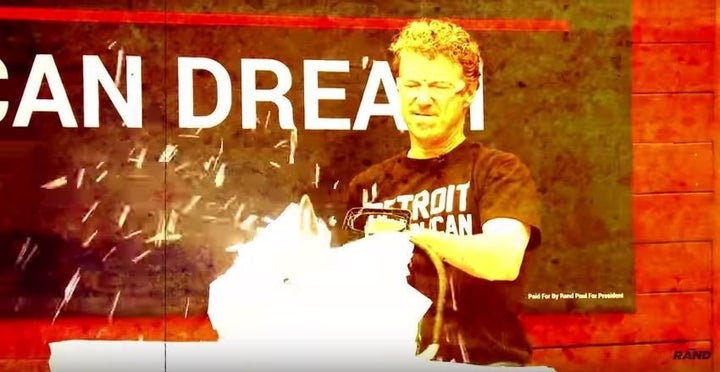 What a difference an election cycle makes.
Back in the 2012 nominating contest, one couldn't help but be impressed with the way then-Texas Rep. Ron Paul and his campaign had undertaken a deep dive into the arcana of the nominating process, using an advanced study of the little-considered ins and outs of state conventions to give his campaign an outsider's shot at winning delegates.
The Paulites from 2012 were earning advanced degrees in politics on the fly -- they could talk your ear off about the process and you would learn something. Their counterparts who've followed Rand Paul, on the other hand, well ... they're getting their fill of stunts on the stump, anyway.
Hey, OK, it's good to have a little fun, but how many times is Rand going to go to this well?
It was back in late July that Paul first performed his vaudeville act with the tax code, in a video in which he gave people the choice of throwing the code in a woodchipper, shredding it with a chainsaw, or just burning it. He didn't offer to shoot it, though! I guess this schtick is evolving.
The problem for Paul is that it was around this time that reports began to surface concerning a deeper dysfunction within his campaign. Multiple sources told Politico's Alex Isenstadt that the Paul campaign was "badly hobbled" by an array of problems, staffed by people who'd been "beaten down by low morale." Per Isenstadt:
They described an operation that pitted a cerebral chief strategist against an intense campaign manager who once got into a physical altercation with the candidate's bodyguard. And they portrayed an undisciplined politician who wasn't willing to do what it took to win -- a man who obsessed over trivial matters like flight times, peppered aides with demands for more time off from campaigning and once chose to go on a spring-break jaunt rather than woo a powerful donor.



They sketched a portrait of a candidate who, as he fell further behind in polls, no longer seemed able to break through.
I guess I feel the worst for whatever staffer has to keep printing out and lugging around the tax code for Paul to destroy whenever the fever for a fresh stunt grips him.
Paul goes into Wednesday's debate polling at about 2.5 percent and competing with Chris Christie to stay out of the relegation zone that would send one of the two to the next "kids' table" debate, should there even be another "kids' table" debate. (And there should not be another one.)
Hey, if Rand Paul is available to do some chores this weekend, could someone on what's left of his campaign tell him to DM me?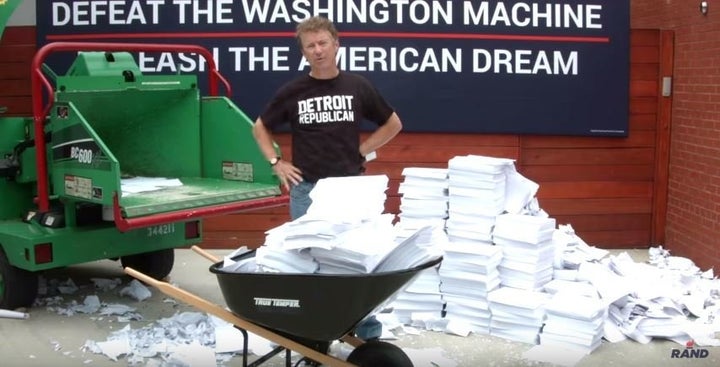 Popular in the Community