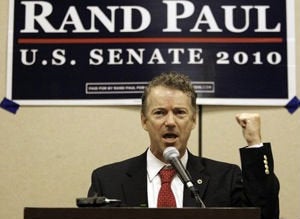 AP/Huffington Post - Speaking at a GOP rally in northern Kentucky on Saturday, Paul said tea party activists have been mischaracterized as "right-wing lunatics," but said most issues embraced by the movement have broad bipartisan support.
The Republican hopeful told hundreds of tea party supporters that they are being mislabeled as extremists.
In a 20-minute speech outside the state Capitol in Frankfort, Paul said the tea party is part of the political mainstream because of its emphasis on balanced budgets and congressional term limits. The libertarian-leaning Senate candidate said that those views are popular with Republicans and Democrats alike.
The Bowling Green eye doctor was joined at the rally by a lineup of prominent northern Kentucky Republicans, including Sen. Jim Bunning and Trey Grayson, who lost to Paul in a hard-fought Senate primary this spring.
The Cincinnati Enquirer reports that several speakers compared Paul to Bunning -- a connection that both the outgoing Senator and the Tea Party favorite welcomed:
"You must get together and elect this man, because he will vote the right way against spending that we don't have, and I guarantee you he'll stand up on his own, if necessary," Bunning said.

Paul praised Bunning, who will retire when his term expires at the end of the year.

"I aspire to be that kind of legislator - the kind of person that's not called a politician, the kind of person that's called a statesman," he said.
WATCH: Rand Paul Defends Tea Party Image
Popular in the Community