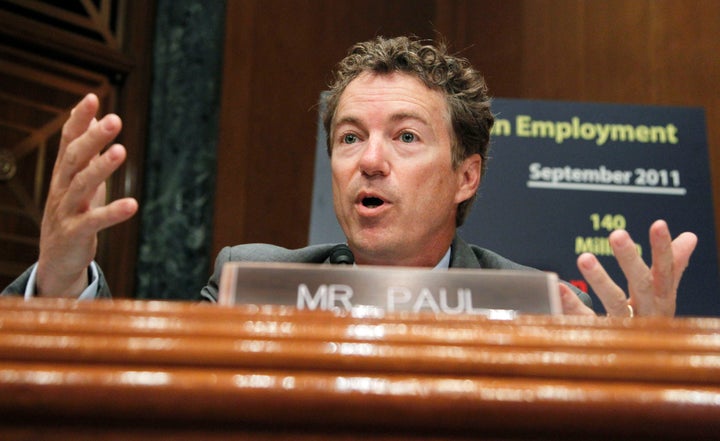 NEW YORK -- The Senate is poised to consider updated legislation stepping up sanctions on Iran on Thursday, and due to persistence from Sen. Rand Paul (R-Ky.), the bill will contain a provision making sure the measure is not used as an excuse to go to war with Iran or Syria.
According to a Senate Democratic leadership aide, Senate Majority Leader Harry Reid (D-Nev.) will ask for unanimous consent on Thursday to pass an updated version of the Johnson-Shelby Iran Sanctions, Accountability and Human Rights Act of 2012. The measure would go after Iran's mining, energy and shipping sectors and penalize U.S. parent companies for the Iran-related activities of their foreign subsidiaries.
The bill easily passed out of the Senate Banking Committee, but in March, when Reid tried to bring it up for unanimous consent, Paul blocked it in an effort to insert his amendment.
Although nothing in the sanctions bill authorizes war with Iran, Paul didn't want to take any chances. His amendment would make clear that nothing in the bill "shall be construed as a declaration of war or an authorization of use of force against Iran or Syria."
According to the Senate Democratic leadership aide, the updated legislation before the chamber on Thursday will include Paul's amendment.
It will also include a provision pushed by Sen. Mark Kirk (R-Ill.) that strengthens sanctions against companies that engage in or support censorship in Iran.
In addition, the bill strengthens human rights provisions and addresses Iran's jamming of satellite communications. It contains non-binding language recommending that sanctions be more intensely enforced and that sanctions evasion efforts by Iran be closely monitored.
Sen. John McCain (R-Ariz.) told The Huffington Post that he didn't see what the hold-up was. "It doesn't bother me. I don't think it's necessary, but it's okay by me," he said of Paul's amendment.
Paul's office did not immediately return a request for comment on Reid's announcement.
Ryan Grim contributed reporting.
Calling all HuffPost superfans!
Sign up for membership to become a founding member and help shape HuffPost's next chapter
BEFORE YOU GO