WASHINGTON ― Sen. Rand Paul (R-Ky.) on Thursday attempted to ask a question during the Senate impeachment trial of President Donald Trump, but he was rebuffed by Supreme Court Chief Justice John Roberts, the presiding officer.
Paul's question would have named the alleged Ukraine whistleblower, but Roberts declined to read it to the chamber. 
"The presiding officer declines to read the question as submitted," Roberts said after reading the question silently.
Paul then stormed out of the chamber and held a press conference where he twice said the name of the alleged whistleblower ― whose identity has not been confirmed ― as well as another individual but insisted he was not outing anyone. 
"I think this is an important question, one that deserves to be asked, and makes no reference to anybody who may or may not be a whistleblower," Paul told reporters.
The whistleblower filed a complaint, which Congress publicly released in September, that alleged Trump used "the power of his office to solicit interference from a foreign country in the 2020 U.S. election," and said White House officials worked to cover up Trump's actions.
But the push to identify the whistleblower has continued anyway. Trump has said he deserves to "meet [his] accuser, some Republicans have suggested calling the whistleblower as a witness and the White House tweeted around the time of Paul's question that Democrats weren't answering the "many questions and concerns about the alleged whistleblower and potential conflicts of interest."
Even oblique references like Paul's seek to reveal the identity of someone who followed a confidential process to share their concerns ― sending a message to other would-be whistleblowers that if they speak up, they risk harassment encouraged at the highest levels.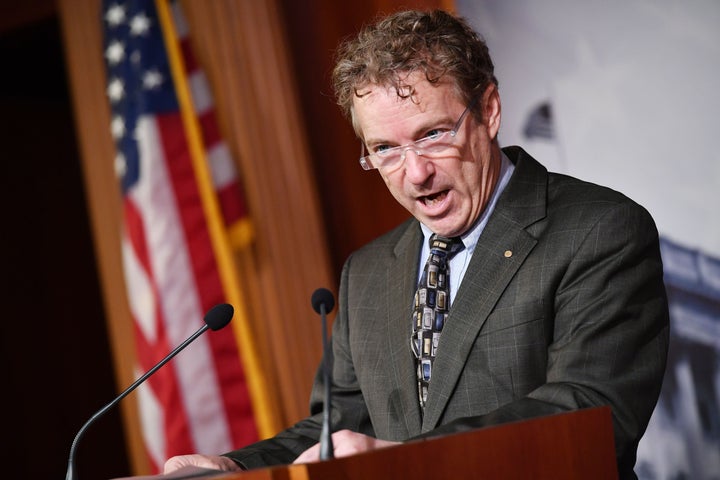 Paul could have tried to overrule Roberts by forcing a quick vote on the floor to allow his question about the whistleblower, but he said he decided against it so as to not lengthen the trial any further. However, it's likely that vote would have failed due to Republican opposition, handing the party an embarrassing start to the day.
"Not in this environment, but later on," Sen. Lindsey Graham (R-S.C.) told reporters earlier Thursday when asked if he was supportive of the effort to name the whistleblower.
Attorneys for the whistleblower, Andrew Bakaj and Mark Zaid, said in October they could "neither confirm nor deny" the whistleblower's identity, arguing revealing it would be the "pinnacle of irresponsibility and is intentionally reckless." Bakaj and Zaid, as well as many Democrats, repeatedly stressed the importance of keeping the whistleblower's identity anonymous. HuffPost has not independently confirmed the identity of the whistleblower.
Since the complaint's release, House impeachment investigators spoke with a growing list of witnesses involved in Trump's attempted quid pro quo who have not only corroborated the whistleblower's report, but provided further damning specifics about the incident. Rep. Adam Schiff (D-Calif.), the chair of the House Intelligence Committee, said in October he felt like lawmakers had confirmed enough details from the report with other witnesses that compromising the whistleblower's safety in order for him to testify may not be necessary.
The complaint focused on a July 25 phone call in which the U.S. president pressured Ukrainian President Volodymyr Zelensky to work with Trump's personal attorney Rudy Giuliani and Attorney General William Barr to investigate unsubstantiated claims of corruption against former Vice President Joe Biden and his son Hunter Biden. Joe Biden is running for the 2020 Democratic presidential nomination and was leading in the polls for several months, making him one of Trump's top political rivals.
After the call, administration officials stored the conversation's transcript in a separate electronic system meant for classified information, according to the complaint.
Paul made clear he wouldn't back down on Thursday, however, posting his question to Twitter that included the name of the alleged whistleblower, but again insisting he wasn't outing the whistleblower and didn't have "independent information" on who they were. The question asked how the two people he named "may have worked together to plot impeaching the president before there were formal House impeachment proceedings." 
Some of his fellow Republicans assisted him later, asking about the role a House Democratic staffer whom he said had contact with the alleged whistleblower ― who was not named ― had played in the impeachment investigation. Sen. Ron Johnson (R-Wis.) asked the question on behalf of himself, Sens. Josh Hawley (R-Mo.), Ted Cruz (R-Texas), Kevin Cramer (R-N.D.), Mike Braun (R-Ind.), David Perdue (R-Ga.), John Barrasso (R-Wyo.), Marco Rubio (R-Fla.) James Risch (R-Idaho), Dan Sullivan (R-Alaska), Joni Ernst (R-Iowa), Rick Scott (R-Fla.), Steve Daines (R-Mont.) and Deb Fischer (R-Neb.). Roberts agreed to read that question. 
Schiff called the approach "disgraceful" and said those who attempted to out the whistleblower were threatening the entire system.
"I can tell you who the whistleblower should be: It should be everyone of us," Schiff said. He said future whistleblowers would be less willing to stick their necks out if they thought their names would be dragged through the mud.
Jay Sekulow, a lawyer for the president, said afterward that he had not said they should disclose the whistleblower's name. 
That's quite a shift — on Wednesday, Sekulow told senators that should they vote to hear from witnesses, he'd want to call the whistleblower to testify.
Calling all HuffPost superfans!
Sign up for membership to become a founding member and help shape HuffPost's next chapter