As the country reeled from news that Donald Trump Jr. apparently tried to collude with Russia against former Democratic presidential contender Hillary Clinton, his father, President Donald Trump, announced a decision that will have ripple effects on the American economy for years to come.
Trump, distressing advocates of tough financial rules and pro-worker monetary policy, on Monday nominated veteran Wall Street lawyer Randal Quarles to serve as the Federal Reserve's top finance regulator.
Quarles has moved back and forth between finance and government, which critics pointed out makes his selection Trump's latest departure from the campaign promise to "drain the swamp."
"Quarles is an insider. He has been an insider for decades to both Wall Street and the inside-Washington sort of swamp ― the Wall Street-Washington nexus," said Marcus Stanley, policy director of Americans for Financial Reform.
Quarles likely was chosen to loosen carefully crafted new banking rules, and to prioritize inflation over jobs to the detriment of American workers, Stanley and other critics warned. 
"There are two themes to his career: corporate consolidation and deregulation," said Jordan Haedtler, campaign director of Fed Up, which advocates progressive Federal Reserve policy. "The idea of having that person be the Fed's top regulator is pretty scary."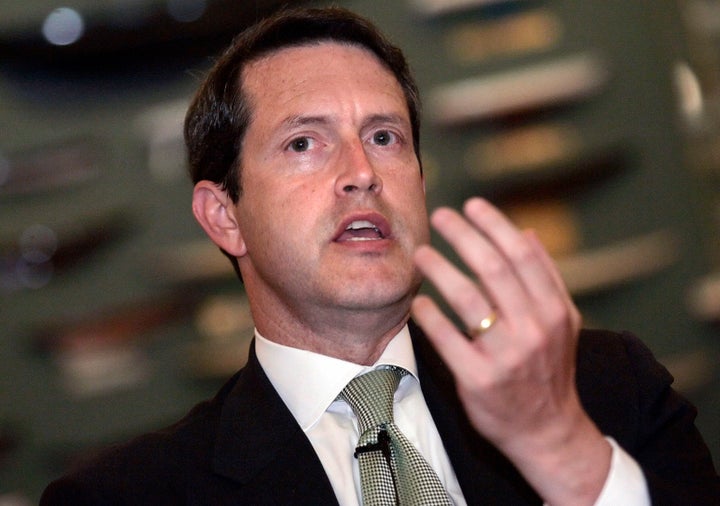 Consolidation and deregulation go hand in hand, because the financial industry's trend of consolidation has limited the kind of banking competition that might offer a check on irresponsible behavior.
Quarles has been at the forefront of that trend. He was part of the legal team that helped put together Deutsche Bank's acquisition of Bankers Trust in 1999, and Chase Manhattan Bank's acquisition of J.P. Morgan in 2000.
JPMorgan Chase and the Deutsche Bank conglomerate that emerged from those deals were among the Wall Street giants whose trading in subprime home loans led to the 2008 financial crisis.
From 2002 to 2006, as the housing bubble was dangerously inflating and exotic financial instruments were spreading the risk across the economy, Quarles served in senior positions in the George W. Bush administration's Treasury Department. The Bush administration's hands-off approach to policing high finance led William Donaldson, a Securities and Exchange Commission chairman who supported tighter rules, to quit in frustration in 2005.
Quarles continued to advance in the administration after Donaldson's departure. In September 2005, he assumed the role of under secretary of the treasury for domestic finance, which supervises domestic banking regulation.
As a top bank overseer, Quarles sought to quiet concerns rather than sound alarms about the brewing crisis. In a June 2006 speech, even as then-Under Secretary Quarles acknowledged that a "sharp" drop in home prices was neither probable, nor a source of major concern for the economy.
"I do not think this is a likely scenario," he said.
Of course, Quarles was not the only high-ranking official who failed to see warning signs that risky banking practices would soon bring the world economy to its knees.
But unlike some of those officials, since rejoining Wall Street, Quarles has remained skeptical of some major new regulations on the financial sector. He has criticized the Dodd-Frank reform law's higher capital requirements and the Volcker Rule, which limits the kinds of investments banks can make with their depositors' money.
There are two themes to his career: corporate consolidation and deregulation.

Jordan Haedtler, Fed Up
Under the leadership of Federal Reserve Chair Janet Yellen and Fed Governor Daniel Tarullo, the Federal Reserve successfully implemented those regulations, and administers "stress tests" assessing big banks' ability to withstand another crisis.
As the Fed's vice chair for supervision, Quarles would decide how to prioritize enforcement of existing rules, though he would need the assent of his fellow Fed governors before formally changing them.
That is enough authority for Sen. Elizabeth Warren (D-Mass.), ranking member of the Senate Subcommittee on Financial Institutions and Consumer Protection, to call Quarles a "dangerous choice" in a statement that announced her intention to oppose his nomination.
Quarles "is the latest Trump financial appointee to come straight off the Wall Street assembly line, and in his time in government he demonstrated little appreciation for the risks posed by giant financial institutions," Warren said. "His confirmation would weaken Wall Street oversight ― and that's something no American can afford."  
The White House did not answer a request for a response to the critiques of Quarles.
As Warren noted, Trump has consistently placed Wall Street veterans with records of lax oversight in positions of power over the financial industry. Chief among them was Trump's nomination of Jay Clayton, the lawyer who negotiated Goldman Sachs' government bailout, to lead the Securities and Exchange Commission.
Indeed, notwithstanding Trump's campaign broadsides against Clinton for her paid speeches to Goldman Sachs, he has stacked his inner circle and Cabinet with finance bigwigs ― especially veterans of Goldman. Trump Treasury Secretary Steve Mnuchin, Deputy Treasury Secretary James Donovan, Deputy National Security Adviser Dina Powell, and White House Chief Strategist Steve Bannon all put in time with the firm nicknamed "Government Sachs" for its executives' revolving-door relationship with the federal government.
Gary Cohn, who occupies a wide-ranging and influential role as Trump's top economic adviser, was president of Goldman Sachs prior to arriving at the White House.
"Once he nominated Gary Cohn, the second-in-command at Goldman Sachs, to run his entire economic policy, that alone gives you the entire indication you need as to what that populist rhetoric was worth: not very much," said Stanley, of Americans for Financial Reform.
Trump won't have to wait until Yellen's term ends to continue reshaping the Fed, however. In addition to the spot Quarles would fill, two other Fed governorships remain vacant. Aside from the chair and vice chair positions, Fed governors are appointed to 14-year terms.
If confirmed by the Senate, Quarles would effectively replace Tarullo, who oversaw financial enforcement before announcing his resignation in February. (Tarullo was vice chair for supervision in everything but name, since former President Barack Obama declined to formally nominate him to the post.)
Equally important for some progressive experts is the influence that Quarles stands to have on the job market as a voting member of the Federal Open Market Committee, the panel of Fed officials that adjusts a key interest rate.
The Federal Reserve has a dual mandate to prevent excessive price inflation and to maximize employment. The Fed officials on the Federal Open Market Committee, which includes all governors and a rotating roster of five presidents of regional Federal Reserve banks, have been gradually increasing the benchmark interest rate to begin slowing the rate of economic growth with the goal of heading off inflation.
Although Yellen, an Obama appointee and inflation dove, remains the driving force on the committee, Quarles' wariness of inflation would sway the panel's ideological balance. In the past, he has argued that Fed monetary policy should be driven by specific rules that would deprive the central bank of the discretion to accommodate greater job market growth.
Haedtler's organization, Fed Up, has argued that even the increases already approved by the Fed have come too soon. The group, which has mobilized low-wage workers and communities of color to pressure the Fed since 2014, points to the high levels of black and Latino unemployment that persist despite an overall jobless rate that is relatively low. A new report released by Fed Up and the Center for Economic and Policy Research to mark the 40th anniversary of the Fed's full employment mandate presents the ample evidence that a hot job market is especially crucial to women and workers of color, since it makes it harder for employers to discriminate based on race or gender.
Once optimistic that a Clinton administration would pursue its goals of diversifying Fed leadership and transforming the central bank into a completely public entity, Fed Up is now trying to limit the damage of Trump administration appointments to the financial body, according to Haedtler.
"We're just playing defense all the time, protecting against the threats we see structurally to the institution," Haedtler said.
Calling all HuffPost superfans!
Sign up for membership to become a founding member and help shape HuffPost's next chapter
BEFORE YOU GO
PHOTO GALLERY
Most Awkward Trump And Merkel Photos From The G-20 Summit