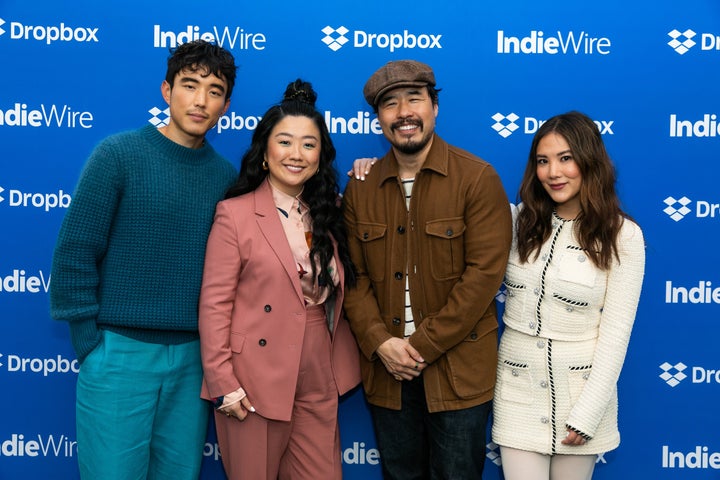 Randall Park loves a good walking-and-talking and hanging-out movie. In making his new film "Shortcomings," he drew heavily from the sorts of observational comedies about flawed people figuring out their problems, like Alexander Payne's "Sideways" and the works of Nicole Holofcener.
In some instances, he intentionally incorporated visual homages to those movies. One climactic scene of "Shortcomings," in which protagonist Ben (Justin H. Min) runs down the streets of New York, was inspired by Greta Gerwig running in "Frances Ha," as Park explained in an interview.
"Those are my favorite kinds of movies: in the city, walking and talking," he said, excitedly listing them off and describing how much he loves them, before pausing and pointing out a glaring fact of the matter.
"Those are all — I mean, they're all white. I still love them. They're still my favorite kind of movies. But they're all white," he continued. "And I think part of the lifting of shot compositions and stuff like that was a conscious reframing, with faces that look like ours."
"Shortcomings," which premiered Sunday at the Sundance Film Festival, is the sort of indie slice-of-life comedy we see often: friends hanging out and shooting the shit about various life questions, like figuring out work and relationships. They're often centered on a protagonist who can be a bit insufferable — or to put it more frankly, as Ben's friend Alice (Sherry Cola) does in one scene, "a piece of shit."
But more often than not, they're about white people. In "Shortcomings," Park's feature directorial debut, he got to make a version of that type of movie, and it happens to be about a group of Asian American characters. Based on a 2007 graphic novel by cartoonist and New Yorker cover illustrator Adrian Tomine, the movie follows aspiring filmmaker Ben, who also manages an indie movie theater in the San Francisco Bay Area. He's forced to reevaluate his life when girlfriend Miko (Ally Maki) moves to New York for an internship.
With "Shortcomings," Park craved the opportunity to tell "everyday stories" about Asian American characters and to demonstrate "that for us, the mundane can be just as interesting as some grand, epic story."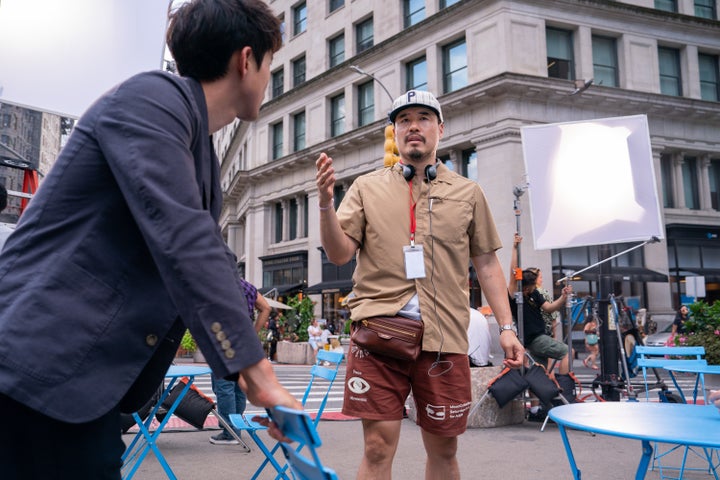 Shot last summer in both the Bay Area and New York, it's the sort of film that he said is still hard to get made when it's not about white people. He attributed that to the ways Hollywood's white executives, while slowly beginning to prioritize diversity in storytelling, seem to want only certain kinds of culturally specific narratives from historically underrepresented groups.
"When we go in to pitch projects, the room is always mostly white. These are the decision-makers. And I feel like when it comes to stories about traditionally underrepresented people, generally they understand the importance of that, and also the good business sense, now, of telling these stories," Park said.
"But it's usually a case of: 'We want your stories, but only the things that we can't tell on our own. We want your stories about intergenerational conflict. We want to hear about the motherland, and we want, I don't know, martial arts. We want food. We want things that we can't do on our own. We don't want to see movies of people just walking and talking, and hanging out in restaurants, and talking about their relationships, and getting into debates about mundane things,'" he continued. "The idea is: 'We've got that covered. We don't need that from you. What we need is your cultural traumas or whatnot.'
"So to me, that's what excited me the most about this project and Adrian's book when I first read it 15 years ago. It felt like my everyday life, and my friends, and the things that we talk about, and the places that we go to eat. It just felt so real to me."
That ordinary, slice-of-life feel is also present in "Always Be My Maybe," the great 2019 rom-com that Park co-wrote and co-led with Ali Wong. Over the years, Park has become a reliable on-screen presence as patriarch Louis Huang on the groundbreaking ABC sitcom "Fresh Off the Boat," Selina Meyer's rival Gov. Danny Chung on HBO's "Veep," and FBI agent Jimmy Woo in the Marvel Cinematic Universe. But moving behind the camera to direct his first feature wasn't actually much of a leap. Instead, Park said he has often felt directing might be a more natural fit for him — revealing that despite his career of comedic roles and his droll persona on screen, he's actually "really shy."
"With acting, I love it. I really love it, and it brings me great joy. I'm really shy in real life, and so acting always felt liberating in a lot of ways — just to be able to go on stage or go in front of a camera, and to just be these characters," he said. "But with directing, I'd say I felt more in my skin, and it was more fulfilling in ways that acting has never been for me."
Park traces that all the way back to college at the University of California, Los Angeles, where he directed productions at the Asian American theater company he co-founded. Over the years, while trying to make it as an actor, he also wrote and directed web series and short films. More recently, he directed the final episode of "Fresh Off the Boat" in 2020 and an episode of the Disney+ show "Doogie Kamealoha, M.D." in 2021. The "Fresh Off the Boat" finale, he said, was when it all started to click for him.
"I think around that time, I was like, 'Oh gosh, this is really fun.' I think that experience solidified it for me, where I thought, 'Oh, I think I can direct, and I think a feature might be in my future,'" he said.
While figuring out what he wanted to do as a first-time filmmaker, Park had assumed he would direct something he wrote himself. But then he remembered "Shortcomings," a book he'd long believed could make a great movie. His producing partner Hieu Ho found out that Tomine had written a screenplay, which the production company Roadside Attractions had optioned and was seeking a director for.
"I had been thinking of this as a movie for a long time," Park recalled. "So I came up with a very elaborate detailed pitch and pitched it to Roadside, and then pitched it to Adrian. And I guess they liked what I had to say."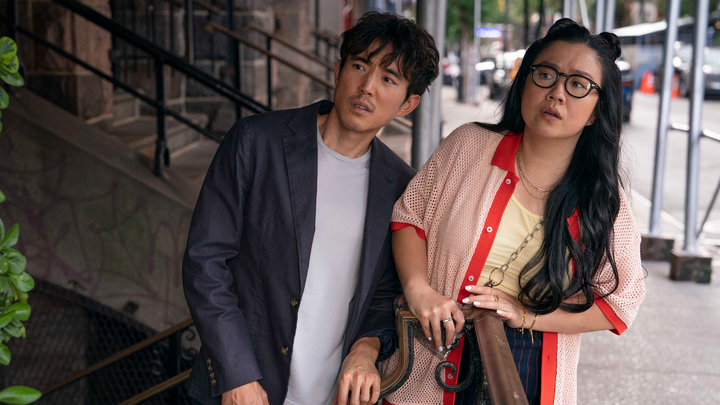 From the start, the film delves into conversations that a lot of Asian Americans have probably had among their friend groups. For instance, Miko calls out Ben's tendency to be romantically attracted to white women. And in the film's opening scene, the two get into a debate about representation after attending the premiere of a "Crazy Rich Asians" type movie at the Asian American film festival where Miko is working. (In a fun Easter egg, the movie within a movie stars newly minted Oscar nominee Stephanie Hsu and "The Daily Show" star Ronny Chieng as a romantic pair.)
Ben, who is the kind of film nerd who probably owns a lot of Criterion Collection DVDs, sneers at the film's commercialism. He criticizes it as "a garish, mainstream rom-com that glorifies the capitalist fantasy of vindication through wealth and materialism." Miko, on the other hand, approves of the movie. "It's going to be a massive hit, and that's what makes it great. It's a game changer," she says, pointing out that its success could help indie filmmakers like Ben get funding.
A walking-and-talking movie can run the risk of feeling too didactic. For Park, "it was really about making sure that every character felt real and that every character felt credible — like, even the most rash decision, that it felt like something that a real person would do," he said. "Everything in this movie is messy. It really came down to just, 'How do we keep things as authentic and real as possible, while still making it fun, and entertaining — and yeah, to not feel preachy, to not really take any hard stance on anything, but to make sure that every character's opinions come from a real place?'"
Like Ben and Miko debating what kinds of representation are important and should be markers of progress for Asian Americans, perhaps a movie like "Shortcomings" suggests that progress is about seeing ourselves in stories where we can be messy and imperfect, and where the stakes aren't so high.
"Everybody is trying their best. Some are succeeding, some are failing, some are succeeding later. But I mean, that's a universal human thing. And I feel like these kind of intimate types of stories, we don't get to be in them often," Park said. "And the fact that we can just have these characters who look like us, who are just really just human beings, simple human beings trying to get through life, that's the stuff I love. Because going back to the movies we talked about earlier — to me, that's like my 'Star Wars.'"
Popular in the Community